Manchin and Murkowski Cross Party Lines to Endorse Each Other
Senators Joe Manchin and Lisa Murkowski crossed party lines to endorse each other's campaigns during a joint appearance Sunday morning on CNN's State of the Union.
Manchin, a West Virginia Democrat, and Murkowski, an Alaska Republican, are among their parties most centrist members and have crossed party lines on votes before. In an increasingly polarized country, their endorsements offer a rare moment of bipartisanship.
"Alaska could only be so lucky to have her continue to serve them," Manchin said. "It's hypocritical to basically work with a person day-in and day-out, and then when they're in cycle, you're supposed to be against them because they have an R or D by their name."
Murkowski noted that senators crossing party lines to endorse their colleagues used to be more common than it is now, adding that she would endorse Manchin if he chooses to run again in 2024.
Despite their bipartisan credentials, both could face a challenging path to reelection.
Murkowski is up for reelection this year. As a critic of former President Donald Trump who voted to impeach him, she has faced disapproval from Trump-aligned Republicans in her home state.
The Alaskan senator will run in the nonpartisan primary, where the four candidates who receive the highest number of votes will advance and run in the general election, which uses ranked-choice voting.
Trump endorsed her primary challenger, Kelly Tshibaka, and called Murkowski "bad for Alaska." The former president praised Tshibaka as a "fighter who stands for Alaska values and America First. She is MAGA all the way, pro-energy, strong on the Border, tough on Crime and totally supports our Military and our great Vets. Kelly is a powerful supporter of the Second Amendment and JOBS!"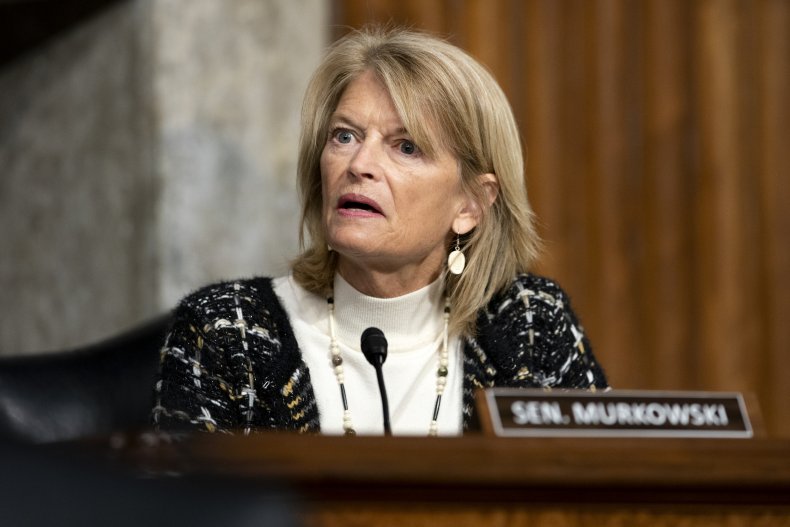 Polling on the race has been mixed. An August poll from Alaska Survey Research found Murkowski with a 9-point lead in the general election. But a poll from Change Research in June found Tshibaka leading Murkowski by about 20 points, with Democrat Al Gross winning 25 percent of the vote.
In a statement to Newsweek, Murkowski's campaign wrote: "We welcome Senator Manchin's endorsement, and appreciate his support of Lisa's re-election campaign. This endorsement proves that Lisa has earned the respect of her colleagues on both sides of the aisle, and reinforces that she will work with anyone from either party to advance Alaska's priorities and deliver big wins for our state."
Manchin will be up for reelection in 2024 after narrowly winning in 2018. West Virginia's strong GOP lean and high turnout in a presidential election year could complicate his path to victory—though he has sought to separate himself from the party's more liberal wing.
He could also face a primary opponent, as progressive Democrats including Bernie Sanders and Elizabeth Warren indicated potential support for primary challengers.
On Sunday, some CNN viewers pointed out that the network mistakenly labeled Manchin a Republican during Sunday's interview.
Newsweek reached out to Manchin's office for comment Sunday afternoon, but did not hear back by publication. This story will be updated with any response.
Updated on Monday morning with the response from Murkowski's office.