Senator Elizabeth Warren declined to rule out supporting primary challengers against Democratic colleagues who may block legislation that would expand voting rights across the United States on Tuesday.
The Senate began debate on the voting rights legislation—which would expand voting access and restore key provisions of the Voting Rights Act of 1965—on Tuesday.
But two moderate Democratic senators, Kyrsten Sinema of Arizona and Joe Manchin of West Virginia, threaten to derail the bill through their support of the filibuster, a Senate rule requiring at least 60 votes to end debate on a bill.
In an evenly-divided senate where no Republicans have said they would vote to end the filibuster on the voting rights legislation essentially kills any chance of the bill passing. Manchin and Sinema have faced calls from other Democrats to change it to allow the bill to go through but have declined to do so.
Warren—a progressive leader within the Democratic Party—on Tuesday declined to rule out endorsing primary challenges against Manchin and Sinema if they do not vote to change the filibuster during an appearance on CBS News, possibly adding more pressure to the pair of centrist senators.
"We'll address that when we get past this week," Warren said when host Nate Burleson asked if Sinema and Manchin should face primary challengers when they're up for re-election in 2024.
The two Senators have faced mounting criticism from their colleagues, but Democratic lawmakers have largely remained mum on the topic of primary challenges against them. Other lawmakers, including New York Representative Adriano Espaillat, have suggested that the two face consequences if they indeed block the bill from passing.
"There must be consequences," Espaillat said during a SiriusXM radio interview. "It's as simple as that. The president calls you and you're going to derail one of his top initiatives, our vision? There's got to be consequences for this."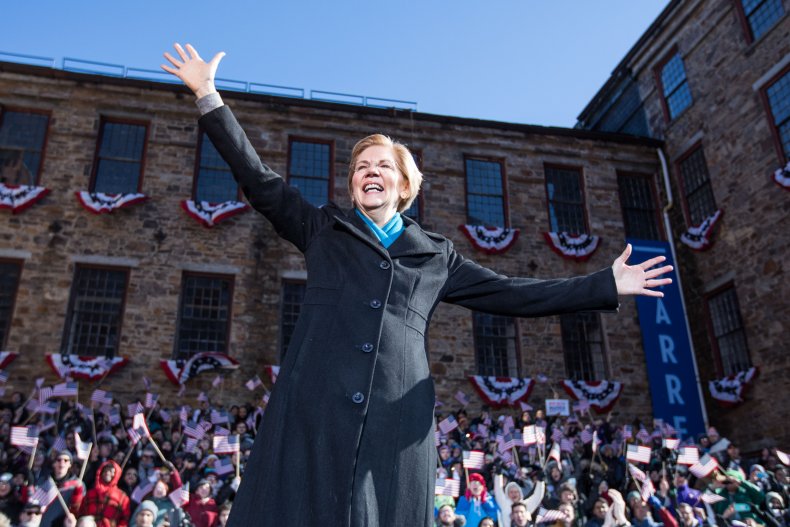 Sinema, who represents a swing state President Joe Biden narrowly won, could be particularly vulnerable to a primary challenge, as many Democrats in the state have expressed displeasure with her. Polls released last October showed several potential challengers—including Representative Ruben Gallego, Representative Greg Stanton, Phoenix Mayor Kate Gallego and Tuscon Mayor Regina Romero—leading Sinema by at least 30 points.
However, Democrats may have a tougher time challenging Manchin in West Virginia, one of the most conservative states in the U.S., which was easily carried by former President Donald Trump. But Democrats continue to put pressure on him to amend the filibuster.
The push for action on voting rights legislation follows a legislative defeat for Democrats and the Biden administration at the end of 2021, when Manchin sank their large social spending bill known as Build Back Better.
Newsweek reached out to Senator Warren, Manchin and Sinema's offices for comment on Tuesday. This story will be updated with any response.