Manchin and Sinema Must Face 'Consequences' for Stalling Voting Rights, Democratic Rep Says
Representative Adriano Espaillat, a Democrat from New York, said that Democratic Sens. Kyrsten Sinema and Joe Manchin "must face consequences" after declining to support President Joe Biden's push for voting rights legislation.
This week, Manchin and Sinema reiterated their support for the Senate filibuster—a rule that Biden and other Democrats want to change in order to pass voting rights bills—delivering a major setback for the president's agenda. The filibuster requires lawmakers in the Senate to reach a 60-vote threshold to advance legislation. The Democratic majority only holds 50 seats in the chamber.
In an interview with SiriusXM radio host Dean Obeidallah that was posted online Saturday afternoon, Obeidallah asked Espaillat: "If President Biden and [Majority Leader] Schumer cannot in any way motivate, pressure... Manchin and Sinema, can President Biden, do you hope he'll use executive orders? Are there other things he can do to convey to our fellow Americans the importance of this, if we don't have legislation?"
"There must be consequences," Espaillat responded. "It's as simple as that. The president calls you and you're going to derail one of his top initiatives, our vision? There's got to be consequences for this."
"And they're very precise," he added. "They fit each state, and each leader in very precise ways. And so I'm sure once the consequences are laid out for them there may be an opportunity for a meeting of the minds."
The congressman said that ultimately, Biden "may have to resort to an executive order."
"But I think from now until then, there's still a big stretch and much must be done to push these two senators to line up and be in lock-step with our leadership if they are part of our team. It's as simple as that," Espaillat said.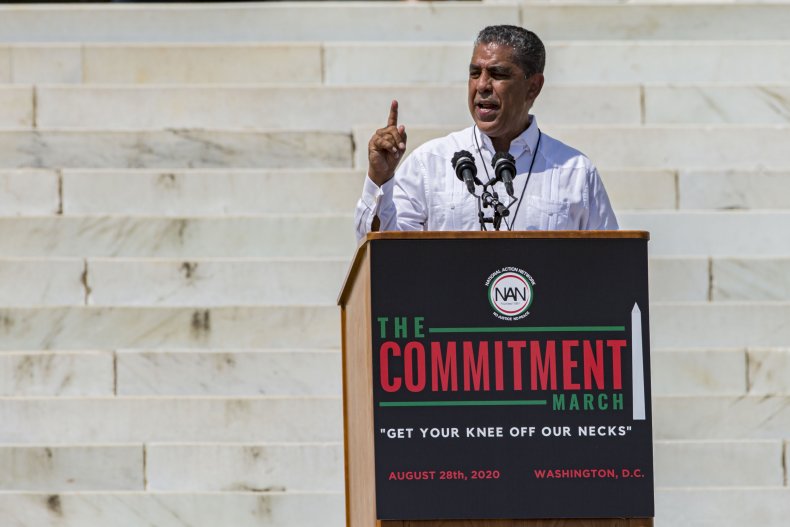 In a speech on the Senate floor on Thursday, Sinema said she supported the voting rights bills—the John Lewis Voting Rights Act and the Freedom to Vote Act— but that she wouldn't support modifying the filibuster rule.
"There's no need for me to restate my long-standing support for the 60-vote threshold to pass legislation. There's no need for me to restate its role protecting our country from wild reversals in federal policy," Sinema said.
Manchin also defended the filibuster, and according to The Hill, on Tuesday he told reporters: "We need some good rules changes to make the place work better. But getting rid of the filibuster doesn't make it work better."
Newsweek reached out Manchin and Sinema's offices for comment.