Mitch McConnell Suggests Roe v. Wade Precedent Was 'Outdated or Wrong'
Senate Minority Leader Mitch McConnell has suggested that the Supreme Court's precedent in Roe v. Wade was "outdated or wrong" following the Court's decision to overturn the landmark case.
McConnell, a Republican, made the remarks at the Rotary Club of Florence, Kentucky on Monday and compared Dobbs v. Jackson Women's Health Organization to another famous case that found segregation to be unconstitutional.
The nation's highest court published its opinion in Dobbs on Friday that overturned 1973's Roe and 1992's Planned Parenthood v. Casey that had found a woman's right to an abortion was protected by the 14th Amendment.
McConnell played a key role in creating the current composition of the Court while serving as Senate majority leader during the administrations of former Presidents Barack Obama and Donald Trump.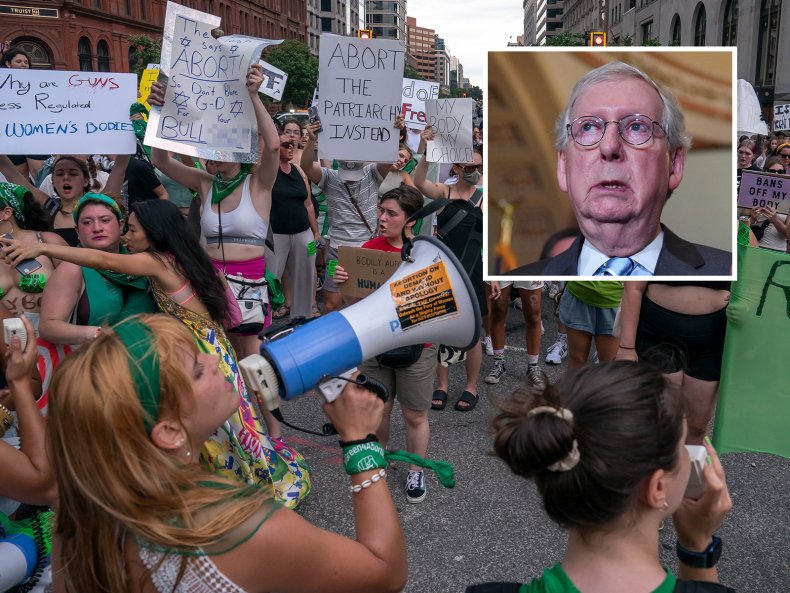 On Monday, McConnell referred to the 1896 Supreme Court case Plessy v. Ferguson where the Court found that "separate but equal" was constitutional. That decision effectively allowed the segregation of Black Americans for decades.
McConnell noted that in 1954, the Court overturned Plessy in another landmark decision, Brown v. Board of Education, and found that segregation was not constitutional.
"It became, nine to nothing, the law of the land, breaking down racial segregation in public education," McConnell said.
"So I raise that just to make the point that precedent is important—but sometimes the precedent is outdated or wrong," he said.
McConnell added that abortion will now be "sent back to the democratic process for the will of the American people and their elected representatives to make this decision."
Newsweek has contacted McConnell's office for further comment.
The Kentucky Republican has played a major role in shaping the modern Court. In 2016, as Senate majority leader, he refused to hold hearings for then President Obama's nominee, Merrick Garland, following the death of Associate Justice Antonin Scalia.
That allowed former President Trump to fill Scalia's vacant seat with Associate Justice Neil Gorsuch, a conservative. In late 2020, McConnell proceeded with the confirmation process for another Trump nominee, Associate Justice Amy Coney Barrett, who was confirmed to the Court just days before the presidential election.
Both Gorsuch and Barrett voted to overturn Roe, along with Associate Justice Brett Kavanaugh, who was also appointed by Trump while McConnell was Senate majority leader.
Speaker of the House Nancy Pelosi, a Democrat, took aim at McConnell in remarks on June 24 and appeared to blame him and Trump for the Court's decision.
"Because of Donald Trump, Mitch McConnell and the Republican Party—their supermajority on the Supreme Court—American women today have less freedom than their mothers. With Roe and their attempt to destroy it, radical Republicans are charging ahead with their crusade to criminalize health freedom," Pelosi said.
Pelosi went on: "A woman's fundamental health decisions are her own to make in consultation with her doctor, her faith, her family—not some right‑wing politicians that Donald Trump and Mitch McConnell packed the Court with."