Republican Yesli Vega Slammed for Doubting Women Get Pregnant From Rape
Yesli Vega, a Republican running for Congress in Virginia, faced criticism on Monday for appearing to doubt whether women can get pregnant from rape.
At a campaign stop in Stafford County last month—before the U.S. Supreme Court overturned Roe v. Wade with its Friday ruling in Dobbs v. Jackson Women's Health Organization that ended abortion rights for millions of women—Vega was asked what action Congress should take should the court do so, Axios reported.
Vega responded that she supports more state-level restrictions on abortion.
"The left will say, 'Well what about in cases of rape or incest?' I'm a law enforcement officer. I became a police officer in 2011. I've worked one case where as a result of a rape, the young woman became pregnant," she said in audio obtained by Axios.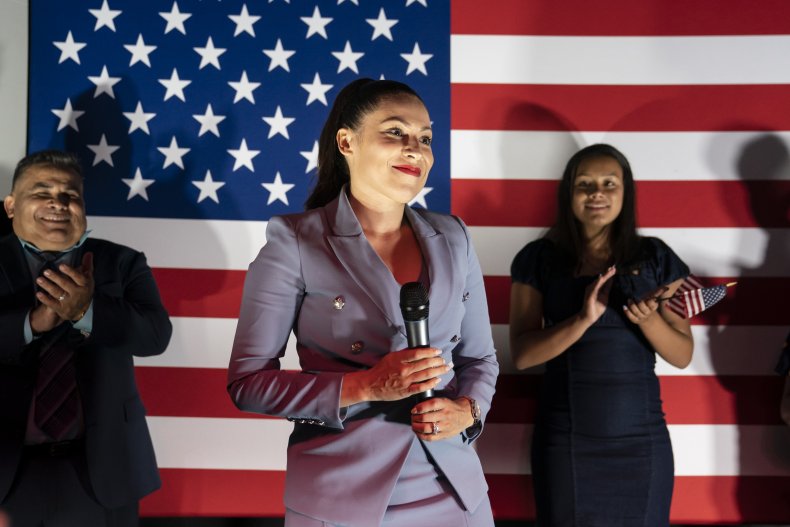 There is no evidence to back up claims that women who have been raped are less likely to become pregnant. According to a 1996 study from the American Journal of Obstetrics & Gynecology, an estimated 32,101 pregnancies result from rape each year.
Another person in the clip, who has not been identified, said it is harder for women to become pregnant if they are raped.
"Well, maybe because there's so much going on in the body. I don't know. I haven't, you know, seen any studies. But if I'm processing what you're saying, it wouldn't surprise me," she responded. "Because it's not something that's happening organically. You're forcing it. The individual, the male, is doing it as quickly. It's not like, you know—and so I can see why there is truth to that. It's unfortunate."
Vega faced condemnation for her remarks.
"This woman is running around in law enforcement spewing this kind of crap? She's a complete disgrace to everyone else wearing that uniform," wrote Virginia state Senate President Pro Tempore L. Louise Lucas, a Democrat.
"Oh, look, the Rep candidate in my district is a science denier. Who could have guessed?" Rachel Vindman tweeted.
"Republicans are using the Supreme Court decision to ban all abortions in states across the country -- even in the cases of rape and incest. And now they are saying it's because they...don't believe women can get pregnant from a rape," tweeted Zac Petkanas, a former adviser to Hillary Clinton.
Vega is running in Virginia's 7th Congressional District, which encompasses northern suburbs and was won by President Joe Biden by about six percentage points in the 2020 election. She won the Republican primary last Tuesday and is set to face off against Democratic incumbent Abigail Spanberger in November.
"I'm a mother of two, I'm fully aware of how women get pregnant," Vega told Axios in a statement:
The Supreme Court's ruling on Friday made abortion a key issue in the midterm elections, and Vega might find herself at odds with many voters in the district, which has a narrow Democratic lean.
Some other Republicans have made similar remarks in the past. In 2012, Missouri Senate candidate Todd Akin was asked about exemptions for abortion in the case of rape, to which he replied: "It seems to be, first of all, from what I understand from doctors, it's really rare. If it's a legitimate rape, the female body has ways to try to shut the whole thing down." Akin faced widespread condemnation, and he ultimately lost the election even though the state is solidly Republican.
Newsweek reached out to Vega for comment.