Nearly All Abortions in Mississippi Will Be Illegal in 10 Days
Mississippi on Monday certified its trigger law banning most abortions, joining 12 other states that had similar laws ready to take effect once the U.S. Supreme Court overturned Roe v. Wade, a landmark ruling protecting abortion rights.
Mississippi Attorney General Lynn Fitch's certification of the law means abortions will be banned statewide except when the mother's life is in danger or a pregnancy was the result of rape or incest. The certification means the law will go into effect within 10 days.
"In about a week and a half, you'll have zero abortions taking place at the clinic in Jackson, or in hospitals or any place else, except to save the life of the mother, or if it's proven, and not just an allegation, of a rape or an incest," said Republican Mississippi state Senator Joey Fillingane, who authored the 2007 trigger law language in addition to co-sponsoring the state's 2018 abortion law that was upheld by the Supreme Court, on Friday, according to WDAM.
Under the state's trigger law, Fitch was required to publish her determination that the Supreme Court overturned Roe v. Wade with Friday's ruling in Dobbs v. Jackson Women's Health Organization, and that it is likely that Mississippi's trigger law would be upheld by the higher court as constitutional.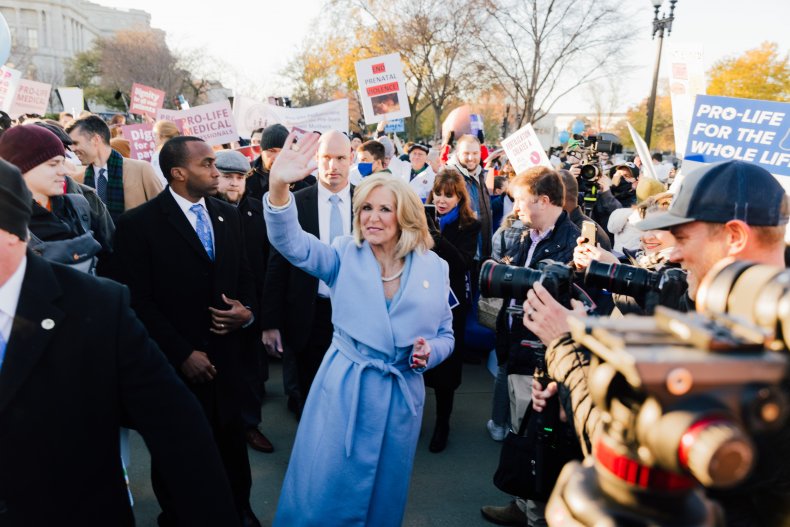 Fitch, who on Friday applauded the Supreme Court's decision more than six months after she participated in oral arguments to reverse precedent, said on Monday that "Mississippi's laws to promote life are solid and thanks to the Court's clear and strong opinion in Dobbs, they can now go into effect."
"As we have said throughout this case, Roe v. Wade presented a false choice between a woman's future and her child's life," Fitch said in a statement. "As we proceed in this post-Roe world, the people of Mississippi and of all the states will be able to fully engage in the work of both empowering women and promoting life."
She also referenced specific pages of the Supreme Court's decision, including pages 77 and 78, which state in part: "It follows that the States may regulate abortion for legitimate reasons, and when such regulations are challenged under the Constitution, courts cannot 'substitute their social and economic beliefs for the judgment of legislative bodies.'"
According to Section 41-41-45 of the Mississippi Code, "abortion" refers to the use or prescription of any instrument, medicine, drug or any other substance or device "to terminate the pregnancy of a woman known to be pregnant with an intention other than to increase the probability of a live birth, to preserve the life or health of the child after live birth or to remove a dead fetus."
If rape is the cause of a pregnancy, state law stipulates that it "shall be an exception to the prohibition for an abortion only if a formal charge of rape has been filed with an appropriate law enforcement official."
Anyone "who purposefully, knowingly or recklessly performs or attempts to perform or induce an abortion" in Mississippi "shall be punished by imprisonment" for not less than one year and not more than 10 years.
The 12 other states with trigger laws are Arkansas, Idaho, Kentucky, Louisiana, Missouri, North Dakota, Oklahoma, South Dakota, Tennessee, Texas, Utah and Wyoming. Missouri was the first state to enact its trigger law and ban all abortions, doing so minutes after Friday's Supreme Court ruling.
According to the Guttmacher Institute, a research and policy organization that works to advance sexual and reproductive health and rights worldwide, 26 states are "certain or likely to ban abortion" moving forward, including the 13 with trigger laws.
Another four states—Florida, Indiana, Montana and Nebraska–are predicted to limit access or ban abortion outright based on already enacted laws, according to Guttmacher.
Guttmacher reported that about 862,320 abortions occurred across the U.S. in 2017, or about 13.5 abortions per 1,000 women between the reproductive ages of 15 and 44. That represented an 8 percent decrease compared to the 14.6 rate from 2014.
In Mississippi, there was a reported 13 percent increase in the abortion rate between 2014 and 2017. That took into account patients who might have traveled from other states, or Mississippi residents who traveled to other states to receive the procedure.
In 2018, the U.S. Centers for Disease Control and Prevention said that Mississippi's Black residents would be among the most impacted by overturning Roe, as the Black population constituted about 72 percent of abortion patients that year. About one of every four Mississippi women age 18 and 64 live below the poverty line—the highest percentage of any state.
In May, Diane Derzis, owner of the Jackson Women's Health Organization, the only abortion clinic in Mississippi, told the Associated Press that other clinics she owns—one in Columbus, Georgia, and another in Richmond, Virginia—would likely both close due to state laws.
"Mississippi is a prime example of what's going to happen to the women of this country," Derzis said. "Those who have the means will be able to fly to New York. The poor women and women of color will be desperately trying to find the closest clinic."
Newsweek reached out to Fillingane for comment.