Former President Donald Trump has mocked CNN after a host of candidates he backed found success in their respective primaries.
Trump posted a photo of himself addressing a laughing Tucker Carlson, with the caption: "And then CNN said my endorsement would hurt the candidates..."
Trump linked to an article by the supportive Right Side Broadcasting Network claiming he is now "15-0 in Senate Primaries".
The post received over 6,800 likes and was "retruthed", the Truth Social equivalent of a retweet, more than 1,800 times.
It is not clear which CNN comments Trump is referring to.
Candidates backed by Trump scored a string of victories this week, underscoring his continued strength within the Republican Party.
In Michigan Republican congressman Peter Meijer, who voted to impeach Trump after the January 6 attack on Congress, was defeated by the Trump endorsed John Gibbs.
Kari Lake, a former TV presenter who has shared discredited claims that the 2020 Presidential election was stolen, won the GOP primary for Governor of Arizona.
Blake Masters, a Trump backed former Peter Thiel employee, secured the Republican candidacy to fight Democrat Mark Kelly for an Arizona Senate seat.
The race had been fiercely contested, but Masters pulled away from the pack after an endorsement from Trump and significant funding from Thiel.
They join other prominent Trump supporters who have already won their primaries, such as J.D. Vance and Mehmet Oz who are hoping to take Senate seats in Ohio and Pennsylvania respectively.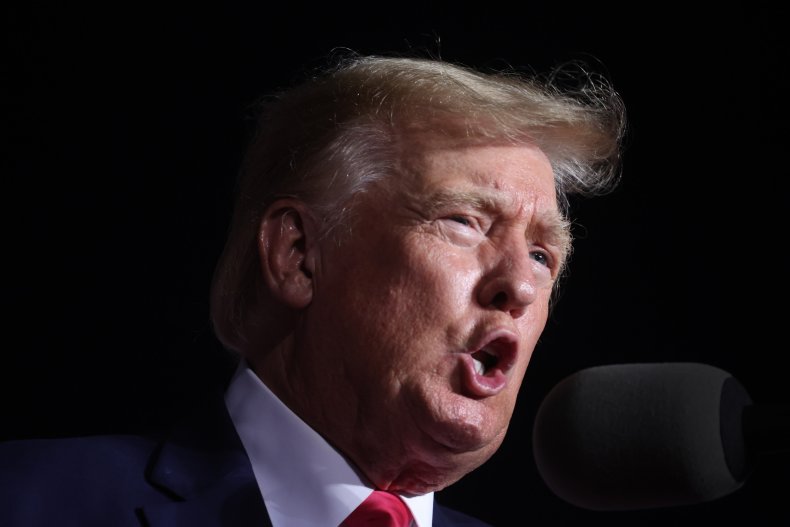 NBC News shared analysis from Ballotpedia showing 188 Trump backed Republicans have won primaries since he stopped being president, with only 14 having lost and two dropping out or being disqualified.
Speaking to the network Saul Anuzis, a Republican consultant, said: "Trump is still the 800-pound gorilla. He has significant influence."
However, some analysts argue primary victories for Trump loyalists could help the Democrats in November, by making the votes more about Trump and his attempt to remain in power after the 2020 election.
Currently Oz and Vance are both polling behind Democratic rivals in their Senate races, by an average of 10 points and two points respectively.
However, Senate Minority Leader Mitch McConnell has warned people not to get carried away with Republican's chances in November.
Earlier this month, during an interview with Fox News's Bret Baier, he commented: "I think it's going to be very tight.
"We have a 50-50 nation. And I think when this Senate race smoke clears, we're likely to have a very, very close Senate still, with us up slightly or the Democrats up slightly."
On Friday Trump pumped up his supporters with a vow to "take back America" during a rally in Wisconsin.
It came after former Vice-President Dick Cheney branded Trump a "coward" for refusing to accept the 2020 election result.
Cheney added: "In our nation's 246-year history there has never been an individual who was a greater threat to our republic than Donald Trump."
Newsweek has contacted Trump's team for comment.