Donald Trump Hails 'Perfect Record' Primaries Ahead of Wisconsin Rally
Donald Trump has praised his latest "perfect" round of endorsements after a host of candidates he was backing won their respective primaries this week.
Trump had backed a number of candidates across all forms of government in the Tuesday and Thursday primaries, including several who support his false claim the 2020 Election was "stolen" from him.
"Another Election, another Perfect Record of Endorsements, 8-0! Congratulations to our Republican Ticket in Tennessee! We will Make America Great Again!" Trump posted on Truth Social.
It is unclear which of the eight victories Trump is referring to, but they may be the candidates he backed who were not already widely expected to win their primary regardless, such incumbent reps. Paul Gosar and David Schweikert in Arizona and Tennessee's Gov. Bill Lee, and congressman Mark Green.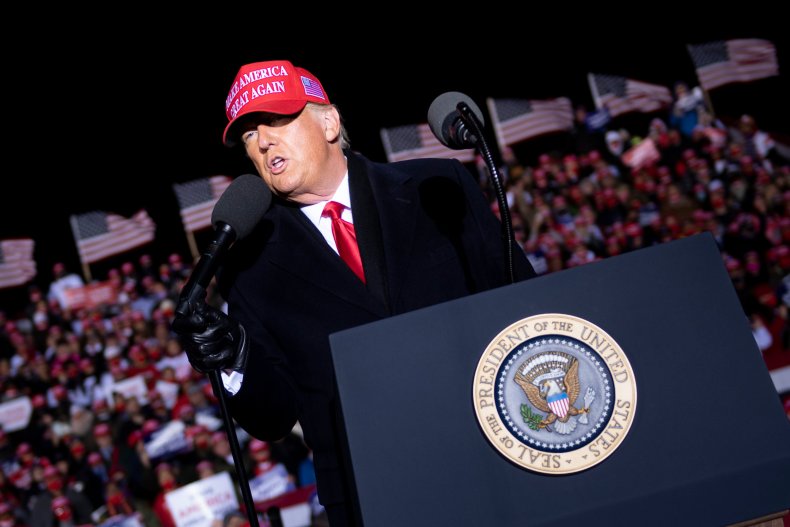 Trump will be hoping that his successful endorsements will continue in further primaries as he is due to head to Wisconsin to campaign for Republican gubernatorial candidate Tim Michels.
The former president will appear at the Waukesha County Expo Grounds on Friday, August 5, where he will also show support for "the entire Wisconsin Trump Ticket."
Trump's "perfect" boast arrived as Election denier Kari Lake, who he is backing to become Arizona Governor, was being projected to win her primary of GOP challenger Karrin Taylor Robson.
Lake's victory means that all 12 of Trump's endorsements in Arizona won their respective primaries this week.
These include far-right candidate state Representative Mark Finchem winning the Republican nomination for secretary of state, a role which oversees elections, and Blake Masters winning the Republican nomination in the Senate—both of whom backed Trump's false voter fraud claims.
One of the biggest successes for the former president was the defeat of Rep. Peter Meijer, one of 10 GOP congressmen who voted to impeach Trump over the January 6 attack, losing in Michigan's 3rd Congressional District to the Trump-endorsed and 2020-election denier John Gibbs.
Meijer became the second Republican who voted to impeach Trump in January who went on to lose their primary after Rep. Tom Rice lost to state Representative Russell Fry in South Carolina's 7th District in June.
Also in Michigan, Tudor Dixon, who Trump gave a last-minute endorsement to while she was already the favorite, won the GOP nomination in the gubernatorial election.
Trump continued to support Dixon even after she declined to say whether she believed the last election was stolen during a recent Fox News interview. The endorsement was also met with backlash from Trump's MAGA fans, who viewed her as an establishment candidate due to the support from former Secretary of Education Betsy DeVos and her influential family.
In Kansas, the Trump endorsed Attorney General Derek Schmidt also secured the Republican nomination for governor.
Trump's success in Arizona and Michigan will help show that he must still be considered a major influence on GOP voters, even following high profile defeats in Georgia, where almost all of his candidates lost, including GOP gubernatorial candidate David Perdue being trounced by Gov. Brian Kemp.
Trump may also use his success in the primary and upcoming midterms to solidify his power in the GOP ahead of him announcing a run for president again in 2024, as expected.
However, not all the primaries from Tuesday have gone in Trump's favor.
In Washington, two other House Republicans who voted to impeach Trump over the riot—Jaime Herrera Beutler and Dan Newhouse—are both on course to progress to the midterms because of the state's open primary system in which the top two candidates progress in each district, regardless of their party.
In Washington's third district, Beutler is currently in second place with 23.3 percent of the votes, crucially beating the Trump endorsed Joe Kent into third with 83 percent of the votes accounted for as of early Wednesday morning.
Newhouse currently leads with 26.4 percent of the votes in the 4th District, with 70 percent of votes declared.
Trump's team has been contacted for comment.