How House Republicans Who Voted To Impeach Trump Fared In Tuesday Primaries
Donald Trump has claimed another scalp in his revenge plot towards House Republicans who voted to impeach him over the January 6 attack in Tuesday's primaries, but two more could advance to November's midterms.
Rep. Peter Meijer, one of 10 GOP congressmen who voted to impeach the former president last January, lost the primary in Michigan's 3rd Congressional District to the Trump-endorsed and 2020-election denier John Gibbs.
Meijer conceded the neck and neck race at around 1:30 a.m. Eastern Time on Wednesday. With 55 percent of the votes reported, Gibbs leads Meijer by 51.8 percentage points to 48.2.
Meijer is the second House Republican who voted to impeach Trump to have gone on to lose their primary. In June, Rep. Tom Rice suffered a rare incumbent defeat after losing to state Representative Russell Fry in South Carolina's 7th District.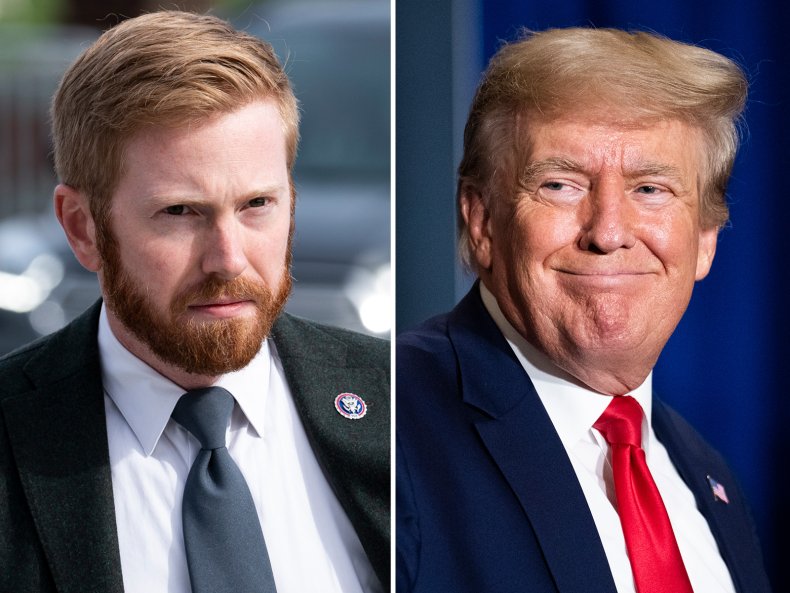 Four others will be leaving office at the end of their current term, with Wyoming rep. Liz Cheney, vice chair of the House Select Committee investigating the January 6 attack, facing a battle to keep her seat as she faces the Trump-endorsed candidate Harriet Hageman in the August 16 GOP primary. California's David Valadao advanced from his primary on June 7.
In a post on Truth Social, Trump declared it a "fantastic night in Michigan" in which Tudor Dixon, whom he had endorsed, also won the race to be the GOP's nomination for governor in the state.
"John Gibbs WON with a big surge in the end. Not a good time for Impeachers - 7 down, 3 to go," Trump wrote.
Two other House Republicans who voted to impeach Trump over the insurrection were also on the August 2 ballots, but look set to advance into November's midterms.
Washington congressmen Jaime Herrera Beutler and Dan Newhouse could both become the final two candidates come November because of the state's open primary system.
In Washington, the top two candidates in each district primary advance to the Midterm vote, regardless of which party they represent.
Washington's open primary system means that all voters, no matter which party they are affiliated with, can choose their preferred candidate, meaning the Republicans can still get votes from Democrats or Independents.
With tens of thousands of votes still to be counted, both Beutler and Newhouse are on course to finish among the top two candidates in their respective primaries.
In Washington's third district, Beutler is currently in second place with 24.5 percent of the votes, with Democrat Marie Perez leading with 31.8 percent, as of early Wednesday morning ET.
Crucially, Beutler is currently beating Joe Kent, the Trump-endorsed Republican challenger, who is in third place with 20 percent of the vote.
In Washington 4th District, Newhouse currently leads with 27.3 percent of the votes, with 47 percent of votes declared.
Newhouse described feeling "a little bit of relief" in a conference call with reporters after seeing the initial vote results on Tuesday night, but said there were still a lot of ballots to count, reported The Seattle Times.
Beutler also dismissed the suggestion that Trump would be able to influence voters in her constituency.
"There was a lot of folks trying to make it a national race, and I, being a local girl, I leaned into 'Hey, this is my home, this is the area I fight for,'" she said.
Newsweek had contacted Peter Meijer for comment.