Liz Cheney's Chances of Beating Hageman With 1 Month to Primary: Polls
Representative Liz Cheney, a Wyoming Republican, is still fighting hard to retain her House seat with just a month until she faces off against Harriet Hageman, who has been endorsed by former President Donald Trump, in the western state's GOP primary.
Cheney, a staunch conservative who voted with Trump more than 90 percent of the time while he was in the White House, drew the former president's wrath after she voted with nine other House Republicans to impeach him for inciting his supporters to attack the U.S. Capitol on January 6, 2021. The Republican lawmaker now serves as the vice chair of the House select committee investigating the violence of that day, as well as Trump's efforts to overturn the 2020 election results.
Last September, Trump endorsed Hageman, an attorney and former Republican National Committee (RNC) member, as his choice to take on Cheney. While the Wyoming congresswoman was widely popular before her impeachment vote against Trump, polls show she is facing a steep uphill battle to win her primary on August 16.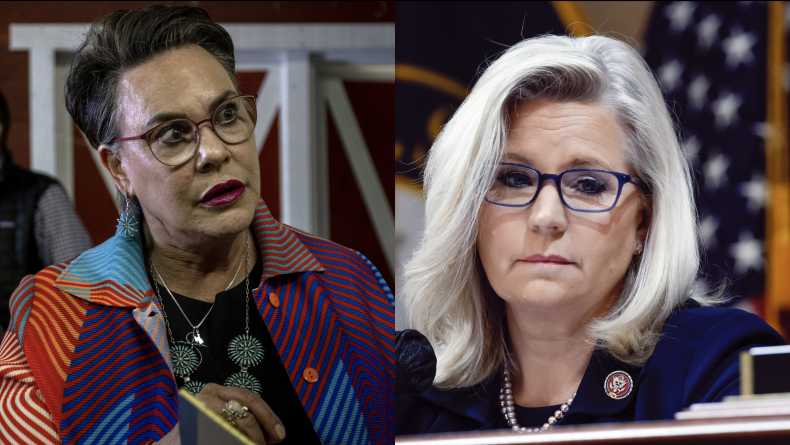 Polling released Friday by Mason-Dixon Polling & Strategy for the Casper Star-Tribune showed Cheney trailing Hageman by double digits. The incumbent Republican had the support of just 30 percent of likely voters compared to her Trump-backed rival's 52 percent. An additional 11 percent of voters said they were undecided.
The survey, which was conducted from July 7 to 11, included 1,100 likely voters and had a margin of error of plus or minus 3 points.
Previous polling carried out from May 24 to 25 by the conservative organization Club for Growth, which opposes Cheney's reelection, showed the incumbent trailing Hageman by 30 points. The survey had Hageman with 56 percent among Wyoming Republicans compared to just 26 percent for Cheney.
The poll included 400 likely GOP primary voters and had a margin of error of plus or minus 4.9 percent.
In January, a small Republican straw poll showed Cheney losing by a massive margin to her Trump-backed challenger. The straw poll by Wyoming's GOP State Central Committee showed Hageman supported by 59 out of the 71 members, the Casper Star-Tribune reported. Cheney only won six votes while other local Republicans garnered some support as well.
Late last year, the Wyoming Republican Party voted to no longer recognize Cheney as part of the GOP. That vote, however, was nearly evenly split. It passed the state GOP's Central Committee by a margin of 31 to 29. In February, the state's Republican Party went on to formally censure the congresswoman over her impeachment vote and criticism of Trump.
Before her opposition to the ex-president, Cheney was popular in Wyoming. The congresswoman won her 2020 reelection with nearly 69 percent of the vote. That was even a notable improvement compared to the just under 64 percent she garnered in 2018 and the approximately 62 percent she won in 2016.
However, Trump outperformed Cheney in Wyoming in 2020, with nearly 70 percent of the vote. The result was similar in 2016, with Trump garnering just over 68 percent compared to Cheney's nearly 64 percent.
Some have suggested that Cheney could see a boost in support from Democrats switching their party affiliation to support her. Wyoming currently allows voters to change their party registration on Election Day. But there are four times as many Republicans in Wyoming as there are Democrats, according to The New York Times, meaning it's unlikely that support from the state's liberals would be enough to salvage her campaign.