Trump Backs Tudor Dixon After She 'Dodges' 2020 Election Questions
Donald Trump has once again given his backing to Michigan Republican gubernatorial candidate Tudor Dixon after she declined to say whether she believed the 2020 election was stolen.
Speaking during a "tele-rally" on the eve of Tuesday's GOP primary, the former praised Dixon, whom he endorsed for Michigan governor last Friday, as a candidate who will "fight, and strongly fight, for election integrity" in the state which he lost to Joe Biden in 2020.
"Because what went on with the election in Michigan was outrageous," Trump said, via The Detroit News.
Trump's remarks arrived after Dixon was questioned during a Fox News appearance on whether she supports the false claim that the 2020 election was rigged against the former president.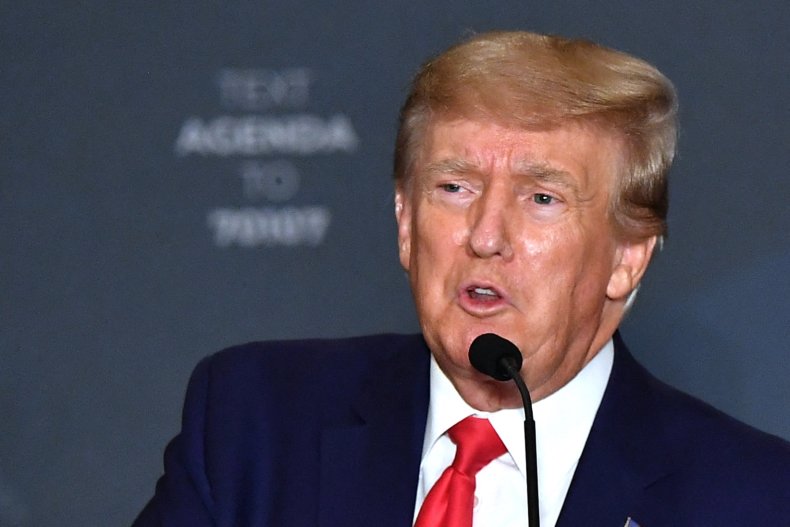 When asked by Fox News Sunday host Bret Baier whether she believes the election was "stolen" as other Republicans running for governor in other states do, Tudor replied: "Well, it's certainly a concern to a lot of folks here in Michigan because of the way the election was handled by our secretary of state [Jocelyn Benson].
"She did things that were considered unlawful by a judge. We have to make sure our elections are secure and what happened in 2020 doesn't happen again," Dixon said.
Dixon went on to discuss a number of other talking points such as voter ID and how there was an "opportunity for changes to be made" given the last election took place amid the COVID pandemic that Benson failed to act on.
"So there were definitely things in the 2020 election that had left us concerned about how it was operated," Dixon said.
In response, Baier said that he covered the recount in Tallahassee, Florida, during the 2000 presidential contest between George Bush and Al Gore, in which there were only 537 votes that decided the election.
"154,000 is a different thing," Baier said, in reference to the number of votes Biden beat Trump by in Michigan in 2020. "So are you getting to the point where you say on the stump that the election was stolen?"
Dixon once again failed to give a direct response to the question.
"I've always focused on the concerns when I've been out there you can if you talk to people across the state of Michigan, I've always focused on the way the election was handled, and how we need to make sure it is secure in the future," Dixon said. "And that we don't have people looking back and saying we're questioning what actually happened."
JM Rieger, a reporter for The Washington Post, posted a clip of Dixon's answers on Twitter.
"Michigan GOP gubernatorial candidate Tudor Dixon asked twice in 2 minutes if the 2020 election was stolen," Rieger tweeted.
"Dixon dodges twice.
"Mich. election officials have identified 56 potential instances of voter fraud in 5 counties, 0.04% of Biden's victory margin."
Trump has been contacted for comment.
Kevin Rinke, one of four other candidates aiming for the Republican nomination for Michigan governor, said Dixon had "completely flip flopped on national television" by refusing to say the last election was rigged when prompted.
"That's a land-speed record for betraying President Trump, even by establishment politician standards," Rinke tweeted on Sunday.
Following Trump's endorsement of Dixon, a number of the former president's MAGA supporters criticized his backing of Tudor because of the huge support and funding she has received from Trump's former Education Secretary Betsy DeVos, who resigned from her role one day after the Capitol attack on January 6, 2021.