Fox Host Confronts Trump Pick Tudor Dixon on Backing Stolen-Election Claim
Fox News host Bret Baier confronted Trump-endorsed Michigan gubernatorial candidate Tudor Dixon on Sunday about claims the 2020 election was stolen from former President Donald Trump in the key swing state.
After Trump's defeat during the 2020 presidential election, he and his allies sought to blame widespread voter fraud in battleground states like Michigan for his loss, despite a lack of substantial evidence presented to back up their claims. Republican candidates across the country have embraced these claims to receive the support of conservative voters and Trump, who remains popular with many in the GOP.
During an appearance on Fox News Sunday, Dixon, who received Trump's endorsement on Friday, defended her support of election fraud theories when pressed by Baier.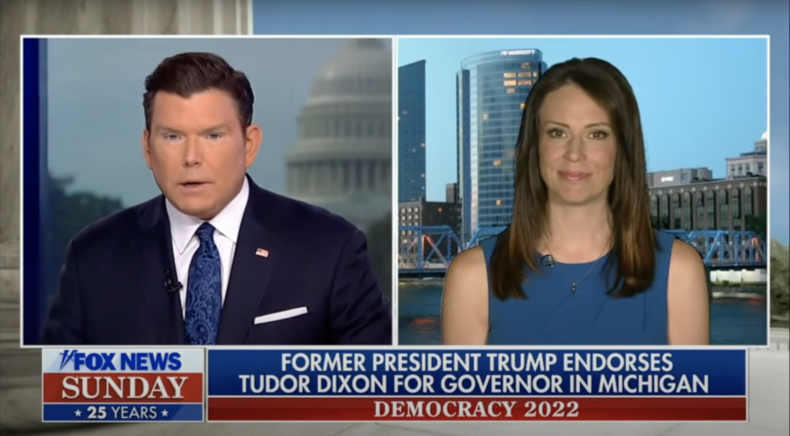 "Well, it's certainly a concern to a lot of folks here in Michigan because of the way the election was handled by our secretary of state," Dixon said before launching into a criticism of the state government, currently led by Democrats, for implementing measures to make it easier to vote during the COVID-19 pandemic and opposing voter ID laws.
She did not, however, say whether she believed the election was stolen, prompting Baier to point out that President Joe Biden won Michigan by more than 154,000 votes—nearly three percentage points.
"I covered the recount in Tallahassee, Florida, in 2000. There were 537 votes that decided that election; 154,000 is a different thing. So are you getting to the point where you say on the stump that the election was stolen?" the host asked.
Dixon still refused to concede that the election was won by Biden.
"I've always focused on the concerns when I've been out there," she said. "If you talk to people across the state of Michigan—I've always focused on the way the election was handled, and how we need to make sure it is secure in the future and that we don't have people looking back and say we're questioning what actually happened."
What Polls Say About Tudor Dixon's Gubernatorial Bid
Dixon will face her first challenge at the polls on Tuesday, when she will face off against four other Republicans who also hope to take on Democratic Governor Gretchen Whitmer in November. Polls show that Dixon, along with any other GOP candidate, will likely face an uphill battle to defeat Whitmer.
Polls show Dixon as the favorite to win the GOP primary on Tuesday. A Trafalgar poll conducted from July 26 to July 28 showed her with a 9-point lead ahead of her closest opponent, Garrett Soldano. In the general election, Whitmer leads most polls, with a July Detroit News poll showing her with an 11-point lead against Dixon.
Trump Claimed Election Fraud in Michigan
Dixon is running in one of the key swing states where Trump pushed claims of election fraud. He said last October that the state saw "voter fraud beyond what anyone can believe," despite audits conducted by Secretary of State Jocelyn Benson upholding Biden's victory.
Michigan provided Biden with one of his most narrow wins in 2020 after Trump narrowly carried the state in 2016. Other statewide candidates, including secretary of state candidate Kristina Karamo, have also embraced Trump's voter fraud claims.
Newsweek reached out to Dixon's campaign for comment.
Correction 08/01/2022 9:00 a.m. ET: This article has been corrected to reflect the correct spelling of Fox News host Bret Baier's name in the photo caption.