Stephen Colbert Slams Donald Trump for Revealing Nancy Pelosi's Secret Trip to War Zone: 'I've Told the Taliban You're Coming'
Stephen Colbert ripped into Donald Trump on Thursday's Late Show for publicly revealing Nancy Pelosi's trip to Afghanistan, Brussels and Egypt—which had been kept confidential for security reasons—in what was an escalation of the feud between the two.
The president canceled the speaker's secret trip to visit troops and NATO allies after Pelosi suggested that he postpone or submit in writing his State of the Union address, scheduled for January 29, ostensibly because of fears that security services would not be able to provide adequate protection due to the partial government shutdown.
Read more: 'Inappropriate': Lindsey Graham rebukes Donald Trump for postponing Pelosi's trip to visit troops in Afghanistan
"You might remember yesterday when Nancy Pelosi asked Trump to delay the State of the Union address saying that unfunded security agencies weren't equipped to protect the speech during a government shutdown," Colbert started his bit by saying.
"That makes sense, you can't have unpaid people guarding our leaders," he added before jokingly impersonating a member of the security services: "Eagle has entered the building and I need someone to take over my position cos I got to get to my second job at Dollar Tree."
The host then noted how, uncharacteristically, Trump did not immediately respond on Twitter to Pelosi's suggestion.
"Clearly the President considered the chaos and dysfunction that he has brought upon our government and the solemnity of the State of the Union, and cooler heads prevailed," he said, pausing. "I'm just kidding."
Just before Pelosi was set to depart, Colbert noted, the speaker received a letter from Trump—which was also posted online by White House press secretary Sarah Huckabee Sanders—saying that he was postponing her trip.
The letter read: "Due to the shutdown, I am sorry to inform you that your trip to Brussels, Egypt and Afghanistan has been postponed. In light of the 800,000 great American workers not receiving pay, I am sure you would agree that postponing this public relations event is totally appropriate. It would be better if you were in Washington negotiating with me and joining the Strong Border Security movement."
After reading out the letter in Trump's voice, Colbert then joked: "If I can't get my wall to keep people out of the country, you don't get to leave the country. Sorry Nancy, no living it up in Afghanistan for you."
Colbert continued by explaining how Trump has the power to postpone the trip because Pelosi was flying on military transport and the President is the Commander in Chief. He then read out another line from Trump's letter: "If you would like to make your journey flying commercial that would certainly be your prerogative."
The comic then joked: "Alright, she can fly commercial to Afghanistan. I'm sure JetBlue offers daily, non-stop flights to a war zone.
"Again, Pelosi wasn't on some pleasure cruise here," Colbert said. "She was visiting the troops and the trip to Afghanistan was a closely held secret due to security concerns. So, basically what Trump's letter said was, 'Nancy, feel free to go commercial now that I've told the Taliban that you're coming and staying at the Jalalabad La Quinta Inn.'"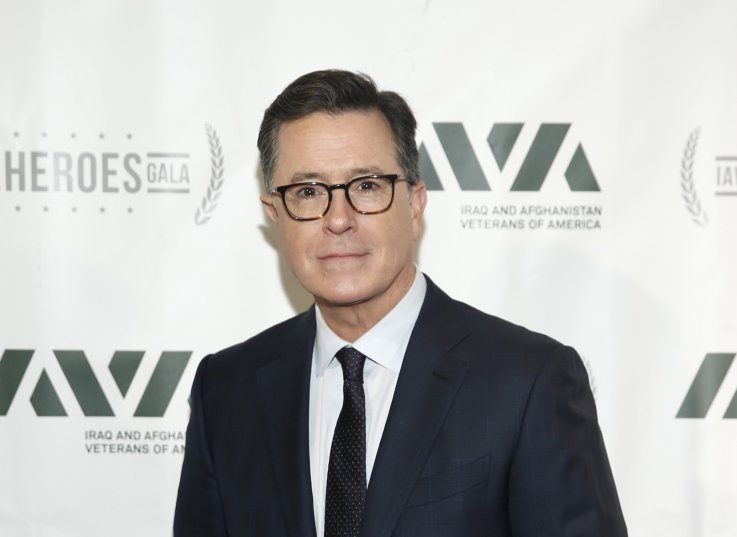 Stephen Colbert Slams Donald Trump for Revealing Nancy Pelosi's Secret Trip to War Zone: 'I've Told the Taliban You're Coming' | U.S.