Donald Trump Wants Other Countries More Involved in Middle East, But Russia and Turkey Already Are
President Donald Trump opted to de-escalate flaring tensions with Iran following its missile attacks in Iraq, but called on other nations Wednesday to play increased roles in the region—something Russia and Turkey have already begun to do.
"Today, I am going to ask NATO to become much more involved in the Middle East process," Trump said Wednesday from the White House's Grand Foyer. "Over the last three years, under my leadership, our economy is stronger than ever before and America has achieved energy independence."
His comments came the morning after Iran's Revolutionary Guard conducted a missile attack on two Iraqi military bases housing U.S. and allied troops, a retaliatory move after Thursday's killing of Quds Force commander Major General Qassem Soleimani in Baghdad. In his public address, Trump boasted that the United States does not need to rely on oil from the Middle East and praised the power of the U.S. military.
"The fact that we have this great military and equipment, however, does not mean we have to use it," he added.
Trump instead vowed further restrictions against Iran's economy, and opened the door for future cooperation with the Islamic Republic, along with U.S. allies, in regional affairs.
One NATO nation, Turkey, has already heeded Trump's call, deepening Ankara's involvement in Syria, as well as in the North African nation of Libya, another Arab country beset by a 2011 uprising. In pursuing both endeavors, Turkey has run up against—and come to an understanding with—another major foreign power, Russia.
Moscow has capitalized on Washington's destabilizing interventions and protracted campaigns across the Middle East and its peripheries, with Russia now seeking to step in as both a military and diplomatic force. Trump has said he wants to reduce the U.S. military involvement in the region, presenting an opportunity for both Russian President Vladimir Putin and Turkish President Recep Tayyip Erdogan.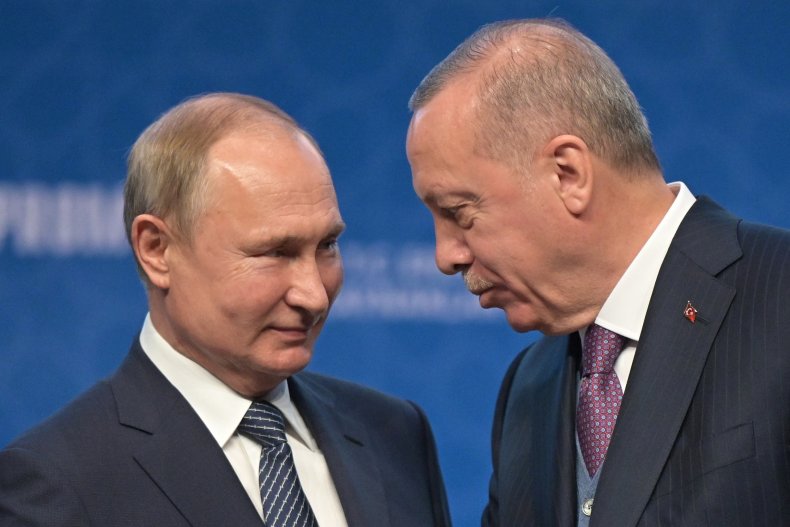 The two men met Wednesday in Istanbul to inaugurate the country's new 550-mile TurkStream gas pipeline. While there, the two men called for a ceasefire in Libya, a country fractured since a NATO-backed insurgency overthrew longtime leader Muammar el-Qaddafi in 2011.
In a joint statement, the Putin and Erdogan said they "call on all parties in Libya to stop hostilities as of 00:00 hours on 12 January, declare a sustainable ceasefire, supported by the necessary measures to be taken for stabilizing the situation on the ground and normalizing daily life in Tripoli and other cities, and immediately come together around a negotiating table with a view to putting an end to the sufferings of the Libyan people and bring back peace and prosperity to the country."
The move came after Turkey pledged military support for the United Nations-backed Government of National Accord in Tripoli amid an assault by a powerful rival claiming control over most of the country. Libyan National Army commander Field Marshall Khalifa Haftar, who represented the Tobruk-based House of Representatives, has received support from Egypt, France, the United Arab Emirates, and, reportedly, Saudi Arabia and Russian private military fighters.
Turkey 's moves in Libya have tied into a wider dispute over untapped resources in the eastern Mediterranean. Last month, Ankara and Tripoli signed an agreement last month to explore gas fields off the shores of Cyprus' Turkish-controlled northern half, angering Turkey's longtime rival—yet fellow NATO member—Greece, along with Egypt and France, all of whom gathered Wednesday in Cairo to discuss the crisis.
Washington, meanwhile, has voiced concern over both Ankara and Moscow's growing role in the conflict. The U.S. embassy in Libya issued a statement Sunday arguing that the country's recent "deterioration in security underscores the dangers of toxic foreign interference in Libya, such as the arrival of Syrian fighters supported by Turkey as well as the deployment of Russian mercenaries."
Ankara's reported decision to redirect Syrian insurgents from battling both Syrian President Bashar al-Assad, an ally of Russia and Iran, as well as against U.S.-backed Pentagon Kurdish fighters, would mark only the latest turn linking two multi-sided, eight-year conflicts in the Arab World.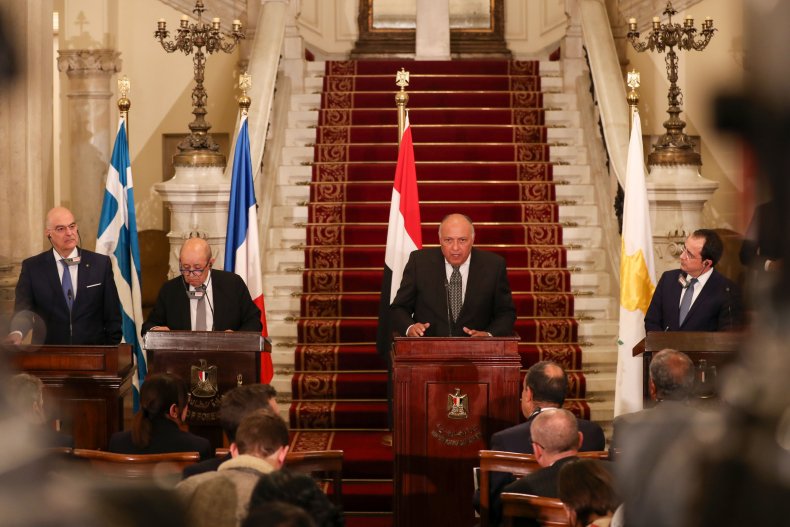 The U.S. and Turkey were initially united in their effort to back the 2011 rebel and jihadi uprising against Syrian President Bashar al-Assad, but split around the same time that Russia intervened in 2015 to support the Syrian leader who, like Qaddafi, the West and its allies accused of war crimes. Ankara continued to back an increasingly Islamist, fractured opposition, while the Pentagon began to sponsor the Syrian Democratic Forces, a group largely comprised of a Kurdish militia considered to be a terrorist organization by the Turkish government.
The Syrian government, backed by both Iran and Russia, went on to score nationwide gains against both the Islamic State militant group (ISIS) and opposition forces. Following Assad's recapture of Syria's second city of Aleppo in late 2016, Ankara entered into talks with Moscow and Tehran in hopes of settling the civil war.
While subsequent ceasefire agreements in Syria allowed some rebels to lay down their arms and for the transfer of civilians, the government ultimately resumed its offenses, retaking all but the northwestern province of Idlib and its outskirts. Another roughly third of the country spanning the north and east was in the hands of the Syrian Democratic Forces.
Facing a third, larger looming Turkish invasion of Syria, Trump in October began withdrawing U.S. troops co-located with Kurdish fighters and moving them east to prioritize control over oil fields. The Syrian Democratic Forces quickly struck a security deal with Damascus as Washington and Moscow reached back-to-back ceasefire agreements with Ankara shortly after Putin toured Saudi Arabia and the UAE.
These arrangments, along with an earlier Russia-Turkey ceasefire on the frontlines of Idlib, have failed to stop violent exchanges on the ground, but have so far largely prevented clashes between international powers in Syria. In a show of support to his Syrian ally amid U.S.-Iran tensions, Putin himself paid a rare visit to Assad in Damascus before heading to Istanbul.
Once in Turkey, he and Erdogan reiterated their "determination to combat terrorism in all forms and manifestations and to disrupt separatist agendas in Syria" as well as "the necessity to establish calm in the Idlib de-escalation area by fully implementing all agreements on Idlib."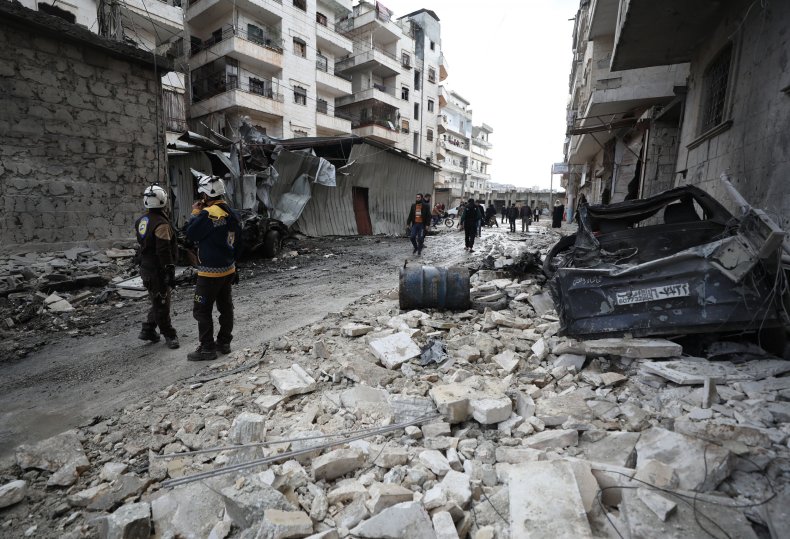 The Russian leader's next high-profile meeting is with German Chancellor Angela Merkel, a NATO leader much closer to the Western fold. While Ankara has defied the alliance by acquiring advanced Russian weapons, Berlin has expressed suspicions about Moscow's international designs, especially in Europe.
Still, Russia and Germany have a new gas pipeline of their own in the works, Nord Stream 2, and Merkel has expressed a desire to discuss Middle Eastern affairs with Putin. Days after the U.S. killing of Soleimani sparked nationwide unrest in Iraq and only one day before the Iranian retaliatory strikes, Germany pulled some of its troops out of the country.
Putin and Merkel were set to "discuss pressing issues on the international agenda, including the situation in Syria and Libya, as well as the escalation of tensions in the Middle East following a U.S. airstrike at Baghdad's airport on January 3," according to the Kremlin.
Asked Wednesday if Soleimani's death was the reason for Merkel's visit to Moscow, Kremlin spokesperson Dmitry Peskov told the state-run Tass Russian News Agency that "there is no connection."