Some of President Donald Trump's supporters have reportedly been lining up for two days to attend his rally in New Jersey on Tuesday night.
The Wildwoods Convention Center in the City of Wildwood, where the Trump rally is due to take place, can hold 7,500 people.
Entry on Tuesday when doors open at 3 p.m. ET will be on a "first-come, first-serve" basis. Those unable to get inside can watch the rally outside on a large screen. Trump will take to the stage at 7 p.m. ET.
People started arriving at 2 p.m. Sunday afternoon with many setting up tents to sleep in line, NJ.com reported.
By Monday evening there were reports of over 1,000 people lining up, according to postings by locals on the City of Wildwood Police Department Facebook page.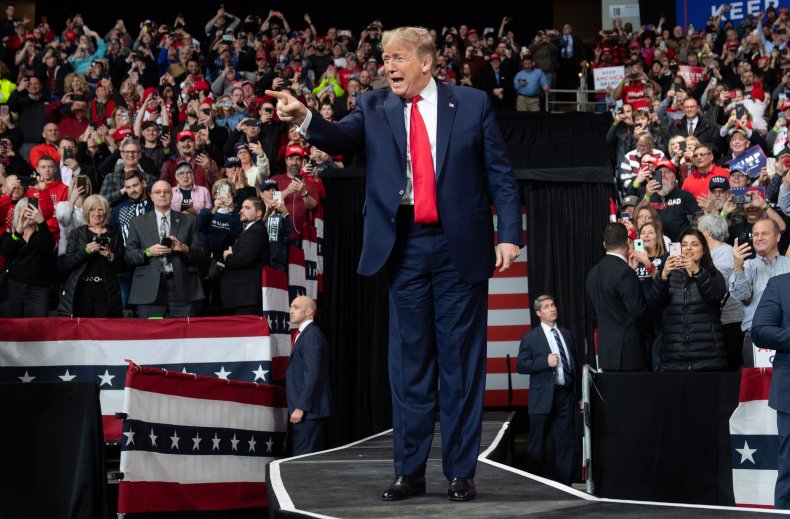 The Democrat-turned-Republican Congressman Jeff Van Drew, who represents New Jersey's 2nd district, will be a guest at the "Keep America Great" rally.
Van Drew, a newly-minted Trump supporter, told Fox News on Sunday there were 100,000 ticket requests for the event.
This figure has not been confirmed by the Trump campaign, which Newsweek has contacted for comment, but Wildwood mayor Pete Byron said he expects tens of thousands of people to show up, 6ABC reported.
The presidential visit to the town is, according to the Washington Examiner, the first since President Benjamin Harrison back in 1891.
The rally is a potential boon for Van Drew, whose district includes Wildwood, and his re-election chances. The Cook Political Report's analysis in December said Van Drew's party switch improved standing at the next election.
Van Drew was one of only two Democrats to vote against both articles of impeachment against Trump, for whom he pledged his "undying support" in an Oval Office meeting with the president.
In turn, Trump is expected to champion Van Drew's bid for re-election.
GOP State Sen. Michael Testa, who once criticized Van Drew as someone "who will do and say anything to remain in office," has changed his opinion, telling USA Today that anyone who opposed him "needs to realize the big picture of this [and] what an addition to the Republican team this represents."
Despite the number of people wanting to attend the rally, there is considerable opposition, too.
Ahead of the Trump rally, New Jersey Democratic state committee chair John Currie said, according to Patch.com: "If there is one thing New Jerseyans have made clear since 2016, it's this: President Trump's corrupt agenda is not welcome in our state."
There will also be anti-Trump rallies outside the Convention Center, including one event advertised on Facebook titled "Trump: You are not welcome here!"
It calls on people to attend to voice opposition to "racism, bigotry, misogyny, violence, and corruption of this administration. We also reject Van Drew as our Congressman."