MSNBC Host Says Ken Starr 'Dragged the Corpse of Irony Out of the Grave' With His Trump Defense at Impeachment Trial
MSNBC's Joe Scarborough said President Donald Trump's impeachment attorney Ken Starr "dragged the corpse of irony out of the grave" in his defense of the commander-in-chief at the Senate impeachment trial on Monday.
The Morning Joe host said on the show Tuesday morning that Starr, a key figure in President Bill Clinton's 1998 impeachment, dragged the "corpse of irony" through a "graveyard of stupidity" in his presentation to the upper chamber.
Starr had criticized what he called the "age of impeachment" when setting out Trump's defense at the Senate, which he said was "called to sit as the high court of impeachment all too frequently," and asked: "How did we get here?"
Scarborough questioned how Starr delivered the defense arguments "with a straight face" given his efforts during the Clinton impeachment, saying he looked "so sad and mournful."
Starr joined Trump's impeachment defense team shortly before the trial began, some two decades after the former independent counsel drove an investigation that led to Clinton's impeachment.
He is helping to defend Trump against the two articles with which the House impeached the president, one for abuse of power and other for obstruction of Congress, over the alleged Ukraine scheme.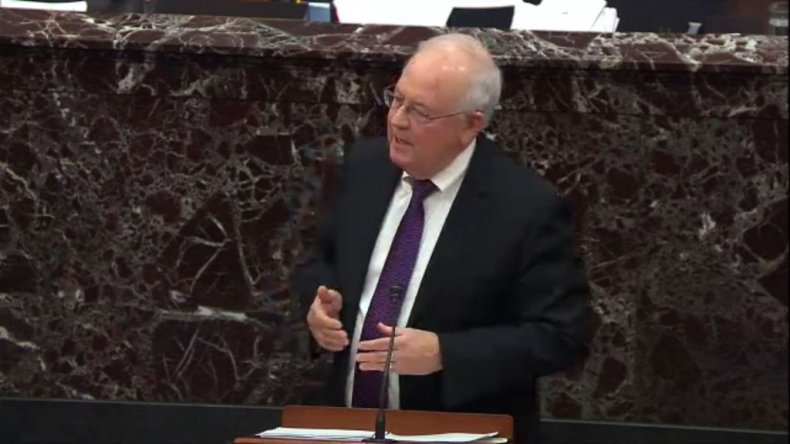 In a monologue about the Trump legal team's defense of the president, Scarborough said: "Where do we begin with Ken Starr? If irony weren't already dead and buried years ago, it was Ken Starr yesterday talking about how abuse of power is not sufficient to impeachment a president, you need a crime.
"He literally dragged the corpse of irony out of the grave, he meticulously tied the corpse's neck bone to the back of a tractor, and he ran that tractor throughout the graveyard of stupidity, and ran over every headstone."
Newsweek has contacted Ken Starr for comment and will update this article with any response.
After Starr's opening presentation in defense of the president during the impeachment trial, 1998 clips of the lawyer in which he appears to contradict his position today were resurfaced.
One clip broadcast by CNN last night showed Starr arguing that refusals by Clinton to testify were "inconsistent with the general statutory duty of all executive branch employees to cooperate with criminal investigations."
"It also is inconsistent with the president's duty to faithfully execute the laws," Starr added at the time.
But during the seventh day of the Trump impeachment trial, Starr defended the current president's use of executive privilege to block testimony and the release of documents.
It is "not an impeachable offense for the president...to defend the asserted legal and constitutional prerogatives of the presidency," Starr said.
MSNBC Host Says Ken Starr 'Dragged the Corpse of Irony Out of the Grave' With His Trump Defense at Impeachment Trial | Politics