President Donald Trump has reignited the national anthem debate with the NFL, suggesting league commissioner Roger Goodell could allow players to kneel in protests this season.
On Friday night, Goodell released a video in which he condemned racism and acknowledged the league had not done enough to heed black players' calls for justice. He also encouraged players to "protests peacefully."
"Could it be even remotely possible that in Roger Goodell's rather interesting statement of peace and reconciliation, he was intimating that it would now be O.K. for the players to KNEEL, or not to stand, for the National Anthem, thereby disrespecting our Country & our Flag?," Trump tweeted on Sunday night.
In the video released by the NFL, Goodell also offered his condolences to the families of victims of police brutality, including George Floyd, an African American man who died while in the custody of the Minneapolis Police Department on May 25 after a white officer knelt on his neck for almost nine minutes while arresting him.
Floyd's death has sparked huge protests in the U.S. and a number of NFL players, coaches, and executives have spoken out against racial discrimination and in support of the Black Lives Matter movement.
"We are listening. I am listening," the NFL commissioner said in a video. "And I will be reaching out to players who have raised their voices and others on how we can improve and go forward for a better and more united NFL family."
The anthem has long been an issue for Trump and the league. The president has previously urged team owners to fire players like Colin Kaepernick who knelt during the anthem.
The then-San Francisco 49ers quarterback became a global icon in 2016 when he first took a knee during the anthem to protest against racial discrimination and police brutality.
"Wouldn't you love to see one of these NFL owners, when somebody disrespects our flag, to say, 'Get that son of a b**** off the field right now. Out! He's fired. He's fired'," Trump said during a rally in Alabama in September 2017.
A year later, the NFL approved a new policy that would require all players to stand during the national anthem or be given the option to stay in the locker room. Crucially, the motion was passed without consulting the NFL Players Association.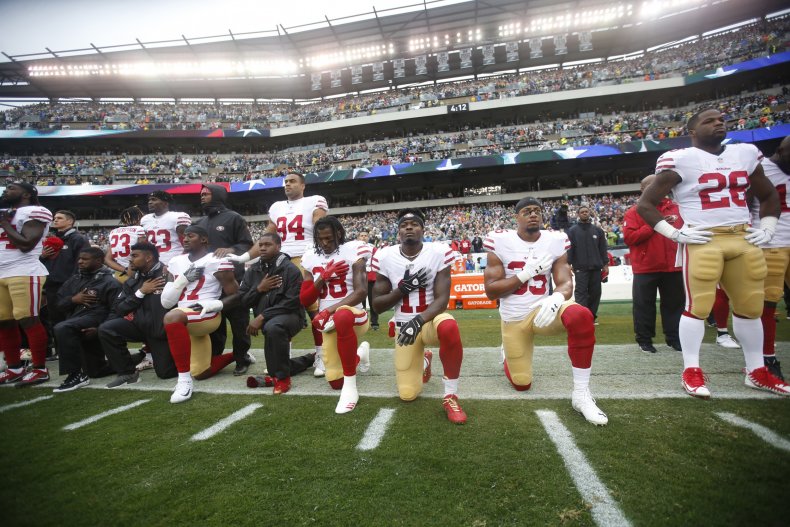 Goodell's statement did not address Kaepernick directly, nor did it mention the national anthem or the flag.
It did, however, match almost word for word the requests a host of NFL stars including Super Bowl LIV winner Patrick Mahomes and Houston Texans quarterback Deshaun Watson made during a video addressed to the NFL that was released on Thursday.
In the clip, the players called on the league to support the Black Lives Matter movement and to acknowledge it has silenced players who have protested against racism and the oppression of black people.
"We, the National Football League, condemn racism and the systematic oppression of black people," Goodell said in his response.
"We, the National Football League, admit we were wrong for not listening to NFL players earlier and encourage all players to speak out and peacefully protest. We, the National Football League, believe that black lives matter."
Goodell isn't the first NFL figure to become a target of Trump. On Friday, the president took aim at New Orleans Saints quarterback Drew Brees after he apologized for "missing the mark" with comments over players protesting.
"I will never agree with anybody disrespecting the flag of the United States of America or our country," the 41-year-old said in an interview with Yahoo Finance on Wednesday, a stance that sparked outrage among NFL players. Brees subsequently issued an apology in an Instagram video, vowing to "do better".
Trump, however, blasted the veteran quarterback for backtracking.
"I am a big fan of Drew Brees. I think he's truly one of the greatest quarterbacks, but he should not have taken back his original stance on honoring our magnificent American Flag. OLD GLORY is to be revered, cherished, and flown high," the president wrote on Twitter.
"We should be standing up straight and tall, ideally with a salute, or a hand on heart. There are other things you can protest, but not our Great American Flag - NO KNEELING!"