Minneapolis Police Flee Precinct as Protesters Forcibly Enter and 'Ignite Several Fires'
Minneapolis police officers fled a precinct in the city after it was stormed by protesters and fires were lighted inside the building.
Images and footage from the scene show fires burning inside the 3rd Precinct building, after demonstrators forced their way in last night. The station was evacuated "in the interest of the safety of our personnel," authorities said in a statement.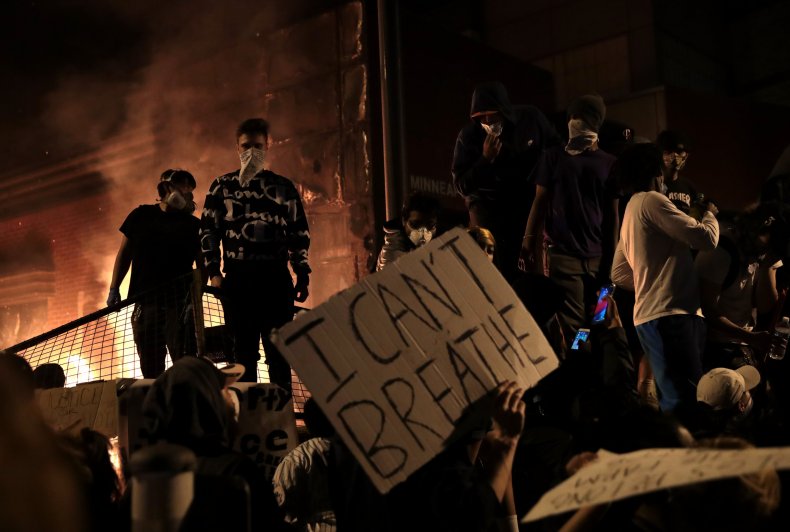 The statement added: "Protesters forcibly entered the building and have ignited several fires."
Protesters had earlier surrounded the building, while police used tear gas and rubber bullets in an attempt to disperse demonstrators.
Warnings have been issued over safety in the surrounding area following the break-in at the 3rd Precinct.
A tweet from the City of Minneapolis said: "We're hearing unconfirmed reports that gas lines to the Third Precinct have been cut and other explosive materials are in the building. If you are near the building, for your safety, PLEASE RETREAT in the event the building explodes."
While a post from Minneapolis NAACP also said the area was not safe.
An update on Twitter said: "The 3rd Precinct Police Dept. has been broken into and is currently on fire. The area is no longer safe!
"If you around the that area, GET OUT immediately!!!"
Images from the scene show protesters gathered at the precinct, with flames burning behind them.
Footage from the precinct showed police vehicles fleeing, chased by protesters as they moved from the area.
Newsweek has contacted Minneapolis Police Department for comment.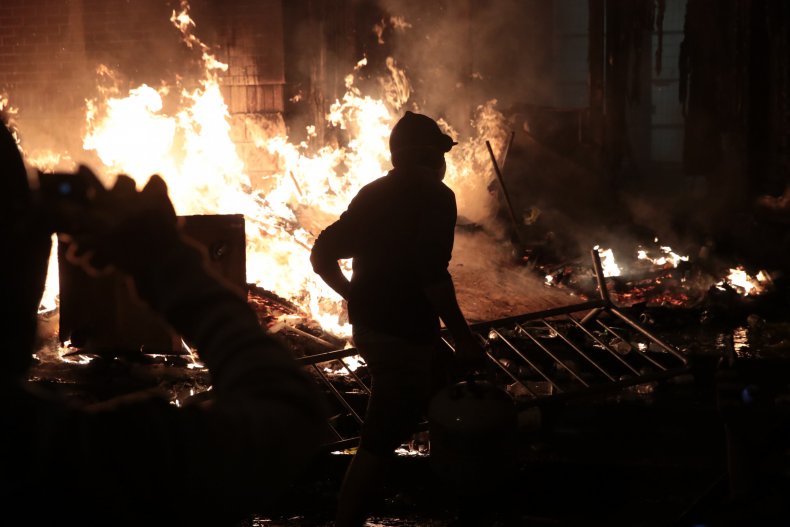 Protests are continuing in Minneapolis following the death of George Floyd, who died after officers attempted to arrest him on suspicion of forgery.
Video of Floyd being detained was shared on social media, in which an officer can be seen with a knee on his neck. Floyd is heard saying "I can't breathe." An ambulance was called for him and he was pronounced dead at a medical facility.
The four police officers involved were fired, though calls have been made for the arresting officer to be charged.
Minneapolis Mayor Jacob Frey tweeted previously: "If most people, particularly people of color, had done what a police officer did late Monday, they'd already be behind bars."
In a previous statement, he said: "Being black in America should not be a death sentence.
"When you hear someone calling for help, you're supposed to help. This officer [who knelt on Floyd's neck] failed in the most basic, human sense."
Democratic senator Amy Klobuchar, of Minnesota, also previously called for the prosecution of the Minneapolis police officers involved in the arrest.
Minneapolis Police Chief Medaria Arradondo apologized to Floyd's family at a press conference held on Thursday.
Arradondo said: "I am absolutely sorry for the pain, the devastation the trauma Mr. Floyd's death has left on his family, his loved ones and our community."