Nikki Haley Breaks Trump's Golden Rule
Former President Donald Trump has made it clear numerous times over the years that he places a special value on loyalty, and he indicated on Tuesday that he feels Nikki Haley has not measured up to his standards.
During an appearance on the syndicated Jenna Ellis in the Morning show on American Family Radio, Trump talked about Haley's recent announcement that she is running for president in 2024.
Haley is a former governor of South Carolina and later served as the U.S. ambassador to the United Nations under Trump. On Tuesday, she announced her White House bid in a video in which she said it's "time for a new generation of leadership to rediscover fiscal responsibility, secure our border and strengthen our country, our pride and our purpose."
Speaking with Ellis, who was a senior legal adviser to Trump before she launched her radio show and podcast, Trump talked about Florida Governor Ron DeSantis' possible presidential run before referencing a comment Haley made in 2021 about how she "would not run if President Trump ran." (When asked about the comment by Fox News in January, Haley backtracked and called for a "new generational change.")
"To me, loyalty is a very important word but you can look at Nikki Haley...She said 'I would never run against our president,'" Trump said. "[Haley and DeSantis] have to do what they have to do. It's okay."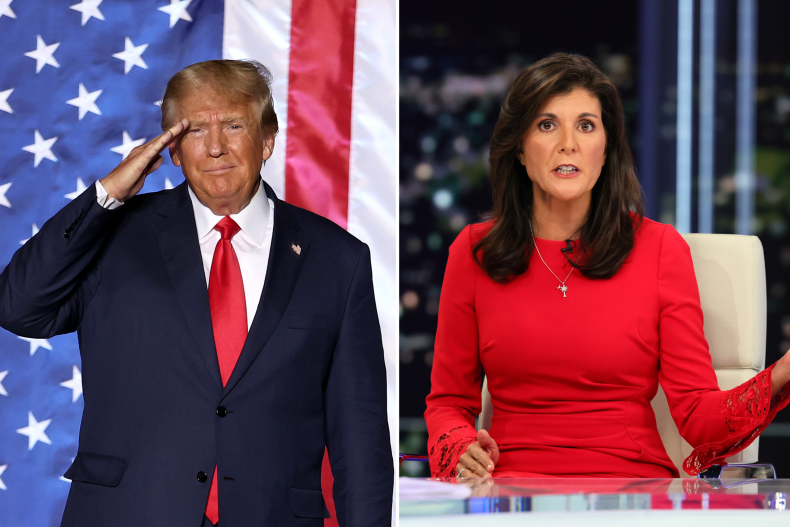 Trump also mentioned loyalty when going into detail about how he said he helped DeSantis during the fellow Republican's gubernatorial campaign.
"I just let people know, because I believe in loyalty, that he was at like 3 percent [in the polls]. He was dead in politics. He was never going to be in office. He was getting ready to leave the race, then he came over and asked whether or not it would be possible for me to endorse him," Trump said. "For whatever reason, I did endorse him, and he ended up going up like a rocket ship, and he won that election."
Trump claimed that his participation in rallies for DeSantis helped secure the Floridian's eventual victory in his state.
"He ended up beating a guy that he wasn't supposed to beat, because of me. Then he runs. So, you know, I call that disloyalty. But I have no problem. He's gonna have to do what he has to do," he said. "But I'm a very big believer in loyalty. Somebody gets you in, you sort of be loyal to that person..."
Ellis told Newsweek that she agrees with the central point Trump was making about potential challengers for the GOP nomination.
"Interestingly, any of the main contenders would be putting up a record that Trump will take credit for because, without his help, they wouldn't be in a position to have those accomplishments," she said.
DeSantis has not announced that he will be running in 2024, but Ellis joined Trump in welcoming DeSantis if he does decide to enter the race.
"It will be very interesting to see what happens when and if Governor Ron DeSantis enters the race. I personally would love to see him run, especially in this race, because no Republican has gone toe-to-toe with Donald Trump and won," she said. "So we will see a solid testing of DeSantis in a way I believe is valuable to inform the base of Republican voters."
Ultimately, though, Ellis said the odds favor her former employer.
"President Trump is very confident that regardless of who enters the ring to challenge him, he will come out on top—and he has the record to prove it," she said.
Newsweek reached out to Trump for comment.