What Nikki Haley Believes
Nikki Haley confirmed she will run for the White House in a video with the caption: "Get excited! Time for a new generation."
However, polls show she has limited recognition among GOP voters compared with Donald Trump, Ron DeSantis, and Mike Pence
She is expected to talk tough on China and distance herself from the culture wars, but will it be enough to make her stand out from the crowd?
Republican Nikki Haley, the ex-governor of South Carolina and former U.S. ambassador to the U.N., has confirmed her intention to run for the White House in a campaign video posted Tuesday morning.
The one-time member of the Donald Trump administration was expected to formally declare her candidacy during a "big announcement" to be made on Wednesday, February 15, at an event in Charleston, South Carolina.
Instead, Haley tweeted a video announcing her presidential ambitions along with the caption: "Get excited! Time for a new generation."
So, where does she stand on the key issues, and how likely is she to succeed?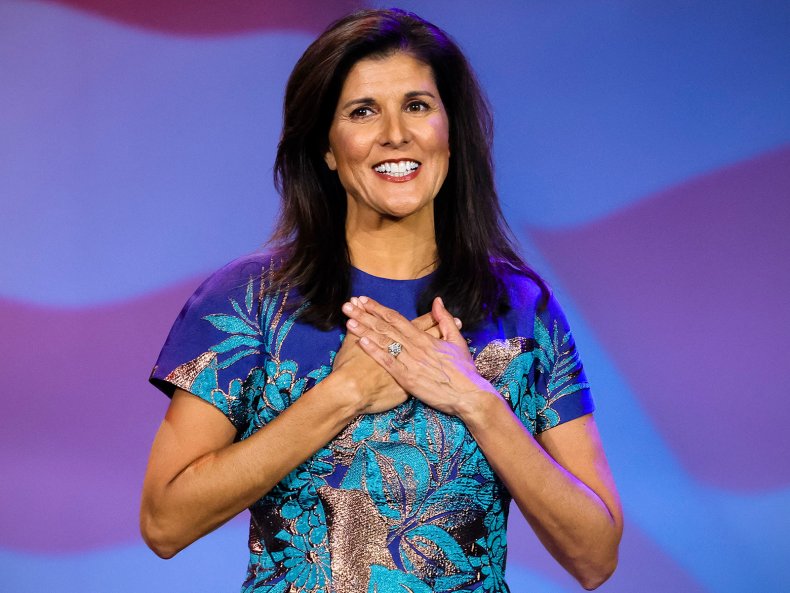 What the Polls Show
Haley, 51, has now become the first serious challenger to face off against the 76-year-old Trump in the GOP 2024 primary, despite previously stating she would not go up against the former president should he decide to run again.
As well as the daunting prospect of trying to unseat Trump as the de-facto leader of the Republican Party, Haley's campaign will have to cope with the fact she currently has nowhere near the national recognition and support of the former president in the still-early presidential primary.
Polls frequently show that Haley is not even in the top three most popular potential candidates for GOP voters in a hypothetical presidential primary, with Florida Governor Ron DeSantis widely seen as the ready-made alternative for Trump in 2024, and former Vice President Mike Pence a distant third.
According to a Morning Consult poll posted the same day Haley dropped her 2024 campaign announcement, she has the backing of just 3 percent of likely GOP primary voters.
A recent Monmouth University Poll also found that 22 percent of likely GOP primary voters did not have an opinion of Haley, and 19 percent had not even heard of her.
During her campaign video, Haley sought to fill this gap with sweeping promises of offering leadership to "rediscover fiscal responsibility, secure our border and strengthen our country, our pride and our purpose."
To appeal to voters, Haley will need to reveal her beliefs and intentions in greater detail, as well as how she will position herself within the GOP ahead of the 2024 Election, with voters still appearing willing to back Trump's MAGA agenda, or DeSantis' potential Trumpism-without-Trump campaign.
"She is someone who will run a very policy-focused campaign, which is different from what we've seen in recent years," Danielle Vinson, a professor of politics and international affairs at Furman University in South Carolina, told Newsweek.
"She is a mainstream conservative Republican," Vinson said. "Very pro-business, interested in deregulation of business, cutting taxes to make things more attractive for business. And I think you'll see her focus on those kinds of issues."
Here, Newsweek explores the issues and viewpoints that could determine the success of Haley's ambitions.
Abortion
Haley described herself as "very pro-life" and has spent most of her political career fighting for anti-abortion legislation, including signing a law as South Carolina governor in 2016 banning the procedure in most circumstances after 19 weeks of pregnancy unless the mother's life is at risk.
In the wake of the Supreme Court voting to overturn Roe v. Wade in June 2022, South Carolina went further in its restrictions and banned abortions after six weeks—a decision which was later overruled by the Supreme Court in January.
Haley does support the notion that abortion restrictions should be decided on a state level, which has prompted backlash from anti-abortion groups.
After Kansas overwhelmingly voted against a state constitutional referendum that would have dissolved abortion rights, Haley said: "I would love to see Kansas go all pro-life. It didn't because the people stepped up and they made the decision."
As seen in the November midterm elections, the issue of abortion could be a deciding factor with many voters, with each GOP presidential candidate needing to make clear how far they believe each state should impose restrictions post-Roe v. Wade.
Foreign Policy
Haley has been a frequent critic of China and its threat to the U.S. on a global scale, as well as the country's human rights abuses.
In Tuesday's campaign video, Haley accused China of committing "genocide" in reference the country's treatment of the Uyghur Muslim population, and noted that China and Russia are are "on the march" with regards to provoking the U.S.
"They all think we can be bullied and kicked around," Haley said. "You should know this about me. I don't put up with bullies. And when you kick back, it hurts them more if you're wearing heels."
Haley has used the recent incidents of Chinese spy balloons flying over U.S. airspace to suggest the country needs to show "strength" against the Asian powerhouse.
"China would never let a spy balloon fly through their airspace. No strong leader would. And now, it's flying above South Carolina," Haley tweeted on February 4. "Capture the balloon. See what they are collecting. Hold Xi accountable. We need American strength back."
Haley positioned herself as a strong ally to Israel during her time as ambassador to the U.N, including spearheading the U.S.' withdrawal from the U.N. Human Rights Council because of the body's "anti-Israel invective."
In a March 2017 speech at the American Israel Public Affairs Committee (AIPAC) policy conference, she declared that "the days of Israel-bashing are over" at the U.N.
During her time as ambassador to the United Nations, the U.S. also pulled out of the Iran nuclear deal, which was signed by Democratic President Barack Obama and hugely unpopular among Republicans.
Culture Wars
One area in which Haley may be able to distance herself from Trump and DeSantis is her disdain for stoking the culture wars by attacking those on the other side of the debate.
In 2018, Haley spoke out about what she saw as conservatives' need to "own the libs" online rather than achieve anything meaningful.
"I know that it's fun and that it can feel good, but step back and think about what you're accomplishing when you do this—are you persuading anyone? Who are you persuading?" Haley told a conservative conference of high school students at the High School Leadership Summit at George Washington University.
"Real leadership is about persuasion, it's about movement, it's bringing people around to your point of view," she said. "Not by shouting them down, but by showing them how it is in their best interest to see things the way you do."
During a 2021 Virginia gubernatorial campaign event alongside Glenn Youngkin, Haley also blasted the "culture wars" in the U.S.
"They've done nothing but to divide America," Haley said. "You've got these culture wars and I know that China and Russia are saying, 'what happened to America?'"
Education
Youngkin made banning critical race theory one of his key policies in his race for governor, despite there being no evidence-based suggestion the academic theory was being discussed in K-12 classes. The banning of the CRT has also been pushed by DeSantis in Florida in recent months.
Vinson said Haley may back the same education policies that have been "animating" DeSantis and Younkin in her presidential campaign.
"She will be pro-education and certainly reluctant to support CRT and things that have become buzzwords on the Republican side of things," Vinson said.
In June 2022, Haley also backed DeSantis' so-called "don't say gay" law banning classroom discussions on sexual orientation or gender identity in certain grades in Florida schools, arguing the law doesn't go "far enough."
With regards to Haley's campaign, Vinson said she has the opportunity to paint herself as "the adult in the room," with Trump and DeSantis expected to deliver blow after blow against each other for the foreseeable future.
"Even when she's attacked, she tends not to go down in the mud and fight," Vinson said. "She's not into name calling, for example. She can get feisty when she needs to be, but does it in a way that's more substance-based.
"If there is a market in the Republican Party for someone who is less in your face, and less chaotic than Trump and DeSantis, she can chart that lane. That's a path that she will be comfortable walking."