What Kansas Abortion Vote Means for Democrats, Republicans in the Midterms
The decision by Kansas voters to protect their abortion rights is a taste of how the overturning of Roe v. Wade could impact November's midterm elections.
In the first electoral test since the Supreme Court overturned the 1973 ruling giving women a federal right to an abortion in June, more than 59 percent of people in Kansas backed upholding the state's constitutional right for women to access the procedure.
Given that former Republican President Donald Trump won the state by 15 points (56-41) only two years ago, Monday's referendum result is considered a landslide, pointing to unhappiness with the Supreme Court's decision on Dobbs v. Jackson Women's Health Center, regardless of voters' political persuasion.
Polling also points to abortion and the push by the GOP to restrict access to it, being a hot-button issue ahead of the midterm elections on November 8 in which Democrats are fighting to retain control of Congress.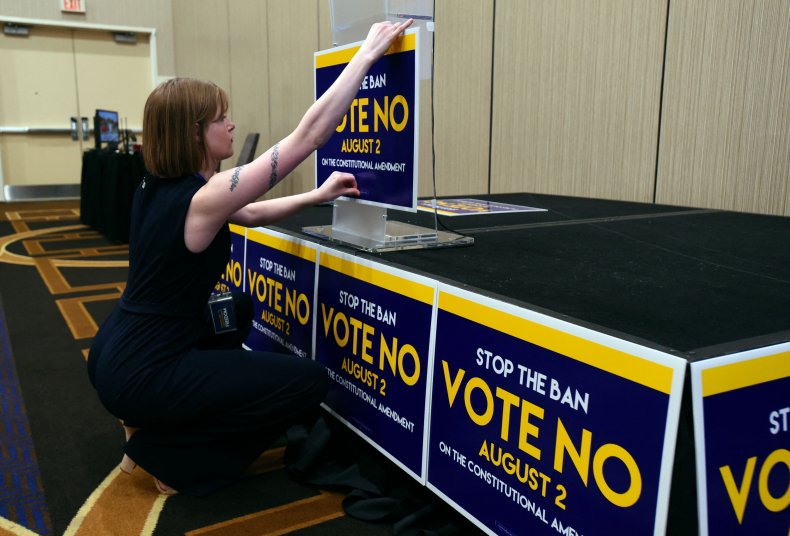 In May, electoral analysis firm Split Ticket said banning abortion "is extremely unpopular among voters" and that "Republicans have far more pro-choice voters than Democrats have pro-life ones."
It cited data that showed 59 percent of Americans favored keeping abortion mostly legal, compared with only 39 percent who wanted to make it mostly illegal.
The data from June drawn from a Pew Survey came before the Supreme Court ruling but after a leaked draft of its majority opinion surfaced the previous month. The poll also found over one-third of Republicans, or 35 percent, favored keeping abortion legal in most or all cases.
"Kansas is a state where pre-Dobbs polls usually indicated a close split on abortion rights," Split Ticket partner Lakshya Jain told Newsweek. Our pre-ruling survey aggregates suggested that it was about four points in the pro-life direction. For the referendum to be defeated by double digits here is a resounding statement by an electorate and points to states like Michigan comprehensively voting in favor of it."
He added: "One thing to note is that Democrats had a massive surge in turnout here, which points to the issue being a motivating factor for many, especially when a referendum is on the ballot. That bodes well for Dems in states where this is a hot topic."
Another survey released by national health non-profit Kaiser Family Foundation (KFF) on Tuesday found that nearly two-thirds of the public (65 percent) disapproved of the Supreme Court's decision on Dobbs.
The survey also found that 61 percent of respondents—including most Democrats, independents, and women between the ages of 18 and 49, as well as about half of those living in states with pre-Roe abortion bans or trigger laws—wanted their state to guarantee abortion access.
This is more than twice the number of those who want the laws in their state to ban abortion (25 percent) according to the survey conducted between July 7 and 17 with a 4 percent margin for error.
Rachel Fey, vice president of policy & strategic partnerships at Power to Decide, said that the polling leading up to the Dobbs decision showed it was "very clear" people wanted Roe v. Wade to stay the law of the land. The Kansas referendum "was a full rebuke in the middle of the country," to the Supreme Court ruling.
"People out there may have questioned whether those polls reflected everyone in the United States or just folks on the east and west coast," she told Newsweek, "but in my years of working in reproductive health and rights, I have come across strong pro- abortion, pro-freedom movements across the country.
"I think the reaction of Kansans to the threat of losing their access to abortion was resounding 'no'—this was not a close call," she said. "Kansas is surrounded by states that are banning abortion care, and this is really meaningful for people who are trying to seek that care.
"There are abortion supporters of all political stripes, and they're angry and there's a sense of rage," she said.
"For a very long time policymakers to pursue anti-abortion policies have been out of step not just with Democrats, not just with independents, but with Republicans as well. And the polling continues to bear that out."
Senate Minority leader Mitch McConnell has batted away suggestions that the referendum could reshape the midterms, telling Fox News on Wednesday, "I don't think we really know until the end of the year" about its impact.
The Republican from Kentucky, a state which following the Supreme Court ruling has reinstated a near-total ban on abortion, told Fox News that the vote "tells us there were a lot of people interested in the issue in Kansas."
The referendum result hailed by President Joe Biden shows that the U.S. is not neatly divided down the center and highlights unease, even among some conservatives, at the Dobbs ruling.
Meanwhile, polling such as from Democratic firm HIT Strategies says that abortion restrictions will make key Democratic constituencies more motivated to vote. Abortion is the second most important issue for Americans, after economic concerns, according to Gallup.
"The Kansas result certainly suggests that the Democrats have a real opportunity to turn the midterms into a referendum on Roe v. Wade," Darren Reid, course director of history at England's Coventry University, told Newsweek. "We've seen even moderate conservatives take on ever-more radical positions over the course of the past decade, particularly under the shadow cast by Donald Trump.
"But the Kansas result suggests that we may have seen the high water mark for the far right. If normally conservative voters have found an issue that alienates them from local Republican candidates—or from the GOP—there is a real opportunity for the Democrats to thrive in the coming midterms," he said.