U.S. Abortion News: New WH Task Force Aims to Clear Confusion After Roe Decision
President Joe Biden signed another Executive Order today to protect access to reproductive healthcare services, including out-of-state abortion travel.
Over a month after the Supreme Court overturned Roe v. Wade, reproductive rights remain a top issue for lawmakers and voters across the country.
In the first nationwide vote since the Supreme Court decision, Kansas voted to uphold the right to an abortion in their state constitution Tuesday.
Legal battles continue in several other states over trigger laws that place strict bans on abortions.
Attorney General Merrick Garland also announced Tuesday that the Justice Department filed a lawsuit seeing to block Idaho's new restrictive abortion law.
The live updates for this blog have ended.
New Task Force to Address Misinformation
During the first meeting of the Biden administration's interagency Task Force on Reproductive Healthcare Access, leaders talked about maintaining the right to privacy and accurate information surrounding reproductive healthcare.
President Biden's Executive Order will protect the privacy of patients seeking emergency medical and abortion care and their access to accurate information about reproductive healthcare, among other things.
Vice President Kamala Harris said people are scared and confused about the new laws restricting abortions in states across the country following the Roe decision.
"There is a need for clarity around the rights individuals and of states" surrounding reproductive health care and federal resources," Harris said.
Harris also said that the task force will address the misinformation and disinformation that "can only thrive in an environment in which there is confusion about what is the right approach and what is the law."
Today's Executive Order will combat false information and confusion while protecting accurate, possibly life-saving, information about reproductive healthcare in states, regardless of state abortion bans. This includes the right to cross state lines to get an abortion
"Women residing in states that have banned access to abortion must remain free to seek that care in states where it is legal," U.S. Attorney General Merrick Garland said.
He added that, under First Amendment protections, people must remain free to counsel each other on reproductive care that is available in other states.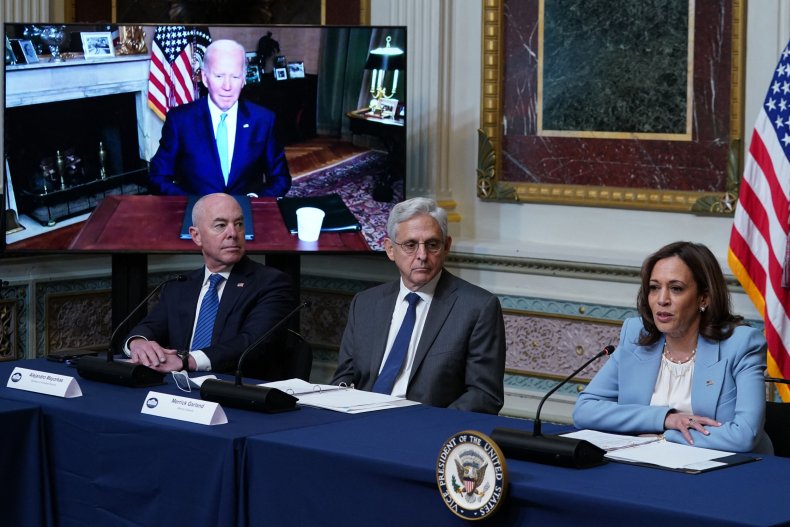 19-Year-Old Activist Raises Over $2 Million for Abortion
A 19-year-old activist has raised over $2.25 million for abortion funds across the country.
Olivia Julianna is an abortion rights activist and strategist for Gen-Z for Change.
Her fundraiser for abortion funds reached $2,251,900 Wednesday.
"Americans across the country raised $2 million in a week for abortion rights to stand up to a Republican congressmen," she said in a tweet.
She added that candidates running for office who do not prioritize abortion need to "reevaluate."
"Kansas just overwhelmingly voted to protect access to abortion," she tweeted. "If abortion isn't at the top of your campaign list— you need to reevaluate"
This viral fundraising campaign began after Julianna got into a Twitter battle with Republican Congressman Matt Gaetz of Florida after he made several comments attacking the physical appearance of abortion rights activists.
"The women with the lest likelihood of getting pregnant are the ones most worried about having abortions," Gaetz said at the Turning Point USA Student Action Summit in July. "No one wants to impregnate you if you look like a thumb."
Julianna responded to his comments. This began an back-and-forth in which Gaetz handed her "a national spotlight on a silver platter," Julianna said in a statement.
When Gaetz tweeted out a photo of Julianna and unleashed his followers against her, Julianna took this newfound attention as an opportunity to raise money for the cause Gaetz was bashing. All while trolling the congressman in true Gen-Z fashion.
"My rule is if you're going to attack me for my looks you better be hotter than me," Julianna tweeted in response. "And to be blunt Matt Gaetz is one of the ugliest things to crawl out of the pits of Florida."
She began tweeting memes and fundraising updates with the hashtag "ThanksMattGaetz."
Julianna and her fundraising campaign went viral, as Democratic politicians, news organizations and celebrities began promoting her efforts.
Each day, the fundraiser grew. In the first 72 hours, she raised $1 million in donations for abortion funds.
"I'm in shock," Julianna told Newsweek after the total had eclipsed $500,000. "I did not think this would be as successful as it's been. My goal was only to raise a few thousand dollars; I never expected for this to take off as much as it has."
By July 30, nearly a week after Julianna sent her initial tweet in response to Gaetz, the fundraiser reached $2 million.
DOJ Seeks to Dismiss Texas Lawsuit Against HSS
U.S. Attorney General Merrick Garland said the Justice Department will continue to be "relentless" in its efforts to protect and advance reproductive rights.
During the first meeting of the Biden administration's interagency Task Force on Reproductive Healthcare Access, Garland said state legislatures have passed laws restricting abortion that will have "devastating consequences" on women and their civil rights since the Supreme Court overturned Roe v. Wade.
The harms caused by these laws will be especially severe for people of color and those of limited means, he added.
Garland said the DOJ is "vigilantly" monitoring state laws to ensure they do not infringe on federal protections.
He announced that the department will also be filing a motion to dismiss a Texas lawsuit challenging the Department of Health and Human Service's guidance on emergency medical care under the Emergency Medical Treatment and Labor Act (EMTALA).
"The law could not be clearer and we are going to vigorously litigate this suit" to ensure women get the emergency care to which they are entitled under federal law, he said.
This comes one day after DOJ filed a lawsuit against an Idaho abortion ban that violates EMTALA, a federal law that requires hospitals receiving federal funds to ensure anyone coming to a hospital for emergency treatment is stabilized and treated.
"If a patient comes into the emergency room with a medical emergency jeopardizing the patient's life or health, the hospital must provide the treatment necessary to stabilize that patient," Garland said in a press conference Tuesday. "This includes abortion when that is the necessary treatment."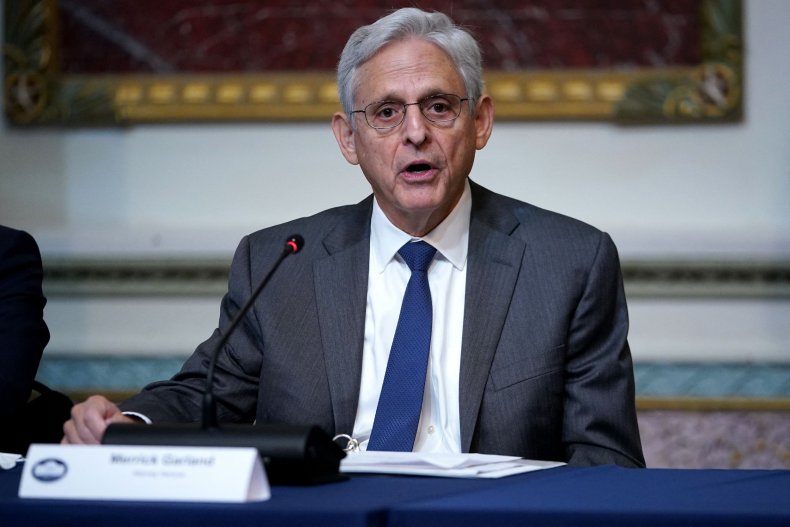 Planned Parenthood Calls Biden's Order a 'Critical Step'
Planned Parenthood called President Joe Biden's newest excecutive order a "critical step" in supporting access to abortion care across the United States.
"The news out of Kansas last night was clear: people support reproductive freedom & the ability to make their own health care decisions," Planned Parenthood tweeted Wednesday shortly after Biden signed the order.
Meanwhile today on the Senate floor, legislation is being proposed to protect doctors providing abortion care.
Senator Patty Murray said she is leading the effort to ensure doctors can "do their jobs and save lives—without threat of legal action."
Planned Parenthood responded to Murray's push, saying the answer should be "very simple."
"No provider should face prosecution for providing basic, time-sensitive, essential, legal health care, including abortion," Planned Parenthood wrote.
Biden Says His Order Will 'Safeguard Access' to Care
President Joe Biden has signed a second Executive Order to protect access to reproductive healthcare in the United States.
Biden signed the order during the first interagency Task Force on Reproductive Healthcare Access meeting Wednesday afternoon, which he joined virtually.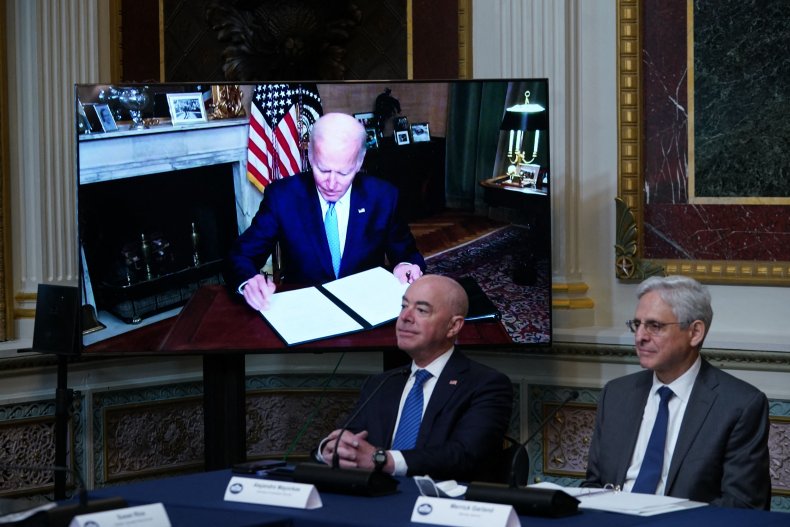 "Today's Executive Order builds on the first Executive Order that I signed last month to safeguard access to health care – including abortion care – that was ripped away," Biden tweeted before signing the order. "I told you I wouldn't back down. That hasn't changed."
"I don't think the Supreme Court or for that matter Congressional Republicans – who for decades have pushed their extremist agenda – have a clue about the power of American women," Biden tweeted shortly after signing the order. "Last night in Kansas they found out."
WATCH: Biden Signs Second Executive Order on Abortion
President Joe Biden is signing an Executive Order today to protect access to reproductive healthcare services. He will sign the order during the Task Force on Reproductive Healthcare Access meeting.
Biden is first delivering remarks virtually, as he continues to isolate due to COVID-19.
Watch live here or below:
WH Task Force on Reproductive Healthcare Meets Today
The White House's new task force created to protect access to reproductive healthcare services across the country is meeting for the first time today.
The Task Force on Reproductive Healthcare Access was established through Executive Order and is led by Vice President Kamala Harris.
It's purpose is to coordinate and drive "efforts across the federal government to protect access to reproductive healthcare services and defend reproductive rights," the White House said. Secretary of Health and Human Services Xavier Becerra and Director of the White House Gender Policy Council Jennifer Klein will serve as co-chairs.
Newsom Incentivizes Hollywood to Leave 'Anti-Abortion' States
California Governor Gavin Newsom is incentivizing Hollywood productions to leave "anti-abortion states" and film in the Golden State.
Wednesday, the governor called on companies that have relocated to states like Georgia for tax credit incentives to return or relocate to California.
"CA will be extending our tax credits for productions that leave discriminatory red states," Newsom tweeted, encouraging creating and filming in a state that protects employees' rights.
Newsom tweeted an written ad directed at Hollywood on Wednesday. It reads in part:
"Over the past several years, the legislature of states like Georgia and Oklahoma have waged a cruel assault on essential rights. Now, in the wake of the Supreme Court's abhorrent decision overtuning Roe v. Wade, those same states are quickly moving to strip reproductive freedom."
"You have a responsibility to take stock of your values- and those of your employees- when doing business in those states. California is a freedom state: Freedom to tell your stories. Freedom to access the health services you need, including abortion care."
The ad concludes saying: "So to those in power to make decisions about where to film, where to hire, where to open new offices, we in California say: Walk in the walk."
Newsom also announced his support for a state senate bill that would invest over $1.6 billion dollars into the Film & Television Tax Credit Program.
"This announcement comes as hundreds of showrunners demand that production companies implement protocols to protect pregnant employees in states where abortion is outlawed," a press release from Newsom's office says.
"As other states roll back people's rights, California will continue to protect fundamental freedoms for all and welcome businesses that stand up for their employees," Newsom said.
Idaho Supreme Court to Decide on Abortion Bans
The Idaho Supreme Court will hear arguments today to decide whether two strict abortion laws will go into effect this month.
The court will consider Idaho's total abortion ban law that was triggered after the Supreme Court overturned Roe v. Wade and a "heartbeat bill" that that allows families to sue medical providers who perform abortions.
The trigger law prohibits abortion in nearly all cases. While there is an exception for rape and incest, the law requires victims to file a police report and provide that report to a medical provider.
Medical providers could be convicted of a felony and face up to five years in prison if they violate this law. This law was passed in March 2020 and would go into effect Aug. 25.
The court will also consider whether to lift the temporary pause placed on a heartbeat bill. The bill does includes exceptions for rape, incest or a medical emergency that would cause death or create serious risk of substantial harm to the mother.
This law allows civil lawsuits to be filed against medical providers who provide abortions after fetal cardiac activity is detect, at about six weeks.
The families of the fetus or embryo who sue medical providers could be awarded at least $20,000 if they win.
Planned Parenthood and one of its abortion providers will argue that both of these laws violate Article 1 of the state's constitution. Their argument is based on decades of case law in which the Idaho Supreme court upheld the right to decide "whether to procreate" is a fundamental right in the state's constitution.
During Wednesday's arguments, lawyers from the state and Planned Parenthood will argue to the court whether to pause the enforcement on the near-total abortion ban and whether to lift the existing pause on the heartbeat bill, set to go into effect immediately.
The court will also decide if the two lawsuits should be consolidated into one case and whether those cases should be transferred to a lower district court for further review.
Planned Parenthood also filed another lawsuit against a "six-week trigger ban" that is set to go into effect Aug. 19. This bill criminalizes abortion after six weeks of pregnancy and would issues a two to five year felony sentence to any person who violates this statute.
The U.S. Department of Justice has also filed its own lawsuit against the state's trigger law. It argues that the total abortion ban violates a the federal Emergency Medical Treatment and Labor Act (EMTLA) that states hospitals that receive Medicare funds are required to provide necessary emergency medical treatment.
"The suit seeks to hold invalid the state's criminal prohibition on providing abortions, as applied to women who are suffering medical emergencies," Garland said in a press conference Tuesday. "Idaho's law would make it a criminal offense for doctors to provide emergency medical treatment that federal law requires."
While the law provides an exception in order to prevent the death of a pregnant woman, Garland said "it includes no exception for cases in which the abortion is necessary to prevent serious jeopardy to the woman's health."
The Idaho Attorney General called this lawsuit "politically motivated."
"It's unfortunate that, instead of sitting down with the State of Idaho to discuss the interplay between its abortion laws and EMTALA, the U.S. Department of Justice has chosen to file a politically motivated lawsuit," Attorney General Lawrence Wasden said in a statement.
"Instead of complying with the requirements of this provision and reconciling Idaho's law with EMTALA, or even attempting to engage Idaho in a meaningful dialogue on the issue, the federal government has chosen to waste taxpayer dollars on an unnecessary lawsuit."
What Will Biden's Executive Order Do?
President Joe Biden will soon sign an executive order aimed to protect access to reproductive healthcare services across the country.
Most notably, the order will protect out-of-state travel for abortion services. Here's a look at what the order will do:
Protecting Abortion Travel:
This action will support women travelling to another state to receive reproductive healthcare services. It will allow states, where abortion remains legal, to apply for certain Medicaid waivers to help out-of-state patients, according to the Associated Press.
"The Executive Order directs the Secretary of Health and Human Services (HHS) to consider action to advance access to reproductive healthcare services, including through Medicaid for patients who travel out of state for reproductive healthcare services," the White House said in a statement.
Non-Discrimination:
This action aims to ensure that healthcare providers comply with federal non-discrimination laws so women can receive "medically necessary care without delay." It also aims to clear up any confusion following the Supreme Court's decision earlier this summer.
Collecting Data on Maternal Health:
The Secretary of HHS will measure how the change in access to reproductive health care services is impacting women's health. According to the White House, the Secretary of HHS will "evaluate and improve research, data collection and data analysis efforts at the National Institutes of Health and the Centers for Disease Control and Prevention (CDC) on maternal health and other health outcomes."
Biden is set to sign the Executive Order when the Task Force on Reproductive Healthcare Access meets today.
"Today's announcements build on the actions the Biden-Harris Administration has already taken to protect access to healthcare, including abortion and contraception, in the wake of the Supreme Court's decision in Dobbs v. Jackson Women's Health Organization," the White House said in a statement.
"President Biden continues to call on Congress to codify the right to abortion into federal law and has said he would support changing the filibuster rules to codify Roe v. Wade into law."
Abortion is Key Issue in Michigan Governor Race
Abortion will be an key issue in Michigan's governor race in November.
Current Democratic Governor Gretchen Whitmer has made protecting abortion access a priority during her first term in office. She will face Republican candidate Tudor Dixon in the general election.
Dixon is a former steel saleswoman and right-wing media personality who is endorsed by former President Donald Trump. She won 40 percent of the vote in the Republican gubernatorial race Tuesday, according to the Associated Press.
In addition to being a 2020 election denier, Dixon also supports a strict abortion ban.
Whitmer said that the upcoming election will "determine the future of abortion in Michigan."
After Dixon won the Republican primary Tuesday, Whitmer said her opponent will "drag Michigan backwards."
"Dixon's plans to ban abortion with no exceptions for rape, incest, or health of the mother," she said in a statement Tuesday, adding that Dixon's platform is "dangerous for Michigan women and families."
Whitmer has labeled herself as a "champion for a women's right to choose" and highlights the steps she has taken as governor to protect abortion access and block a 1931 state abortion ban from going into effect after Roe v. Wade was overturned.
She also said that "the vast majority" of people in Michigan support a woman's right to choose.
Dixon is backed by anti-abortion groups like Susan B. Anthony Pro-Life American.
Dixon told the Heartland Signal in July that she supports a total ban on abortion, with the only exception being for the life of the mother.
She said she would not support a hypothetical 14-year-old who was raped by an uncle seeking an abortion.
"I know people who are the product [of rape]," Dixon said. "A life is a life for me. That's how it is. That's my feeling."
Whitmer's team responded by calling out Dixon's "dangerous agenda."
"Abortion is a fundamental right — but Tudor Dixon thinks a 14-year-old victim of incest is a 'perfect' example for why abortion should be illegal," Whitmer's campaign team said. "We can't risk her dangerous agenda that will hurt Michigan women and families."
Dixon also said that a proposed ballot referendum that would guarantee accessible abortion in the state would create "a safe haven for any type of predator out there."
"If you're a predator there's nothing you like more than abortion," she said during a campaign meet-and-greet in July. "So we have to make sure we protect people from predators in this state. We cannot let this constitutional amendment be passed and give predators a chance to keep preying on young women."
Biden to Sign Executive Order to Protect Abortion Rights
President Joe Biden will issue an Executive Order aimed at securing access to reproductive healthcare services soon, the White House said Wednesday.
Biden will issue the order during the first meeting of the Task Force on Reproductive Healthcare Access Wednesday afternoon. In part, the order aims to assist women who need to travel out-of-state for abortion services.
"At the meeting, the Cabinet will discuss their progress and the path forward to address the women's health crisis in the wake of the Supreme Court's decision in Dobbs v. Jackson Women's Health Organization," the White House said in a statement.
The meeting comes one day after Kansas voted to protect abortion rights in its state constitution. The vote was decisive-- 59 to 41 percent. Kansas voters were the first in the nation to weigh in on abortion rights since the U.S. Supreme Court's decision to overturn Roe v. Wade.
Abortion Rights Groups Celebrate Win, Look Ahead to Future Battles
Abortion rights groups are celebrating the "historic landslide" vote in Kansas to reject stripping the state constitution of abortion protections.
The proposed measure followed a 2019 state Supreme Court case, won by the Center for Reproductive Rights, that ruled the state constitution protects the right to abortion. The Center said Tuesday's vote "vote reaffirms this ruling."
"Like the majority of people across the U.S., Kansans want to make their own decisions about abortion," Center for Reproductive Rights CEO Nancy Northup, said in a statement. "With its location in the heart of the country, Kansas will remain an important state for those seeking abortion services from the South and Midwest."
Northrup is looking ahead to battles in other states, including California, Michigan, Nevada, Kentucky and Vermont, to vote on abortion measures.
"This is an important opportunity for voters in those states to directly defend their right to make personal decisions about their own lives, bodies and futures," she said.
Planned Parenthood said voters in Kansas rejected the "dangerous" measure that would have "eliminated" any right to abortion in the state's constitution and "opened the door to extreme abortion bans" in the state.
The group said anti-abortion politicians put the proposed amendment on the primary ballot, hoping low voter turnout would lead to a victory.
"But they discounted Kansans, who said loud and clear they believe and trust patients to make their own medical decisions," Planned Parenthood Great Plains said in a tweet.
The group attributed this victory to its broad coalition of reproductive rights and justice organizations, civil liberties groups, faith leaders and young people who "encouraged hundreds of thousands of voters to protect personal autonomy."
Biden Praises Kansas Vote to Protect Abortion Rights
President Joe Biden praised Kansas voters for rejecting a measure that would have stripped the state's constitution of its abortion protections.
This was the first time abortion was on the ballot since the Supreme Court overturned Roe v. Wade over a month ago.
"Voters in Kansas turned out in record numbers to reject extreme efforts to amend the state constitution to take away a woman's right to choose and open the door for a state-wide ban," Biden said in a statement.
"This vote makes clear what we know: the majority of Americans agree that women should have access to abortion and should have the right to make their own health care decisions."
Biden urged Congress to listen to "the will of the American people" and restore the protections of Roe as federal law. He said that is the "only way" to secure a woman's right to choose.
His administration, however, will continue to take steps to protect access to reproductive health care.
"We will continue to act where we can to protect women's reproductive rights and access to care," Biden said. "The American people must continue to use their voices to protect the right to women's health care, including abortion."