Gaetz Defiant After Saying 'Ugly' Women Protest for Abortion: 'Be Offended'
GOP Representative Matt Gaetz of Florida is doubling down on remarks that women protesting for reproductive rights are too unattractive to be impregnated, saying those who attend abortion rights rallies are "ugly on the inside and out."
Gaetz made the remarks after being asked by a local reporter about a speech that he gave Saturday that went viral and was criticized for being misogynistic. But Gaetz, who has drawn attention for other incendiary comments, remains unrepentant as abortion remains a hotly contested issue. He responded to critics of his insults to women by adding, "be offended."
Reproductive rights protests have sprung up all over the country in response to the Supreme Court last month striking down national abortion rights.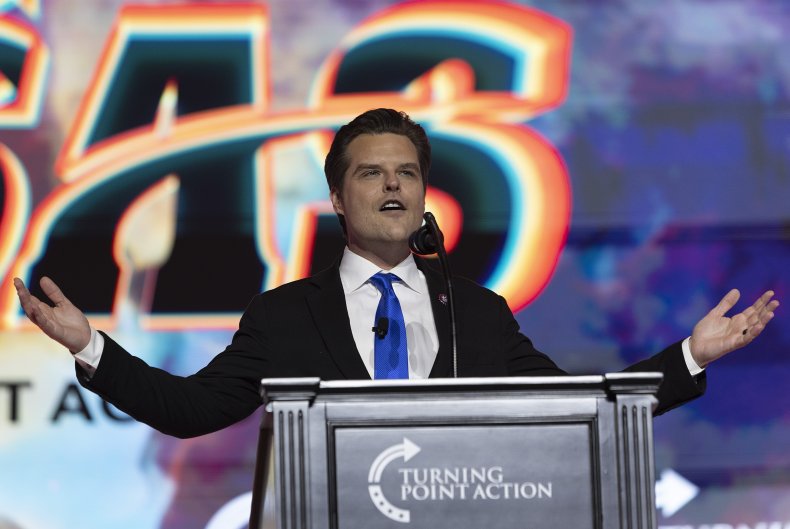 Gaetz, speaking at the conservative Turning Point USA conference on Saturday, asked the crowd if they'd watched these "pro-abortion, pro-murder rallies," calling the protesters too overweight to march and "just disgusting."
"Why is it that the women with the least likelihood of getting pregnant are the ones most worried about having abortions?" exclaimed Gaetz. "Nobody wants to impregnate you if you look like a thumb."
Democratic New Jersey Representative Tom Malinowski reacted to Gaetz's speech with a tweet, saying that while not every Republican is like Gaetz, "there will be more like him in the next Congress."
"But look at how the audience reacts to this brain-dead misogyny, at a conference meant to showcase the youthful future of the GOP," said Malinowski.
Calling himself "very pro-life," Gaetz said he stood by the speech when asked about it by Olivia Iverson, a reporter with Pensacola ABC affiliate WEAR.
While Gaetz said that not "every person who disagrees with my perspective on life is an ugly person," he took issue with protesters who marched outside of Supreme Court Justice Brett Kavanaugh's home, threatened other justices and called for a "Night of Rage."
"It's just pure ugliness," he said. "And I see that ugliness on the inside. I see it on the outside."
After making the speech at Turning Point, critics of Gaetz brought up how the representative is currently under federal investigation in the alleged sex trafficking of a 17-year-old girl. Feminist news website Jezebel called the speech "cartoonishly misogynist."
Others brought up a highly publicized incident in which a 10-year-old girl traveled to Indiana to get an abortion after allegedly being raped by a man in Ohio.
Many prominent conservative media and political figures, including Ohio Representative Jim Jordan, suggested the allegation had been concocted by abortion rights advocates. But The Columbus Dispatch reported this month that police said a man confessed to the rape and was arrested.
Even after coming under fire online, Gaetz continued to strike back, drawing further backlash for bullying and body-shaming a teenage activist who engaged with him online.
"I'm actually 5'11. 6'4 in heels," Olivia Julianna, a 19-year-old Texan who works as a political strategist with Gen-Z for Change, responded in a tweet. "I wear them so small men like you are reminded of your place."
Following the exchange with Gaetz, Julianna told the Houston Chronicle that she had struggled with eating disorders and body image that caused her to be hospitalized in December. She said the exchange with Gaetz has resulted in more social media followers and supporters.
"Unfortunately for Matt I've since recovered and done the work to improve my mental health so his insults and targeted attacks toward me do not deter me—they make me thrive," she told the paper in a statement. "Petty insults and political games don't scare me. In fact, I'd like to thank Gaetz for bringing attention to me and my work."
Julianna said in a tweet Monday that she had received $2,000 after launching a fundraising campaign in "honor" of Gaetz's body-shaming.
In the interview, Gaetz said he stood by his comment that women who attend abortion rallies are ugly and overweight. When asked to respond to those who found his comments offensive, Gaetz replied "be offended."
The dustup isn't the first time Gaetz has been accused of misogyny while commenting on abortion rights. In May, he faced backlash for calling women protesting for abortion rights "over-educated" and "under-loved."
Newsweek has reached out to Gaetz for comment.