What Is Jane's Revenge? Abortion Rights Group Vows 'Night of Rage' Over Roe
A militant pro-abortion group called Jane's Revenge has vowed a "night of rage" in Washington D.C. in response to Roe v Wade being overturned by the Supreme Court.
On Friday, the court overturned the landmark decision enacted almost half a century ago that allows women across the United States safe and legal abortion. Following the ruling, abortion will be banned in 13 U.S. states almost immediately, as they prepared "trigger" laws designed to instantly come into effect if Roe is overturned.
Jane's Revenge was formed after a draft opinion from the court saying that it would vote to overturn Roe was leaked to Politico and published on May 2. The leak advised that the landmark 1973 decision must be overruled and that abortion rights should instead be determined individually by each state. Protests involving abortion-rights and anti-abortion activists broke out after the leak was released.
The court's official verdict on Roe on Friday will deprive millions of Americans safe and legal access to abortion services in their state.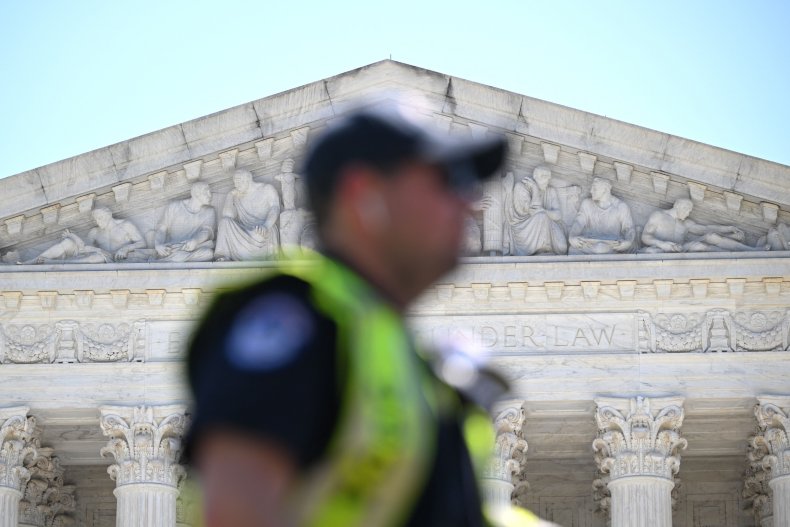 Fliers from Jane's Revenge have been circulating around Washington, D.C., where the Supreme Court is based, reading: "THE NIGHT SCOTUS OVERTURNS ROE V. WADE HIT THE STREETS YOU SAID YOU'D RIOT."
"TO OUR OPPRESSORS: IF ABORTIONS AREN'T SAFE, YOU'RE NOT EITHER. JANE'S REVENGE," it continued.
Now that the court has voted to overturn Roe, as expected, many people will be looking to see how Jane's Revenge will respond.
The group has form, having taken responsibility for multiple political actions, including violent ones such as the firebombing of a string of anti-abortion crisis pregnancy centers since the draft leaked. It claimed attacks in Hollywood, Florida; Des Moines, Iowa and Madison, Wisconsin; as well as other locations in states including Massachusetts, New York, Oregon, Texas and Washington.
Jane's Revenge spreads its "communiques" through its website, graffiti and flyers.
The group's name is believed to be a reference to the 1970s-era Jane Collective, an underground service in Chicago that provided abortion when it was illegal in the United States, Fox News reported.
On its website, it claims to be a large network of multiple activism groups working "countless locations invisibly." It is not clear how big the group is.
The group promised pro-abortion lawmakers and activists that "we will make it as hard as possible for your campaign of oppression to continue."
"We have demonstrated in the past month how easy and fun it is to attack. We are versatile, we are mercurial, and we answer to no one but ourselves. We promised to take increasingly drastic measures against oppressive infrastructures. Rest assured that we will, and those measures may not come in the form of something so easily cleaned up as fire and graffiti," a message on its website dated June 15 read.
Jane's Revenge has threatened to target any anti-abortion group that is still operational, promising to "never stop, back down, slow down, or retreat."
Newsweek has contacted the group for further comment.
The group's tactics have divided pro-abortion activists, with some condemning the use of violence.
Planned Parenthood in Wisconsin strongly condemned the attack on an anti-abortion office in Madison in May, days after the Supreme Court draft was leaked.
"Our work to protect continued access to reproductive care is rooted in love," group president Tanya Atkinson said, according to The Independent. "We condemn all forms of violence and hatred within our communities."