Matt Gaetz Mocked for Calling Roe v. Wade Protesters 'Over-Educated' Women
Florida congressman Matt Gaetz is getting backlash following a tweet in which he referred to some women as "over-educated" and "under-loved."
On social media early Wednesday, the Republican Representative posted a message on Twitter in which he criticized women speaking out against the overturning of the Roe v. Wade decision.
"How many of the women rallying against overturning Roe are over-educated, under-loved millennials who sadly return from their protests to a lonely microwave dinner with their cats, and no bumble matches?" Gaetz posted.
His post comes after a draft opinion from the Supreme Court leaked Monday evening showing that the highest court in the land may overturn the landmark decision that legalized abortion. Following the leak, many on both sides of the aisle spoke out. Chief Justice John Roberts confirmed Tuesday that the document was authentic but that it was not the court's final decision. He also ordered an investigation into the leak.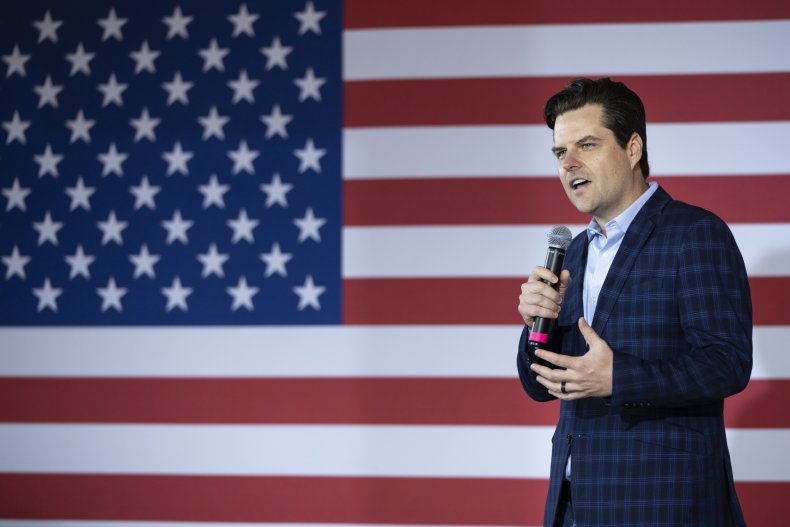 Rick G. Ronser, a former writer for Jimmy Kimmel, responded to Gaetz by saying that the Florida congressman was calling out the very people he was elected to represent.
"They're among your constituents – people you're supposed to represent and protect – you loathsome troll," Rosner posted.
One of Gaetz's colleagues in Congress, Democratic Representative Ted Lieu, used the Florida congressman's tweet to rally people to support Democrats.
"Republicans like Matt Gaetz are for government-mandated pregnancy, against education and against cats. You can help on campaigns to decide whether or not he is in the majority this November (assuming he isn't indicted by the DOJ who is investigating him for sex crimes.)," Lieu wrote.
Author James Felton hit back at Gaetz for the argument he used against those calling for the Supreme Court not to overturn abortion.
"A rare use of the 'my opponents are very intelligent' line of attack," Felton wrote.
Actor Micheal KcKean claimed that "Matt Gaetz LOVES the poorly educated."
Jennifer Bendery, a senior politics writer for HuffPost, pointed out that "this is the congressman who is under federal investigation for having a sexual relationship with a 17-year-old and paying for woman to travel across state lines to have sex, which violates sex-trafficking laws."
Jenn Morson, a freelance writer for The New York Times, slammed Gaetz for invoking a dating app in his criticism.
'Which dating app do you use? I assume the terms of service for Bumble may be too sensitive, age-wise, for your taste," she wrote.
Katie S. Phang, the host of "The Katie Phang Show" on MSNBC and PeacockTV, also criticized the congressman by retorting, "your type of woman rallies behind Venmo payments."
Newsweek reached out to Gaetz's office for comment.