Teen Activists Plot to Unseat Greg Abbott, Other Pro-Gun Lawmakers
Olivia Julianna was 10 when a shooter gunned down 20 children in Newtown, Connecticut, in a massacre that horrified the world.
"I remember my parents watching the news and crying. I didn't really understand what was going on at the time," Julianna, a student who works as a political strategist with Gen-Z for Change, told Newsweek.
But in the years that followed, she recalled how drills preparing for such an attack became a part of school life.
"My first school shooting drill was in fourth grade," she said. "We locked the door, turned the lights off, and were told to be quiet. This became a common practice. It was just something we did, something you had to do to prepare.
"It wasn't until the Parkland shooting that I was truly shook to my core. I was a freshman in high school. The drills [were] more intense, and more often."
School officials walked around shaking doorknobs and banging on doors, she recalled, in a bid to simulate what it would be like if an active shooter was on campus. "I was terrified. There were countless days where I was afraid to go to school," she said.
And she remembers feeling especially sick to her stomach at the thought of going to school in the aftermath of a school shooting. "Because it wasn't your school today, but you have no way of knowing if it's going to be your school tomorrow," she said.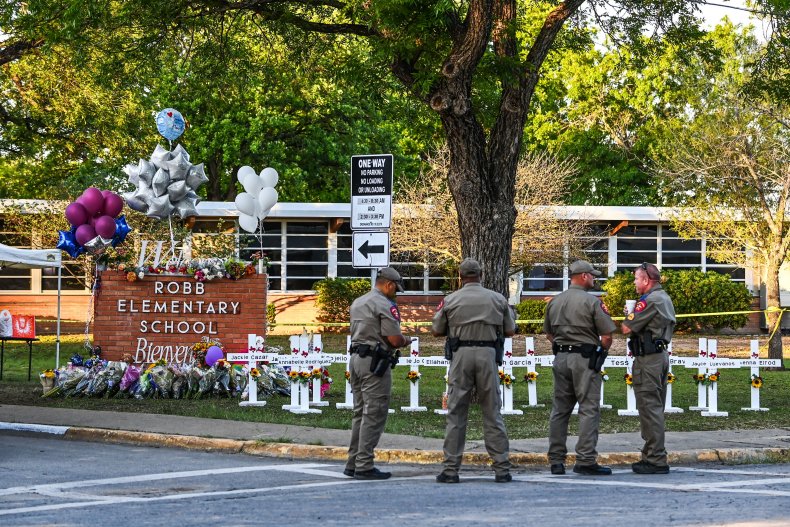 On Tuesday, it was Robb Elementary School in Uvalde, a small heavily Latino town in Julianna's home state of Texas.
There, authorities said 18-year-old Salvador Ramos barricaded himself inside a fourth-grade classroom and gunned down 19 children and two teachers before law enforcement killed him in the deadliest school shooting since the one at Sandy Hook Elementary in 2012.
"I wish I could tell you that I screamed and cried," Julianna said of her reaction to hearing about the shooting. "That I yelled in anger or sadness—but I haven't. I don't think the weight of what's happened has hit me, and I think that is a tragic because it highlights how we've become in a way desensitized to this issue. Either that or I am still in shock."
She added: "I was 10 years old when Sandy Hook happened, now 10 years later the same thing is happening and nothing has been done to stop children from dying in schools."
Tuesday's shooting has reignited America's gun control debate, with Democrats pushing for stricter gun laws, while Republican lawmakers are suggesting the answer is make it more difficult for shooters to target schools.
"I think it is idiotic to think that there is any one singular solution to an issue that has become so deeply rooted in this country," Julianna said. "The two actions are not mutually exclusive and for any politician to act like they are is short-sighted and disappointing. We can take bold action to combat this, we MUST take bold action to combat this."
Julianna lays the blame for the shooting on "every politician who has accepted money from the NRA."
"I blame every politician who has passed the loose and dangerous gun laws that are in place here in Texas," she said, adding that their "recklessness, their performative constitutionalism has led to violence and death."
She singled out Texas Gov. Greg Abbott, accusing him of regularly stoking "the flames of extremism and white supremacy" and noting that the state had seen a number of major mass shootings on his watch, including the 2019 shooting at a Walmart in El Paso.
"Two of which primarily affected Latin Americans," she said. "The same people he calls invaders and criminals."
And referencing the state's strict abortion ban, she added: "No matter how much you claim to be pro-life Greg Abbott, the blood on your hands says otherwise."
The governor's office has been contacted for comment.
The Uvalde shooting has further galvanized Julianna and Gen-Z for Change's efforts to unseat pro-gun legislators in Texas, and she urged voters to oust incumbents like state Rep. Briscoe Cain.
The coalition of creators and activists is using social media clout to garner support for candidates who they believe will make Texas safer for students—backing Beto O'Rourke for governor, Mike Collier for lieutenant governor and Rochelle Garza for attorney general ahead of November's midterm elections.
"But we need a slate of strong Democratic leaders statewide," Julianna added.