Texas School Shooting Victims—Full List of Teachers and Students Killed
A mass shooting at the Robb Elementary School in Uvalde, Texas, on Tuesday, has become the deadliest school shooting since the massacre at Sandy Hook Elementary School in 2012, when Adam Lanza shot and killed 26 people.
Officials have said that at least 19 children were killed at Robb Elementary School, as well as at least two teachers. The death toll may rise as some parents have not been able to locate their children following the shooting.
Texas Governor Greg Abbott initially confirmed that 15 were dead after the shooter, Salvador Ramos, entered the school with a handgun and rifle early Tuesday afternoon. Texas state police later updated the death toll to 21. Abbott stated that the shooter is believed to be deceased as well.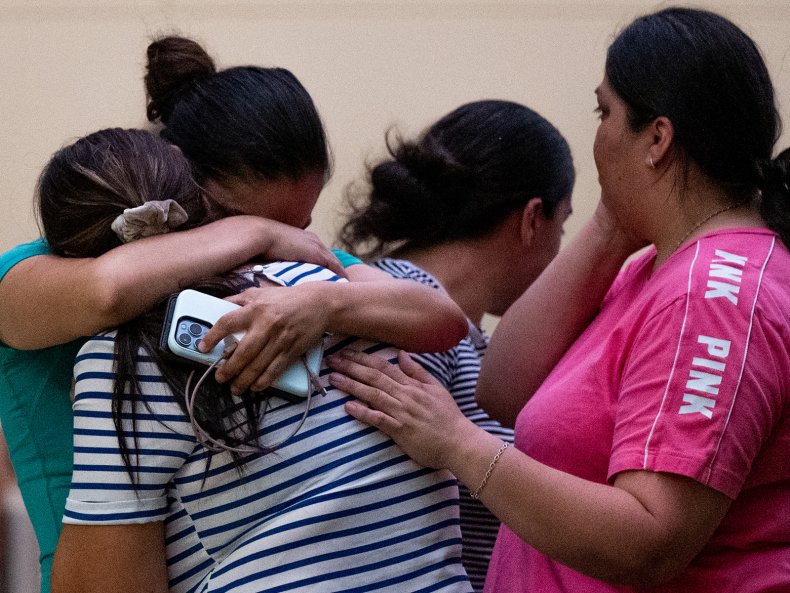 Here is the full list of victims' names so far disclosed. More may be added as further information is released by authorities.
Eva Mireles
Eva Mireles was a fourth-grade teacher and had worked in the Uvalde Consolidated Independent School District for 17 years. She was a wife and mother with three pets and loved running and hiking, according to the Robb Elementary website.
Her aunt Lydia Martinez Delgado released a statement condemning the shooting, according to a KABC-TV report.
"I'm furious that these shootings continue. These children are innocent," she said in the statement.
"Rifles should not be easily available to all. This is my hometown, a small community of less than 20,000. I never imagined this would happen to especially loved ones."
Irma Garcia
Irma Garcia was the other teacher named as a victim in the shooting, according to a Sky News report.
Garcia was a fourth-grade teacher and was in her 23rd year of teaching at Robb Elementary according to the school's website.
She was a mother of four children and had been married for 24 years.
Xavier Lopez
Xavier Lopez, aged 10, was identified by his family as being one of the 19 children that were killed in the shooting.
His cousin said that just hours before the shooting occurred, Lopez's mother had attended an awards ceremony for her son.
Amerie Jo Garza
Amerie Jo Garza, a fourth-grade student, was identified by her family as one of the victims.
She had just turned 10 on May 10, according to her father Angel Garza, who spoke to ABC News.
Annabell Guadalupe Rodriguez
KHOU11 reporter Anayeli Ruiz took to Twitter to say she had spoken to the family of Annabell Guadalupe Rodriguez.
She said the child was 10-years-old and was in third grade. She was in the same classroom as her cousin, who was also killed.
Uziyah Garcia
Manny Renfro got word on Tuesday that his grandson, 8-year-old Uziyah Garcia was among those killed during the shooting.
"The sweetest little boy that I've ever known. I'm not just saying that because he was my grandkid," Renfro said.
Nevaeh Alyssa Bravo
Bravo's aunt noted that Nevaeh's first name is heaven spelled backward and was 10-years-old. In a Facebook posting, Yvonne White described Nevaeh and her friend Jailah Silguero as "Our Angels".
Jacklyn Cazares

Cazares' father, Javier, said his 9-year-old daughter was the type of person to give the shirt off her back.
He added: "She didn't like bullies, she didn't like kids being picked on. All in all, full of love. She had a big heart."
Makenna Lee Elrod
Makenna's father asked on Tuesday if he could go to the local funeral home to search for his 10-year-old daughter because he feared "she may not be alive," TV station KTRK reported.
Jose Manuel Flores Jr.
Jose's parents told CNN that the 10-year-old was helpful around the house and loved his younger siblings. "He was just very good with babies," his mother said.
Eliahna Garcia
Eliahna's relatives recalled the 10-year-old's love of family. "She was very happy and very outgoing," said her aunt, Siria Arizmendi, a fifth-grade teacher at Flores Elementary School in the same district.
Jayce Carmelo Luevanos
Carmelo Quiroz's grandson had begged to be allowed to join his grandmother on Tuesday as she accompanied her 10-year-old great-granddaughter's kindergarten class to the San Antonio Zoo. But, he said, the family told Jayce it didn't make sense to skip school so close to the end of the year.
Tess Mata
Faith Mata told The Washington Post that her 10-year-old sister loved TikTok dance videos, Ariana Grande, the Houston Astros, and having her hair curled.
Maranda Mathis
The mother of a close friend described Maranda as "very loving and very talkative." She told the Austin American-Statesman that her daughter and the 11-year-old Maranda had been in the same classes and that Maranda would ask to have her hair done like her daughter's.
Alithia Ramirez
The 10-year-old Alithia Ramirez loved soccer and drawing. Her father Ryan Ramirez's Facebook page includes a photo of the little girl wearing the multi-colored T-shirt that announced she was out of "single digits" after turning 10 years old.
Maite Rodriguez
After a rough time with Zoom classes during the pandemic, 10-year-old Maite Rodriguez made the honor roll for straight As and Bs this year and was recognized at an assembly on Tuesday, said her mother, Ana Rodriguez. She described Maite as "focused, competitive, smart, bright, beautiful, happy."
Alexandria "Lexi" Rubio
Lexi's mother, Kimberly Rubio, posted on Facebook that her 10-year-old daughter was honored for earning all A grades and received a good citizen award in ceremonies at the school shortly before the shooting.
Layla Salazar
Layla's father said she loved to run and swim, dance to TikTok videos and play games including Minecraft and Roblox with friends. He said the 11-year-old had won all six of her dashes and hurdles races at the school's past three annual field days.
Jailah Nicole Silguero
Jailah's mother tearfully told Univision that her 10-year-old daughter did not want to go to school the day of the shooting, and thought that maybe she sensed something was going to happen.
Eliahana Cruz Torres
Adolfo Torres told AP that his granddaughter, Eliahana, died in the shooting. Television station KIII reported that Eliahana was set to play the last softball game of her season that day.
Rojelio Torres
Rojelio Torres' mother, Evadulia Orta, told ABC News that her 10-year-old son was a very smart and loving child. "I lost a piece of my heart," she said.
Uvalde Memorial Hospital told reporters that two children arrived dead at the hospital from presumed gunshot injuries, while several other students were sent to the emergency department for treatment. A second hospital, University Health in San Antonio, wrote on Twitter that it had also received two patients, a 10-year-old child and a 66-year-old woman, who are both in critical condition.
Newsweek has contacted the Uvalde Consolidated Independent School District and the Uvalde Police Department for comment.
Update 5/25/22, 7:49 a.m. EDT: This article has been updated with further details.