Is Abortion Banned in Kansas? What Referendum Vote Means
For the first time since the U.S. Supreme Court overturned Roe v. Wade, voters were asked to weigh in on abortion and determine whether Americans want state protections on reproductive rights or further-reaching restrictions.
Kansans on Tuesday voted to uphold a 2019 ruling that decided Kansas' state constitution grants a fundamental right to abortion.
With more than 61 percent of the vote at the time the election was called by the Associated Press (AP), the statewide referendum blocked Republican legislators from banning or restricting access to abortions in a huge win to the pro-abortion movement.
Kansas' abortion referendum—the first popular vote on the issue in nearly 50 years—has been widely viewed as a bellwether in a post-Roe America. More than a dozen Republican-led states, including the Sunflower State, have moved to restrict abortions since the Supreme Court ruled that abortion should be left to individual states.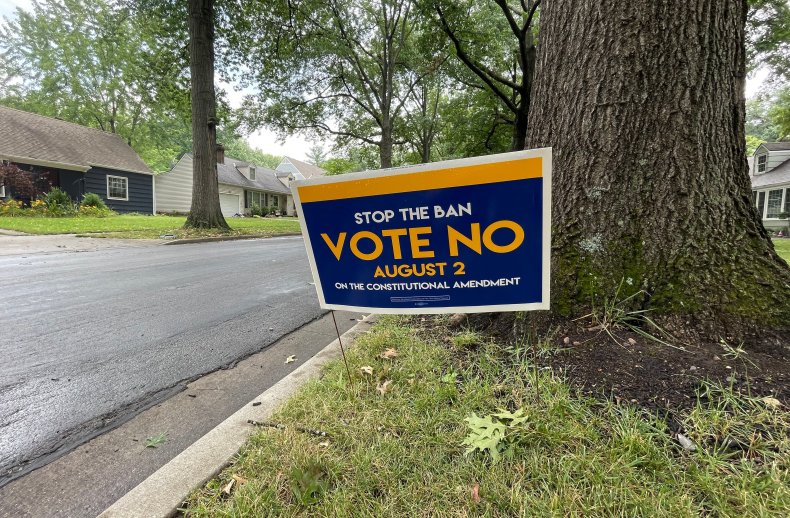 In Kansas, abortion is allowed up to 20 weeks after fertilization—about the middle of the second trimester. After that, it is allowed only to save the patient's life or prevent "a substantial and irreversible physical impairment of a major bodily function."
Those seeking abortion care must undergo a mandatory 24-hour waiting period and state-directed counseling, which often discourages the procedure, and minors must receive parental consent before an abortion is provided.
The majority "no" vote will allow Kansas to remain a safe destination for patients from nearby states with stricter laws to find abortion care.
Tuesday's vote signals that the GOP might be up against a tougher midterm election than the party anticipated. The referendum was largely seen as driving voter turnout for a primary ballot—which typically sees fewer swing voters—and support for abortion rights in a red state could forecast unexpected stormy weather for Republicans this fall.
Dr. Bob Beatty, chair of the political science department at Washburn University, told Newsweek that the vote has "tremendous national repercussions" that the GOP should brace itself for.
He said that the vote was so close is a huge signal that "abortion could be a key factor in Democrats doing better than expected in November."
Given that Kansas is typically heavily Republican in primary elections, Beatty said that the referendum vote could reveal a key strategy for Democrats, who could replicate the effective messaging in Kansas to other campaigns in the midterms.
Dr. Russell Fox, a political science professor at Friends University in Wichita, added that the major win of more than 60 percent would "absolutely" become a problem for GOP candidates, donors and interest groups across the country.
At the same time, it would hand Democrats who are running on abortion rights, like Texas gubernatorial candidate Beto O'Rourke, a rallying cry for their campaigns.
"The message would be 'Even KANSAS is recognizing that abortion has to remain legal, and that abortion regulations have to be sensible and fair, not extreme!!'" Fox told Newsweek.
The vote might also spell good news for Democratic Governor Laura Kelly, who is facing a tough re-election fight in November and has publicly supported abortion rights.
On the other hand, Dr. Russell Fox, a political science professor at Friends University in Wichita, said that just because the vote has a major impact on Kansas' elections and the legislative agenda that will follow, it might not extend to the GOP on a national level if Republicans argue that it's a "one state" problem.
Kansas is one of eight states that has constitutional protections for abortion that were unaffected by the fall of Roe in late June and was one of six states that moved to amend the state constitution to restrict abortion rights.
Kentucky, Louisiana, Pennsylvania, Tennessee and West Virginia introduced similar efforts, but Tuesday's election served as a warning for other red states that want to roll back access to abortions.