Kansas Vote Latest as Abortion Rights Face Biggest Test Since Roe Fell
Voters in Kansas will head to the polls on Tuesday to decide whether to amend their state's constitution and allow the state legislature to further restrict or ban abortion.
The vote is the first statewide referendum on abortion policy since the U.S. Supreme Court struck down Roe v. Wade in late June, eliminating constitutional protections for abortion. More than a dozen Republican-led states have moved to ban or further restrict abortion through other means since the bombshell decision.
If approved, it could lead to sweeping restrictions or an outright abortion ban in a state that has become a destination for patients from nearby states that have enacted restrictions or bans.
Kansas allows abortion until the 22nd week of pregnancy, after which it is only allowed to save a patient's life or prevent "a substantial and irreversible physical impairment of a major bodily function."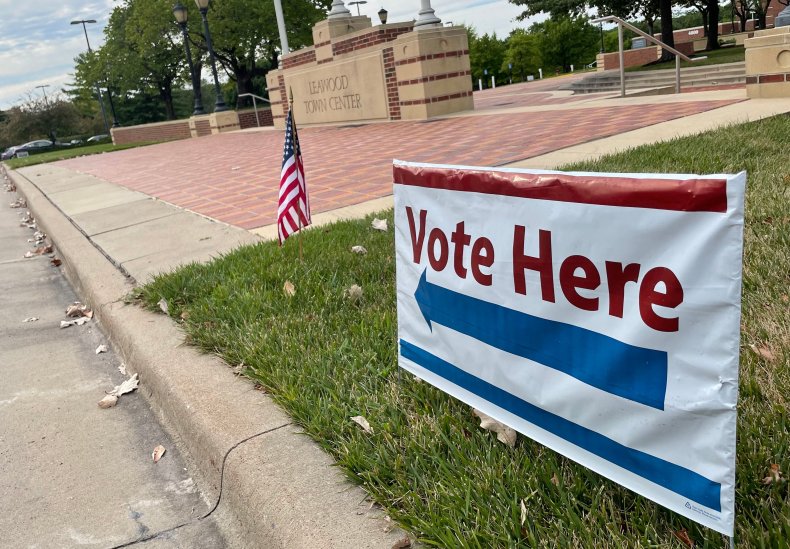 The state's Legislature is controlled by Republicans who want to ban or restrict access to abortions, while Democratic Governor Laura Kelly supports access but is facing a difficult race for reelection in the fall.
But stricter abortion laws are on hold because the Kansas Supreme Court ruled in 2019 that the state's constitution grants a fundamental right to abortion.
The legislature put the anti-abortion measure on the ballot to effectively overturn that ruling. If approved, it would add language saying the state constitution does not grant a right to abortion and would allow lawmakers to enact more restrictive laws.
The vote is expected to be close—47 percent of likely voters plan to support the amendment, while 43 percent say they will vote against it, according to a recent survey by polling company co/efficient. The survey found that 10 percent of voters were undecided.
The proposed amendment is on the primary ballot rather than the general election ballot, which usually means turnout is almost certain to be lower—something that would normally benefit supporters of the proposed amendment.
However, the same co/efficient survey found that a majority of respondents (84 percent) said the measure has increased the importance of voting in the August 2 primary.
Democrats were more energized by the issue. Ninety-four percent of Democrats surveyed said the amendment increased the importance of voting on August 2, compared with 78 percent of Republicans.
"The future of abortion access could come down to just a handful of votes," Kansans for Constitutional Freedom, a group that supports abortion rights and opposes the amendment, said in a recent tweet. "That means every voter we reach with the message to vote no IS the difference we need to keep abortion safe and legal in Kansas. Tell your friends to vote NO!"
But Value Them Both, an anti-abortion coalition supporting the proposed amendment, says the measure is a "reasonable approach" to ensure Kansas "does not remain a permanent destination for the most extreme and painful abortion procedures."
"At this historically important time, the question before Kansans on August 2nd is clear: an unregulated abortion industry with no limits at all or the reasonable limits protected by the Value Them Both Amendment," Value Them Both Deputy Communications Director Mackenzie Haddix said in a statement.
That argument is disingenuous, according to Stephen McAllister, University of Kansas law professor and former U.S. attorney for Kansas.
The amendment's real goal of the amendment is to pave the way for the legislature to pass an outright abortion ban in its next session in January, he told The Washington Post.
"The goal is to clear the decks so they can ban abortion next session," McAllister said. "That's what this is about."
Newsweek reached out to Kansans for Constitutional Freedom and Value Them Both for comment.