The States With the Best Abortion Access as Roe v Wade Overturn Looms
After a leaked initial draft of a U.S. Supreme Court decision suggested that the court is set to overturn Roe v Wade, the 1973 decision that legalized abortion, focus is now shifting to individual states, many of which already have "trigger" laws on their books that would outlaw abortion as soon as Roe is overturned.
The draft decision, reported by Politico on Monday, suggested that abortion could soon become illegal in more than half of the states in the U.S. According to the Guttmacher Institute, 536 proposed new abortion restrictions have been introduced in 42 states as of April 15, 2022, and restrictions have gone into law in nine states: Arizona, Florida, Idaho, Indiana, Kentucky, Oklahoma, South Dakota, West Virginia and Wyoming.
Yet, according to the Center for Reproductive Rights, a number of states already protect access to legal abortion through state law, and that will continue even if the Supreme Court does in fact strike down Roe v Wade. These jurisdictions could ultimately provide a haven for both their own resident and other women looking to exercise reproductive freedoms that they have come to rely on for the past fifty years.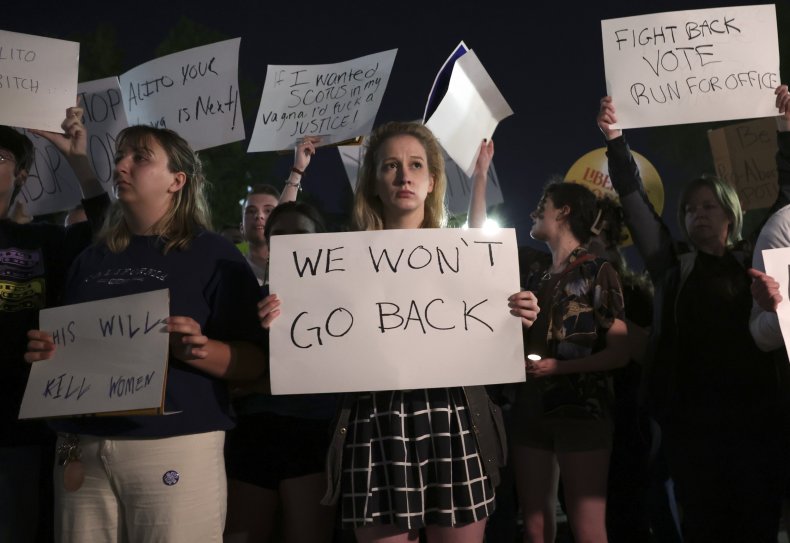 The center said that 14 states–Alaska, Colorado, Delaware, Florida, Illinois, Iowa, Kansas, Maryland, Massachusetts, Minnesota, Montana, Nevada, New Jersey, and Rhode Island, plus the District of Columbia—protect abortion by state law, although there are limitations.
Another seven states—California, Connecticut, Hawaii, New York, Oregon, Vermont and Washington—protect the right to abortion in state law, state constitutions and other laws and have created expanded access to abortion care, according to the center.
How some states protect abortion rights
Just under 38 percent of U.S. women of reproductive age live in states that have demonstrated support for reproductive rights, research from the Guttmacher Institute showed.
The institute listed six "protective" policies that characterize the states in which abortion rights are most strongly defended: affirmation of a right to abortion in the state constitution; establishment of a legal standard that protects access to abortion; guarantee of abortion coverage through Medicaid; allowing advanced practice clinicians to provide abortion by law or Attorney General opinion; mandating that private health insurance plans cover abortion; and protecting access to abortion clinics.
It scored the 50 states, awarding a point for each protective policy and deducting a point for abortion restrictions such as multiple trips required for abortions, restrictions on Medicaid coverage, banning of telemedicine and the requirement of parental involvement for minors. States were determined to be leaning supportive with a score of 2 to 3, and supportive with a score of 4 to 5.
California was the only state to score a six, followed by Hawaii, Maine, New York, Oregon and Washington with four points, Connecticut, Illinois, Massachusetts, Montana, New Jersey, New Mexico and Vermont with three points and Alaska, Maryland and Minnesota with two points.