The Biden administration sued Idaho over a strict state abortion law on Tuesday—as voters in Kansas resoundingly decided to protect abortion rights in the state.
The lawsuit, announced by Attorney General Merrick Garland, is the first major action by the Justice Department challenging a state trigger law since the U.S. Supreme Court overturned Roe v. Wade in late June.
The bombshell decision, which eliminated a constitutional right to abortion, has led several states to enact restrictive abortion laws.
Since then, there have been "widespread reports of delays and denials of treatment to pregnant women experiencing medical emergencies," Garland said at a news conference on Tuesday.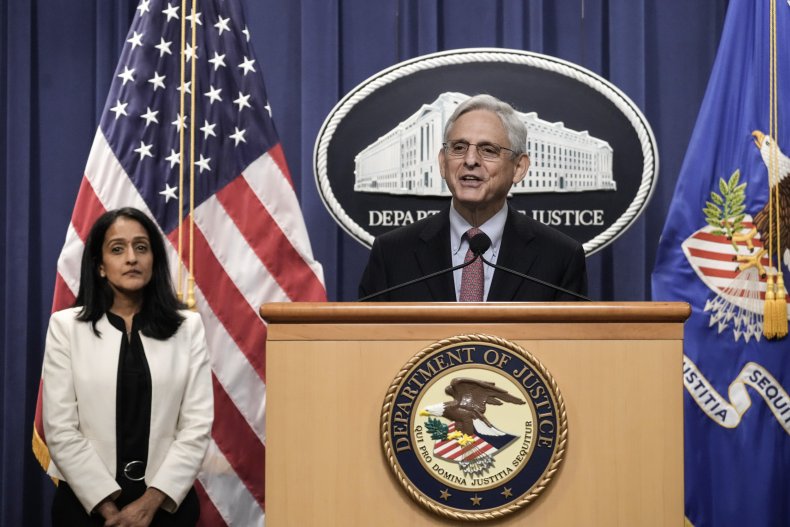 The lawsuit seeks to invalidate Idaho's "criminal prohibition on providing abortions, as applied to women who are suffering medical emergencies," Garland said.
The lawsuit argues that it would force doctors to violate the Emergency Medical Treatment and Labor Act, a federal law that requires hospitals receiving federal funds to ensure anyone coming to a hospital for emergency treatment is stabilized and treated.
"If a patient comes into the emergency room with a medical emergency jeopardizing the patient's life or health, the hospital must provide the treatment necessary to stabilize that patient," Garland said. "This includes abortion when that is the necessary treatment."
Idaho's law—set to take effect on August 25—"would make it a criminal offense for doctors to provide the emergency medical treatment that federal law requires," he said.
The law criminalizes abortions, subjecting anyone who performs or attempts to perform one to a felony punishable by up to five years in prison.
Under the law, abortion is permitted when necessary to save the life of a pregnant woman—but not to protect her health—or in cases of rape or incest that were previously reported to the authorities.
"Under the Idaho law, once effective, any state or local prosecutor can subject a physician to indictment, arrest, and prosecution merely by showing that an abortion has been performed, without regard to the circumstances," the Justice Department wrote in the lawsuit.
"The law then puts the burden on the physician to prove an 'affirmative defense' at trial... And, even in dire situations that might qualify for the Idaho law's limited 'necessary to prevent the death of the pregnant woman' affirmative defense, some providers could withhold care based on a well-founded fear of criminal prosecution."
Idaho's Republican Gov. Brad Little described the lawsuit as "federal meddling" and another example of President Joe Biden "overreaching."
"Our nation's highest court returned the issue of abortion to the states to regulate—end of story," he said in a statement. "Here in Idaho, we are proud that we have led the country in protecting preborn lives."
Newsweek has contacted the offices of the Idaho governor and attorney general for comment.
It came as Kansas voters sent a clear message about their desire to protect abortion rights in the conservative state, overwhelmingly rejecting a ballot measure that would have allowed the state's Republican-controlled legislature to pass restrictions on abortion or ban it outright.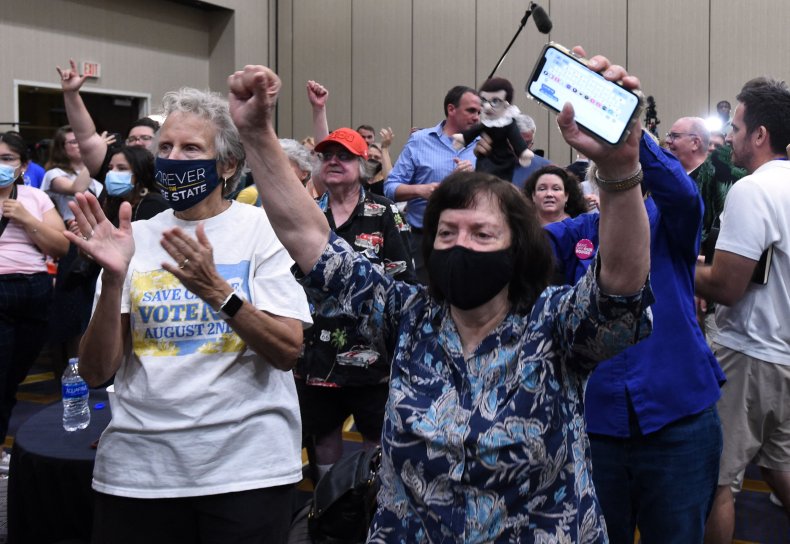 In what was the first referendum on abortion rights since Roe was struck down, voters decided against adding language to the state constitution stating that it does not grant the right to abortion. A 2019 state Supreme Court decision said access to abortion is a "fundamental" right under the state's Bill of Rights.
With most of the vote counted, the "no" vote was ahead by about 20 percentage points early Wednesday.
"This vote makes clear what we know: the majority of Americans agree that women should have access to abortion and should have the right to make their own health care decisions," Biden said in a statement.
He called on Congress to "restore the protections of Roe" in federal law, adding that his administration "will continue to act where we can to protect women's reproductive rights and access to care. And, the American people must continue to use their voices to protect the right to women's health care, including abortion."
Biden on Wednesday is set to sign a second executive order to protect access to reproductive healthcare after the fall of Roe.
His first order in early July directed the Department of Health and Human Services to expand access to medication abortion and ensure that women who travel for abortions are protected.
The second will direct the department to consider action to advance access to reproductive healthcare services, including using funds including Medicaid to support women traveling out-of-state for abortion services, according to a fact sheet from the White House.
It also directs the department to ensure health care providers comply with federal non-discrimination laws when offering such services and orders it to collect data "to accurately measure the impact that diminishing access to reproductive health care services has on women's health."