Nikki Haley Highlights Donald Trump's Failings in 2024 Campaign Launch Video
Former South Carolina Governor Nikki Haley has confirmed her intentions to run for president in 2024 in a campaign video that offers a subtle dig at Donald Trump.
Haley, who was the U.S. Ambassador to the United Nations in the Trump administration, tweeted a video announcing her presidential ambitions along with the caption: "Get excited! Time for a new generation."
During the 3:33 minute clip, Haley said that she hopes to return the country to the "freest and greatest in the world," while saying that Republicans have "lost the popular vote in seven out of the last eight presidential elections."
"That has to change," Haley said.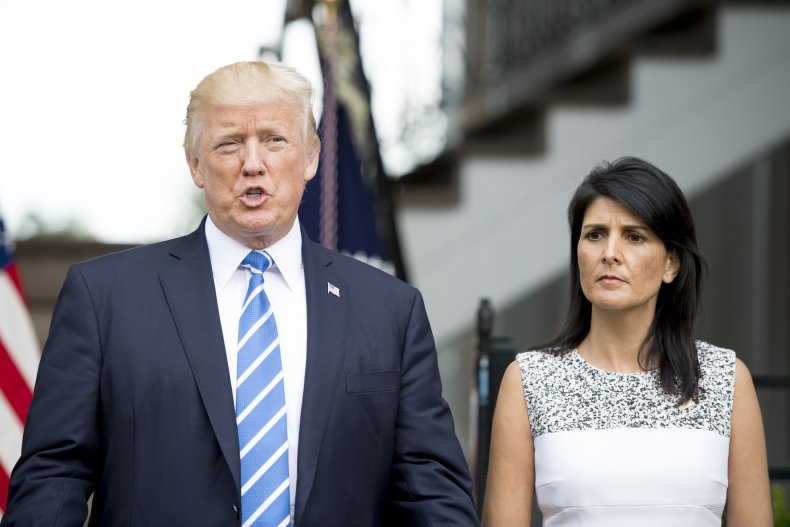 While not making a direct reference to Trump, the former president is the main candidate who Haley will be hoping to beat in the GOP presidential primary.
Trump won the 2016 election but lost the popular vote to Hillary Clinton by nearly 3 million votes. In the 2020 election, Joe Biden also beat Trump in the popular vote by 7 million votes.
It was thought that Haley would confirm her 2024 presidential bid on February 15 events in Charlestown, South Carolina, which she teased would see a "special announcement."
Haley has instead confirmed her long-expected bid on Monday morning, making her the first serious candidate to go up against Trump for the GOP nomination.
At the start of her video, Haley details her ancestry while saying how her family still felt "blessed" to live in America despite their different backgrounds.
"I was the proud daughter of Indian immigrants—not Black, not white. I was different," she said. "My mom would always say your job is not to focus on the differences but the similarities. My parents reminded me and my siblings every day how blessed we were to live in America.
"Some look at our past as evidence that America's founding principles are bad. They say the promise of freedom is just made up. Some think our ideas are not just wrong, but racist and evil. Nothing could be further from the truth."
Elsewhere in the campaign video, Haley described Biden's record as president as "abysmal" and said that she is the one who can change the country for the better.
"The Washington establishment has failed us over and over and over again. It's time for a new generation of leadership to rediscover fiscal responsibility, secure our border and strengthen our country, our pride and our purpose," Haley said.
"Some people look at America and see vulnerability. The Socialist Left sees an opportunity to rewrite history. China and Russia are on the march, they all think we can be bullied and kicked around.
"You should know this about me. I don't put up with bullies. And when you kick back, it hurts them more if you're wearing heels," Haley added.