Nikki Haley's Chances of Beating Donald Trump to 2024 GOP Nomination
The chances of Nikki Haley, the former U.S. ambassador to the U.N., defeating Donald Trump to secure the 2024 Republican presidential nomination are very low, according to both recent polling and leading bookmakers.
On Saturday Trump told reporters Haley had called him to discuss a 2024 bid, in response to which he said: "Go by your heart if you want to run."
Haley will formally announce a presidential run on February 15, according to USA Today, which spoke to "three sources familiar with her plans."
If Haley, who also served as Governor of South Carolina between 2011 and 2017, confirms she is running she will be the first prominent Republican to openly challenge Trump, who announced his third White House bid on November 15 last year from his Mar-a-Lago resort, in Florida.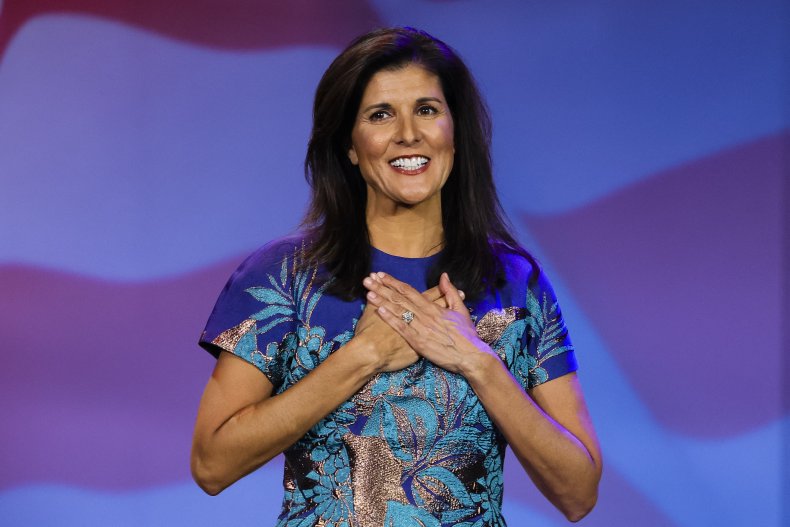 A Morning Consult poll of 3,459 "potential Republican primary voters," conducted between January 27 and 29, found Haley is the fourth most popular candidate for the GOP presidential nomination.
Trump leads the pack with the support of 48 percent of respondents, followed by Florida Governor Ron DeSantis on 31 percent.
A large gap follows before former vice-president Mike Pence, who has the backing of 8 percent of those surveyed, followed by Haley on 3 percent.
The survey also showed 44 percent of potential GOP primary voters had a favorable impression of Haley, versus 76 percent for Trump and 73 percent for DeSantis.
A similar result was produced by a McLaughlin & Associates poll of 457 likely voters, which took place from January 19-24, which also found Haley had the backing of three percent of "Republican primary voters."
This puts her behind Trump on 43 percent, DeSantis on 31 percent and Pence on 4 percent, but ahead of other prominent Republicans such as Greg Abbott, Tom Cotton and Marco Rubio.
British bookies Bet365 has Haley as the third highest-rated potential Republican nominee, with odds of 12/1 on her being the party's 2024 presidential candidate.
However, this still puts her considerably behind Trump on 5/4 and DeSantis on 11/8, though she does beat Pence, who has odds of 22/1.
On Saturday Haley tweeted an 18-second clip of herself appearing on Fox News, with the caption: "It's time for a new generation to lead."
During the shared video segment, she said: "The survival of America matters, and it's bigger than one person, and when you're looking at the future of America I think it's time for new generational change. I don't think you need to be 80 years old to go be a leader in DC, I think we need a young generation to come in, step up, and really start fixing things."
Haley is currently 51, as opposed to the 80-year-old Biden and Trump, who is 76.
Trump has launched a number of outspoken attacks on DeSantis, currently his most popular likely rival within the Republican Party.
Speaking to CNN he accused DeSantis of having "changed his tune a lot" regarding the effectiveness of coronavirus vaccines, and said the Florida governor is "trying to rewrite history" over his policies towards lockdowns.
Newsweek has contacted Haley and Trump for comment.