Donald Trump Blasts Republican Rivals as MAGA Dissent Breaks Out
Donald Trump has openly but subtly criticized the loyalty of two potential Republican rivals for the GOP 2024 presidential candidacy.
Speaking to reporters on his plane Saturday as the former president kicked off his latest White House campaign, Trump hit out at one-time close ally, Florida Governor Ron DeSantis, over his COVID-19 response, while also discussing the presidential ambitions of Trump's former ambassador to the United Nations, Nikki Haley.
While flying to South Carolina to headline the first major rally of his 2024 campaign, Trump accused DeSantis of trying to "re-write history" with regards to how Florida responded early on to the outbreak of the coronavirus and that the governor has "changed his tune a lot" about his stance on the COVID vaccine.
"Florida was actually closed, for a great, long period of time," Trump said in footage aired by CNN. "Remember, he [DeSantis] closed the beaches and everything else? They're trying to re-write history."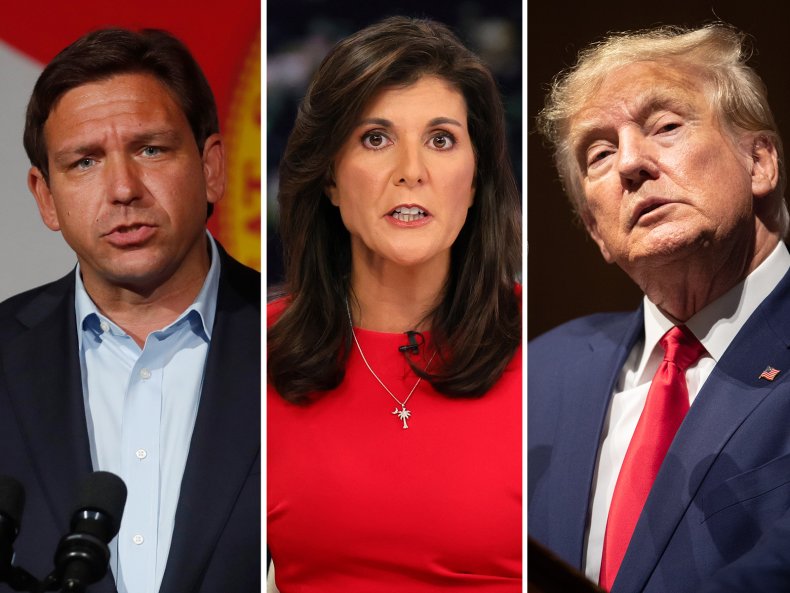 The former president also reverted back to an oft-repeated refrain in claiming that DeSantis would not have won the 2018 gubernatorial elections were it not for Trump's endorsement, and accused the Florida governor of being "very disloyal" amid reports he is plotting to run in the 2024 GOP primary.
"Ron would have not been governor if it wasn't for me," Trump said. "So when I hear he might run, I consider that very disloyal."
Trump also spoke about Haley, a former South Carolina governor who was not present at the rally on Saturday, amid suggestions she will also announce plans to run for president in 2024.
While approving Haley's desire to run, Trump also noted how his ex-administration member previously stated that she would never seek the Republican party's nomination if Trump was also on the ballot.
"I talked to her for a little while, I said, 'Look, you know, go by your heart if you want to run,'" Trump said. "She's publicly said that 'I would never run against my president, he was a great president.'"
Trump said he told Haley that she "should do it."
The relationship between Trump and DeSantis has long soured amid reports the Florida governor is planning to run for president in 2024.
In recent weeks, Haley has also suggested that she is a better candidate to lead the GOP in the future over Trump.
In a Fox News interview in mid-January, Haley suggested that there needs to be a "generational change" in the party, when asked about her previous comments about not running against Trump in 2024.
"When you're looking at the future of America, I think it's time for new generational change. I don't think you need to be 80 years old to go be a leader in D.C.," Haley said. "I think we need a young generation to come in, step up, and really start fixing things."
Haley reshared the comments on Twitter on Saturday as Trump was due to arrive in South Carolina to speak at his 2024 campaign rally.
It is arguable that Trump approved Haley running for the White House as he does not consider her as big a threat as DeSantis.
While Trump is still the overwhelming favorite to clinch the GOP 2024 nomination, DeSantis is by far the second-placed candidate, and beats the former president in the occasional polls.
In comparison, Haley regularly does not even break the top three in terms of who GOP voters would choose in a hypothetical 2024 primary.
A recent NH Journal poll released ahead of Trump arriving in New Hampshire to speak at the Republican Party's annual state meeting revealed the former president came out on top when Republicans were asked who they would vote for in a GOP primary (37 percent), with DeSantis second on 26 percent.
The poll placed Haley in fourth, receiving the support of just four percent of GOP voters in the first-in-the-nation primary state.
Haley and DeSantis have been contacted for comment.