Trump Encourages Nikki Haley to Abandon Her 'Honor,' Launch 2024 Challenge
Former President Donald Trump is encouraging Nikki Haley to abandon her "honor" amid reports that the former U.S. ambassador to the United Nations will soon become his opponent in the 2024 GOP presidential primary.
The Associated Press on Wednesday reported that Haley would announce a 2024 run during an event in Charleston, South Carolina, on February 15. The impending announcement from Haley, who served as the governor of South Carolina from 2011 to 2017, was first reported by local newspaper The Post and Courier.
Haley's expected announcement is at odds with her comments made at South Carolina State University in April 2021, when the former ambassador said that she would "not run if President Trump ran" in 2024.
Trump seemingly taunted Haley by sharing a video clip of her saying that she would not challenge him after news of the announcement broke. In a Truth Social post, the former president wrote alongside the video that "Nikki has to follow her heart, not her honor," while adding that she "should definitely run!"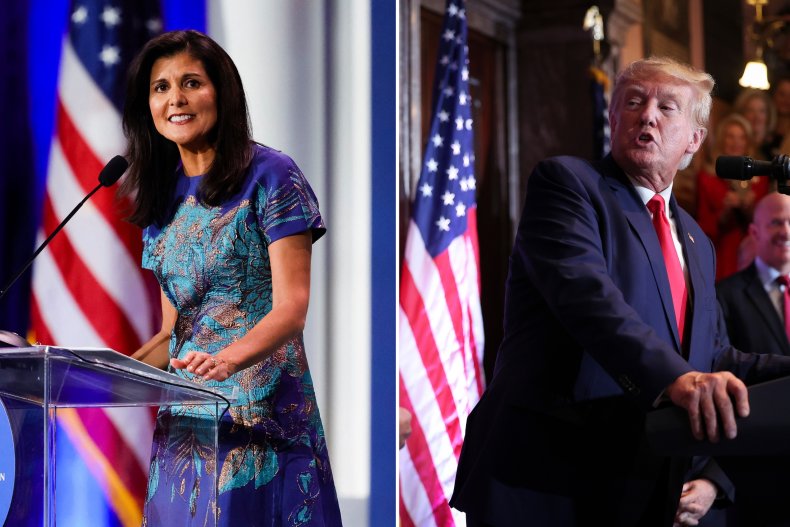 Although Haley has not officially announced her candidacy, on Wednesday she did tweet that supporters should be prepared for "a big announcement" during an event in Charleston on February 15, promising that it was "definitely going to be a Great Day in South Carolina!"
Trump, who announced his presidential bid in November, made his first official 2024 campaign stop in South Carolina over the weekend.
Haley took a swipe at the former president as he was campaigning in Columbia on Saturday, tweeting that it was "time for a new generation to lead" while sharing a video of a Fox News interview she had done earlier in January.
During the Fox interview, Haley backtracked on her 2021 pledge to not challenge Trump, arguing that it was "time for new generational change" and that candidates do not "need to be 80 years old to go be a leader in D.C."
Haley was notably absent from Trump's South Carolina rally on Saturday. During the event, the former president told his audience that Haley had recently spoken to him about a possible run and that he advised her to "go by your heart."
Earlier on Wednesday, former Trump adviser Steve Bannon lashed out at Haley during his War Room podcast, saying that the timing of her October 2018 resignation from the Trump administration was "exquisite from a bad point of view" and accusing her of being "as ambitious as Lucifer."
Current polls suggest that Haley's chances of defeating Trump for the GOP nomination are very low. Surveys taken last month by Morning Consult and McLaughlin & Associates both showed Haley polling at only 3 percent.
Trump has been the leading Republican choice in most recent polls, while Florida Governor Ron DeSantis, who has also not yet officially announced a run, looks like the candidate most likely to pose a serious challenge to the former president.
Newsweek has reached out to Haley's "Stand for America" PAC for comment.