Steve Bannon Slams Nikki Haley Amid 2024 Rumors: 'Ambitious as Lucifer'
Former White House adviser Steve Bannon criticized Nikki Haley on Wednesday saying that she is "as ambitious as Lucifer" amid rumors that the former U.S. Ambassador to the United Nations may run for president in 2024.
During an episode of his War Room podcast, Bannon spoke about Haley resigning from her post as the U.S. Ambassador to the UN in former President Donald Trump's administration.
"Nikki Haley resigns, steps down from the [Trump] administration. She could have done it the evening of the election, she could have waited four weeks. The reason she did that is she wanted to say 'hey, I'm not with him [Trump]," Bannon said.
Bannon then recalled a talk he gave to a Bloomberg event in London in 2018 and said that Haley "is as ambitious as Lucifer."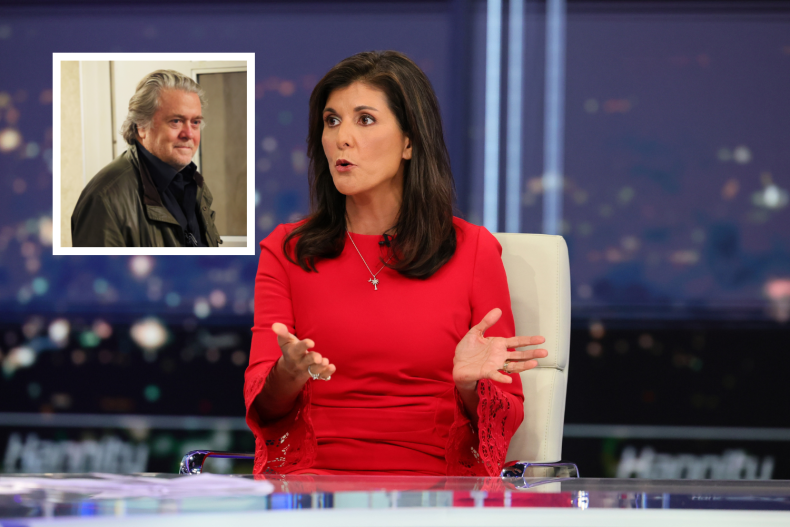 Bannon's comments come amid rumors that Haley is planning to announce a bid for the presidency in 2024, where she would be up against Trump. On Wednesday, the Associated Press reported that Haley is planning to hold an event on February 15, where she will announce her bid for presidency, citing an anonymous individual familiar with the situation. The Post and Courier in Charleston, South Carolina, was first to report on Haley's potential plans for a 2024 presidential bid.
If Haley does officially announce a bid for the 2024 presidency, she will be Trump's first challenger in the Republican Party, after the former president previously announced that he was running again in November.
Haley previously served as the governor of South Carolina from 2011 to 2017. During Trump's administration, Haley was named the U.S. Ambassador to the UN and held that seat until her resignation in October 2018.
Following her resignation, Bannon offered similar criticism saying that her "timing was exquisite from a bad point of view."
"Everything she said yesterday and everything she said about stepping down could have been done on the evening of November 6. The timing could not have been worse," Bannon told Bloomberg News Editor-in-Chief John Micklethwait in 2018.
Bannon also echoed the comments about Lucifer and said in 2018 that "I think she is incredibly politically ambitious...Ambitious as Lucifer but that is probably...I am probably taking [John] Milton out of context."
During his podcast on Wednesday, Steve Cortes, a former adviser to Trump, also criticized Haley and said that she is "maybe more ambitious than Lucifer and even less principled."
"I call her the political weather vane, meaning whichever way she thinks the political winds are going, that's where she orients herself," Cortes said.
Not all are against her though. Lindsey Graham, a South Carolina Senator, tweeted his support after the news broke on Twitter, saying, "Nikki also has much to offer the country when it comes to growing the Republican party.
She has led a consequential life and I am confident that she will acquit herself well as a presidential candidate."
Economist Max Murray tweeted, "I'll support Nikki Haley's presidential bid, but we are in for an uphill battle."
Newsweek reached out to Haley's Stand for America organization for comment.