No One Seems to Agree With Donald Trump That North Korea Missile Tests Did Not Violate U.N. Resolutions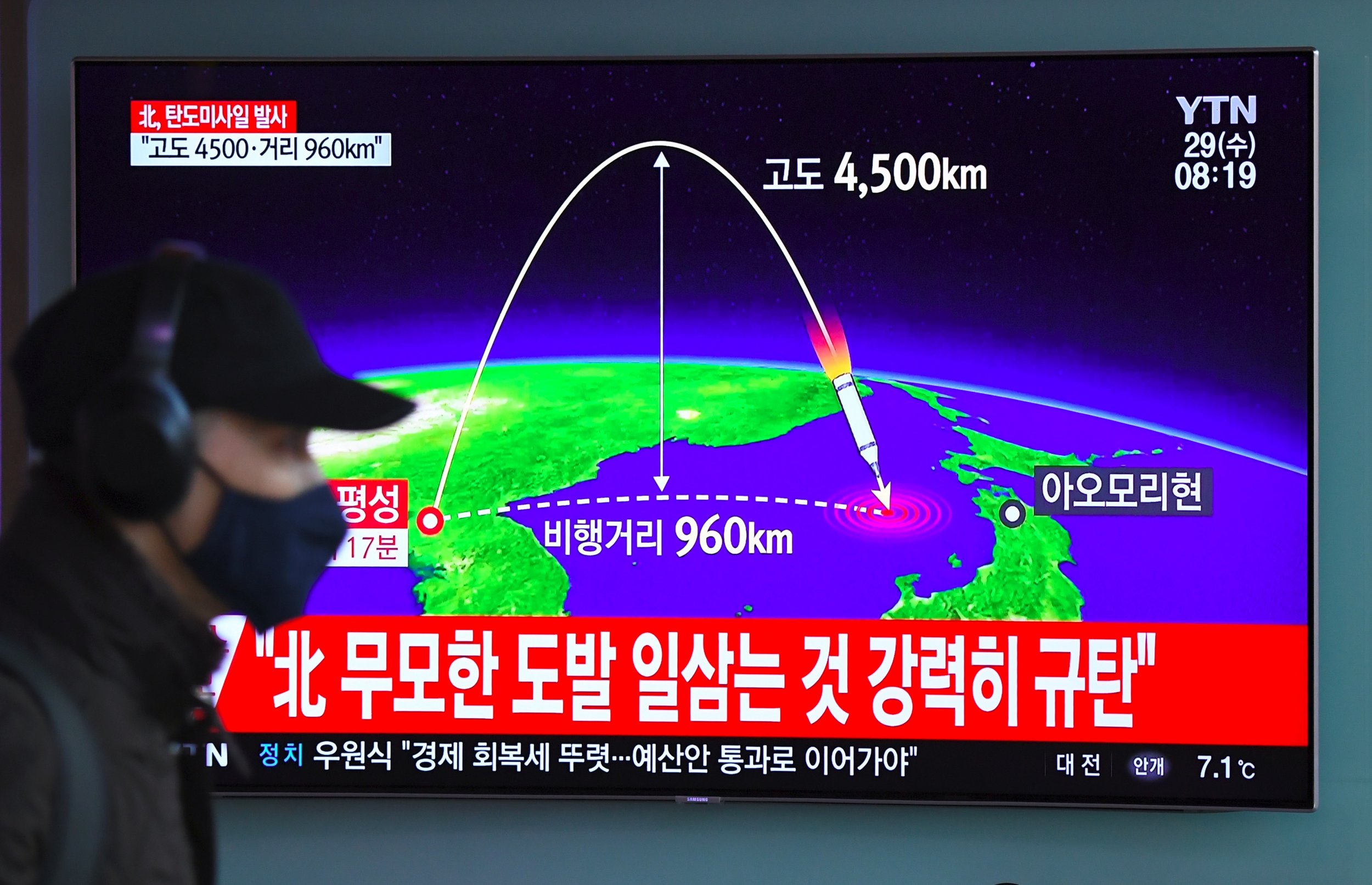 The apparent chaos at the top of America's foreign policy apparatus came into sharp focus again on Wednesday, as the State Department undermined President Donald Trump's controversial defense of recent North Korean weapons tests.
The two short-range missile tests conducted earlier this month come amid stalled negotiations between Washington and Pyongyang on sanctions relief and denuclearization on the Korean peninsula. Combined with the seizure of a North Korean tanker suspected of violating international sanctions on the secretive state, these developments have undermined improving relations between the two historic adversaries.
The diplomatic thaw between the U.S. and North Korea is one of President Donald Trump's proudest foreign policy achievements—though exactly how much has been achieved is up for debate. And despite stalled talks and an increasingly vicious war of words between the two nations, Trump appears determined to ignore anything that might threaten what he considers a huge foreign policy win.
Speaking during last weekend's state visit to Japan, Trump was asked whether he was bothered by the missile tests conducted by North Korea. "No, I'm not. I am personally not," he replied. The president added that he was "very happy" with progress on North Korea, despite the collapse in talks.
Trump also said he did not believe the missile tests violated a United Nations resolution—passed in 2006 and reinforced by a second in 2009—imposing sanctions on North Korea and demanding the nation "not conduct any further nuclear test or launch of a ballistic missile."
The president said that while his "people think it could have been a violation…I view it differently."
Trump was seemingly referring to National Security Adviser John Bolton—known for his tough stance on U.S. adversaries including Iran and North Korea—who said Saturday there was "no doubt" Pyongyang had violated the resolution. "The U.N. Security Council resolution prohibits the launch of any ballistic missiles," he explained to reporters in Tokyo before Trump arrived in the country.
This language was echoed by Japanese Prime Minister Abe Shinzo on Monday at the same press conference in which Trump dismissed the significance of the tests. Abe described the launches as "of great regret" and suggested they had in fact breached U.N. guidance.
Then on Tuesday, the State Department added its voice to the confusion, disputing the commander in chief's account and suggesting that North Korea's weapons development program as a whole violated U.N. orders.
Asked to clarify the department's stance, spokesperson Morgan Ortagus said, "I think the entire North Korean [weapons of mass destruction] program, it's in conflict with the U.N. Security Council resolutions. But what the U.S. is focused on here…is in trying to negotiate a peaceful end to the North Korean WMD program."
The State Department did not immediatley respond to Newsweek's request for clarification as to whether the department's view on the tests aligns with that of the president.
Harry Kazianis, the senior director of Korean studies at the Center for the National Interest, agreed there is "no doubt whatsoever that North Korea violated UN Security Council resolutions when it tested short-range missiles recently."
"What President Trump and his allies in South Korea are trying to do is downplay the significance of those tests to ensure that any possibility of resuming talks is left on the table," he told Newsweek.
Kazianis suggested the tests were a way for Kim Jong Un to demonstrate resolve to the generals and the party cadre that surround and support him. Instead, he suggested, the true obstacle to continued talks is "America's completely unrealistic expectation that North Korea must get on its hands and knees and surrender its nuclear weapons and missiles first before it gets any sanctions relief at all."
This is something no nuclear power would agree to. "History tells us that such a strategy is sheer folly and is destined to fail—and bring us back to the dangerous days of fire and fury that brought us to the brink of nuclear war in 2017," Kazianis warned.
If Trump truly wants to make a deal with Kim, he may need to jettison more aggressive advisers. "Only such a move can truly drain the swamp—as he claims to want to do—and begin the process of winding down hawkish approaches in places like the Middle East and North Korea that could put this nation on a path to war," Kazianis suggested.
This article has been updated to include comments from Harry Kazianis.