Donald Trump 'Blithely' Contradicted Abe on North Korea, Fox News Guest Says: 'If People Aren't Giving Him Credit…He Only Has Himself to Blame'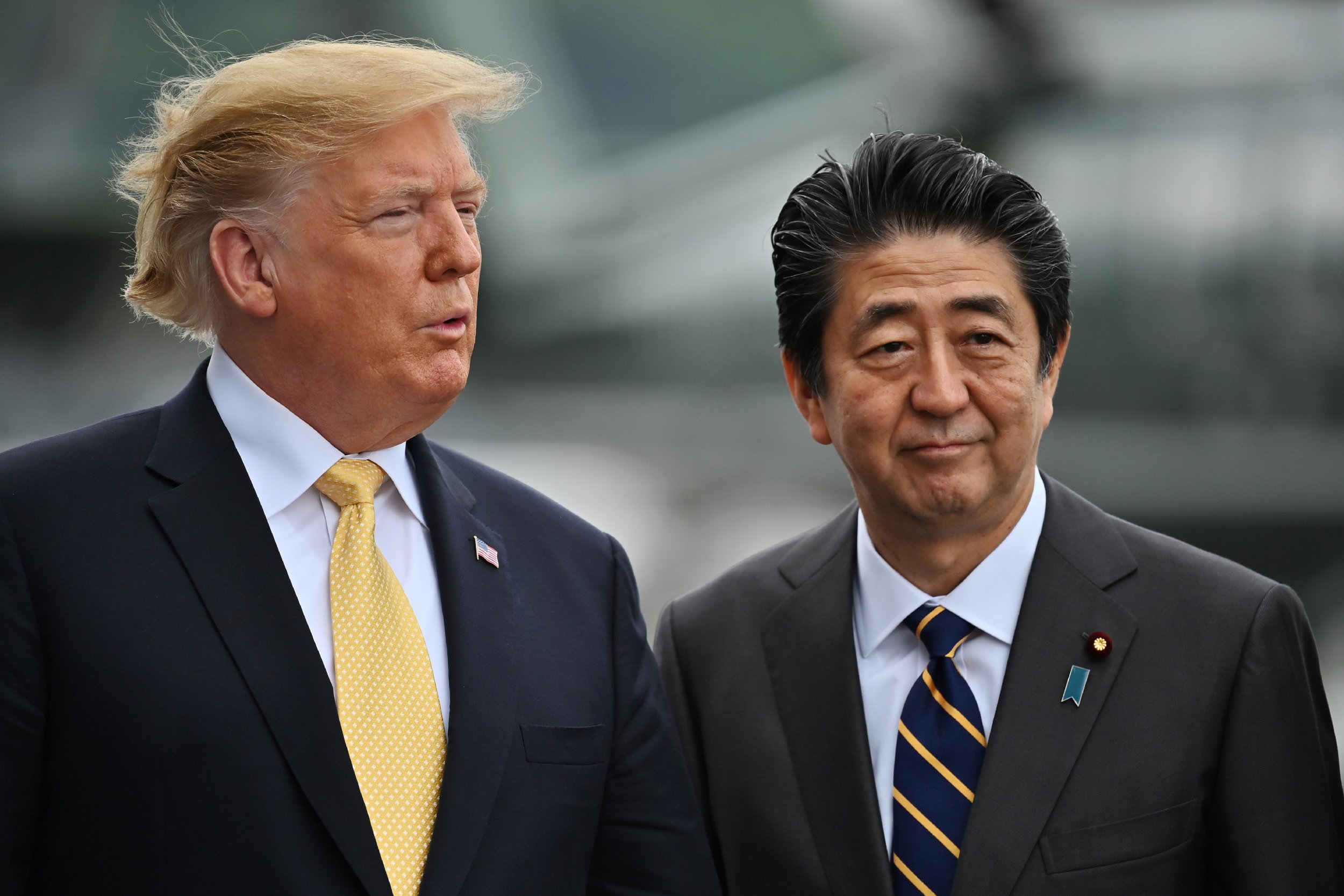 President Donald Trump has come under fire for his dismissal of North Korea's most recent weapons tests, especially as his stance openly contradicted that of Japense Prime Minister Shinzo Abe, who is currently hosting the president during his state trip to Japan.
During a Fox News panel discussion on Monday, multiple guests suggested Trump's approach to North Korea might be the wrong play.
On Monday, Trump was asked whether he was bothered by the short-range missile tests conducted by North Korea earlier this month. "No, I'm not. I am personally not," he replied. This contradicted Abe's suggestion that the tests were a provocation.
Washington Post columnist Charles Lane told Fox News host Bret Baier that people "are entitled to be confused though by the atmospherics that the president is putting out."
Trump's visit to Japan made him the first foreign leader to meet Emperor Naruhito and Empress Masako since the former ascended to the throne last month. The significance of the trip made his public break with Abe even more striking, Lane suggested.
He asked Baier "what kind of person" goes on such an important trip before openly disagreeing with his host. "The Japanese did this huge favor to him by letting him be the first foreign leader to meet the new emperor, they put him up there on stage next to the prime minister of Japan and then he just sort of blithely contradicts him on this extremely important and strategic issue for Japan," Lane explained.
"So if people aren't giving him credit for all the tough stuff he's doing from behind the scenes, he only has himself to blame," the columnist concluded.
Other guests were less critical of the president, but still suggested his North Korea strategy may be in trouble.
Byron York, the chief political correspondent at the Washington Examiner, told Baier that if North Korean weapons tests reflected Pyongyang's decision to act against the agreement signed with Trump in Singapore last year, "that's a problem and the president is not going to say that."
York added that the president's agreement with Kim Jong Un "clearly…hasn't worked so far." He did, however, note that no president had yet been successful with the North Korean issue.
Fox News politics editor Chris Stirewalk also said the president was unlikely to admit that his "maximum pressure" approach to North Korea is not working. "The key here, just pretend like it's working even if it's not working," he told Baier.
"I imagine that if you were to ask a lot of his supporters how things are going with North Korea, they would say 'hunky-dory, everything is fine,'" Stirewalt continued. "I think a lot of this is for domestic political consumption; 'There's no problem here, everything's fine, I have achieved what all my predecessors failed.'"
But for Marc Thiessen of the American Enterprise Institute, actions speak louder than words. "I'm less concerned with what Donald Trump says than what Donald Trump does," he said, suggesting that the president's "buttering up" of Kim is designed to "keep the possibility for a deal alive."
In doing so, Thiessen claimed Trump has made "no actual concessions" to the young dictator. "He hasn't lifted sanctions, he hasn't unfrozen North Korean assets, hasn't ended the Korean War, hasn't granted Pyongyang diplomatic recognition," Thiessen explained. "In fact, he's done the opposite. He's tightened sanctions on Kim's inner circle and he just seized a North Korean ship that was violating sanctions."
Thiessen did not acknowledge one very real concession Trump made following the historic Singapore summit, his presence at which provided a key propaganda victory for Kim in itself. A key victory for Kim was Trump's freeze on major joint U.S.-South Korean military exercises, which regularly prompt protests from Pyongyang. Indeed, the president even described such drills as "provocative," a term often used by the North Koreans in criticizing joint military exercises in the South.
Nonetheless, Thiessen said that "as long as [Trump] keeps the pressure on Kim and doesn't make a bad deal, if he wants to butter him up, I'm fine with it."