Forget Trump's 'Fake News Awards,' Former Obama Ethics Chief Announces President's Biggest Lie of 2017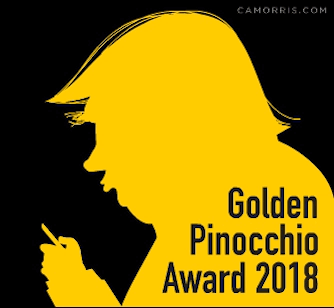 A former Obama administration ethics czar is planning to beat Donald Trump at his own game Wednesday, trolling him with the "Golden Pinocchio" award for his biggest lie of the year on the night the president is expected to announce his "Most Dishonest & Corrupt Media Awards."
Norm Eisen, who served as President Barack Obama's Special Counsel for Ethics and Government Reform from 2009 to 2011, tweeted two polls in the past 10 days asking his 118,000 followers to identify Trump's biggest lie during his first year in office. The second poll closed on Wednesday afternoon and the favorite was clear: "There was no collusion."
"'There was no collusion' is an out and out lie," Eisen told Newsweek Wednesday. "The man lies so much...The exact opposite of what he says tends to be true."
Eisen gave his Twitter followers seven options to choose from in the two polls—with the top vote-getter from the first survey, "there was no collusion," appearing in the second as well.
Related: Trump Trolled By Obama Ethics Czar With 'Golden Pinocchio' Award For Biggest Lie
Eisen called the "Golden Pinocchio" his response to the Trump's purported "Most Dishonest & Corrupt Media Awards of the Year" announcement.
Trump's fake news "honor" was originally slated for January 8 but a day before the scheduled announcement the president issued a delay.
"The Fake News Awards, those going to the most corrupt & biased of the Mainstream Media, will be presented to the losers on Wednesday, January 17th, rather than this coming Monday," he tweeted. "The interest in, and importance of, these awards is far greater than anyone could have anticipated!"
As of Wednesday evening, there was no update on when Trump would make his highly anticipated announcement.
Eisen plans to present Trump with his "Golden Pinocchio" award Wednesday night via Facebook Live; he doesn't expect the president to physically attend. (The ceremony can be streamed live here at 8 p.m. Eastern.) After that, he'll tweet a picture of Trump's trophy to him.
Trump has never responded to Eisen on Twitter, the president's preferred method of mass communication, though Eisen was quick to point out that "He has responded to my lawsuits."
Eisen is the chairman of Citizens for Responsibility and Ethics in Washington, or CREW, which has brought over 180 legal cases against Trump and his administration.
In addition to bringing some levity to the current political atmosphere, Eisen said he wants the award to bring public awareness to the dire shortcoming undergirding the Trump White House.
"It's a very serious subject. Nothing could be more serious than when a president lies," he said.
Eisen said culling Trump's lies down to seven was no small task. "The man lies so much," he said. In fact,
Trump made at least 1,950 false or misleading claims between his inauguration on January 20, 2017, inauguration and the first day of 2018, according to a Washington Post analysis. Trump was an pace to exceed 2,000 such claims by his one year anniversary, the Post reported. Trump's Politifact profile reports that just 16 percent of his statements are "true" or "mostly true." By comparison, 69 percent of his statements were rated "mostly false," "false" or "pants on fire."