Trump Trolled By Obama Ethics Czar With 'Golden Pinocchio' Award For Biggest Lie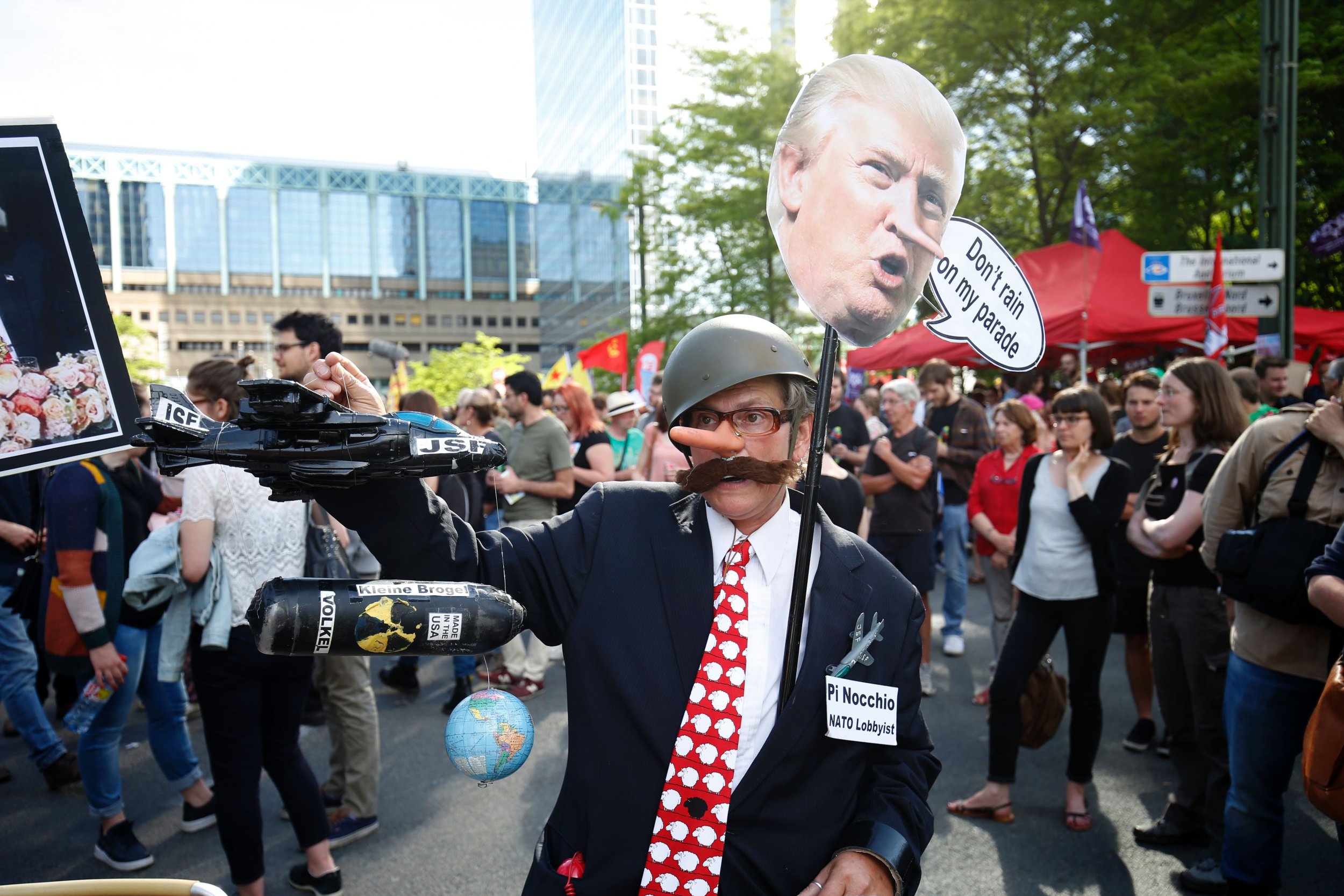 A former White House ethics czar and U.S. Ambassador is trolling President Donald Trump with a fake news award of his own: The "Golden Pinocchio," an ignominious honor for Trump's biggest lie in 2017, he told Newsweek.
Norman Eisen, who served as President Barack Obama's Special Counsel for Ethics and Government Reform from 2009 to 2011 before he became the Ambassador to the Czech Republic, tweeted a survey on Monday asking his 115,000 followers what they believed was Trump's biggest misstatement.
"CONTEST," Eisen tweeted. "To compete with Trump's Fake News awards, I will be awarding him the Golden Pinocchio for his biggest lie of the past year."
He plans to announce the results on January 17, the same day Trump has slated for his own inaugural "Fake News Awards."
"The president probably will re-establish his voting commission to look into the Golden Pinocchio but the allegations of voter fraud are just as unfounded as all the other ones he's made," Eisen joked to Newsweek, referring to the voting commission that Trump launched to root out supposed fraud in the 2016 election. Trump dissolved that commission last week having not found any.
Eisen's announcement follows Trump's revelation last Tuesday that he would present his anti-press awards, called "THE MOST DISHONEST & CORRUPT MEDIA AWARDS OF THE YEAR," he tweeted.
"Subjects will cover Dishonesty & Bad Reporting in various categories from the Fake News Media. Stay tuned!"
The awards were originally scheduled for Monday, but on Sunday, Trump balked.
"The Fake News Awards, those going to the most corrupt & biased of the Mainstream Media, will be presented to the losers on Wednesday, January 17th, rather than this coming Monday," he tweeted. "The interest in, and importance of, these awards is far greater than anyone could have anticipated!"
The media has long been in Trump's crosshair. As of December 20, Trump had posted at least 990 tweets that were critical of the media since he announced his candidacy for president on June 16, 2015, according to the Columbia Journalism Review. That's an average of 1.79 anti-press tweets per day and does not include statements he made off the social media platform.
Trump and The Washington Post's fact-checker rating system inspired Eisen's Golden Pinocchio. The Post—which rates comments on a scale of one to four Pinocchios, one being "mostly true" and four being "whoopers"—found that between January 20, 2017 and January 1, 2018, Trump made 1,950 false or misleading claims. If true, that puts Trump at 5.6 such claims a day and on pace to exceed 2,000 claims within his first year in office.
"I know it is hard to choose just one" lie, Eisen tweeted, so he limited the options on his Twitter poll to "four doozies": "Obamacare is failing," "There was no collusion," "Visas go to 'worst people,'" or "He is a 'stable genius.'"
Eisen posted the poll at about 10:20 a.m. and had received more than 7,000 responses by 7 p.m., he said. At that point, 52 percent of respondents deemed "no collusion [with Russia]" Trump's biggest falsehood.
"All kidding aside, I think that it's very significant that 'there was no collusion' has got ... a clear majority, which is much better than the president himself did and that shows the wisdom of the crowd," Eisen said.
The FBI is investigating Russia's efforts to influence the 2016 election and part of that probe focuses on interactions between Russia and the Trump campaign. The FBI has indicted four of his campaign advisors, two of whom—including Michael Flynn, Trump's former national security adviser—have pleaded guilty to lying about their contacts with Russians. Trump regularly calls the probe a "witch hunt."
RELATED: TRUMP: THE MEDIA 'HAVE TO LET ME WIN' IN 2020 OR 'THEIR RATINGS ARE GOING DOWN THE TUBES'
"Every time the president says there was no collision, that's a lie," Eisen said. "Flynn pled guilty and in his statement of defense he admitted to collusion with Russia, and it was widespread and well known.
"That is the most profound of his lies because we know now, thanks to Michael Flynn, that there was collusion," Eisen added.
Eisen also cited a 30-minute interview Trump did with the New York Times, in which the president stated various iterations of "no collusion" 16 times—an average of once every two-minutes.
The second leading vote getter comes from a recent Trump tweet saying he is "a very stable genius."
"Throughout my life, my two greatest assets have been mental stability and being, like, really smart," he tweeted on Saturday after the release of Fire and Fury: Inside the Trump White House, a book that paints the president as an "idiot."
"I went from VERY successful businessman, to top T.V. Star," Trump's tweets continued, "to President of the United States (on my first try). I think that would qualify as not smart, but genius....and a very stable genius at that!"
Eisen, who now senior fellow at the Brookings Institute and the co-founder of Citizens for Responsibility and Ethics in Washington, or CREW, said Trump can rest assured there will be no voter fraud or tampering with the results of this survey.
"The president can have a high degree of confidence because I'm using his favorite mechanism: Twitter," he said.
Eisen said he and his "team" are designing the trophy for their January 17 announcement: "We are building the nose using a radio aerial, so it can keep extending. We will be plating the prize in Fool's Gold....I think you know why. Please don't forget to cast your ballot!"
"Should he accept," Eisen quipped to Newsweek, "the award will be presented by a polygraph examiner. We will give him the opportunity to take a lie detector test, if he wants to disprove any of these fallacies."