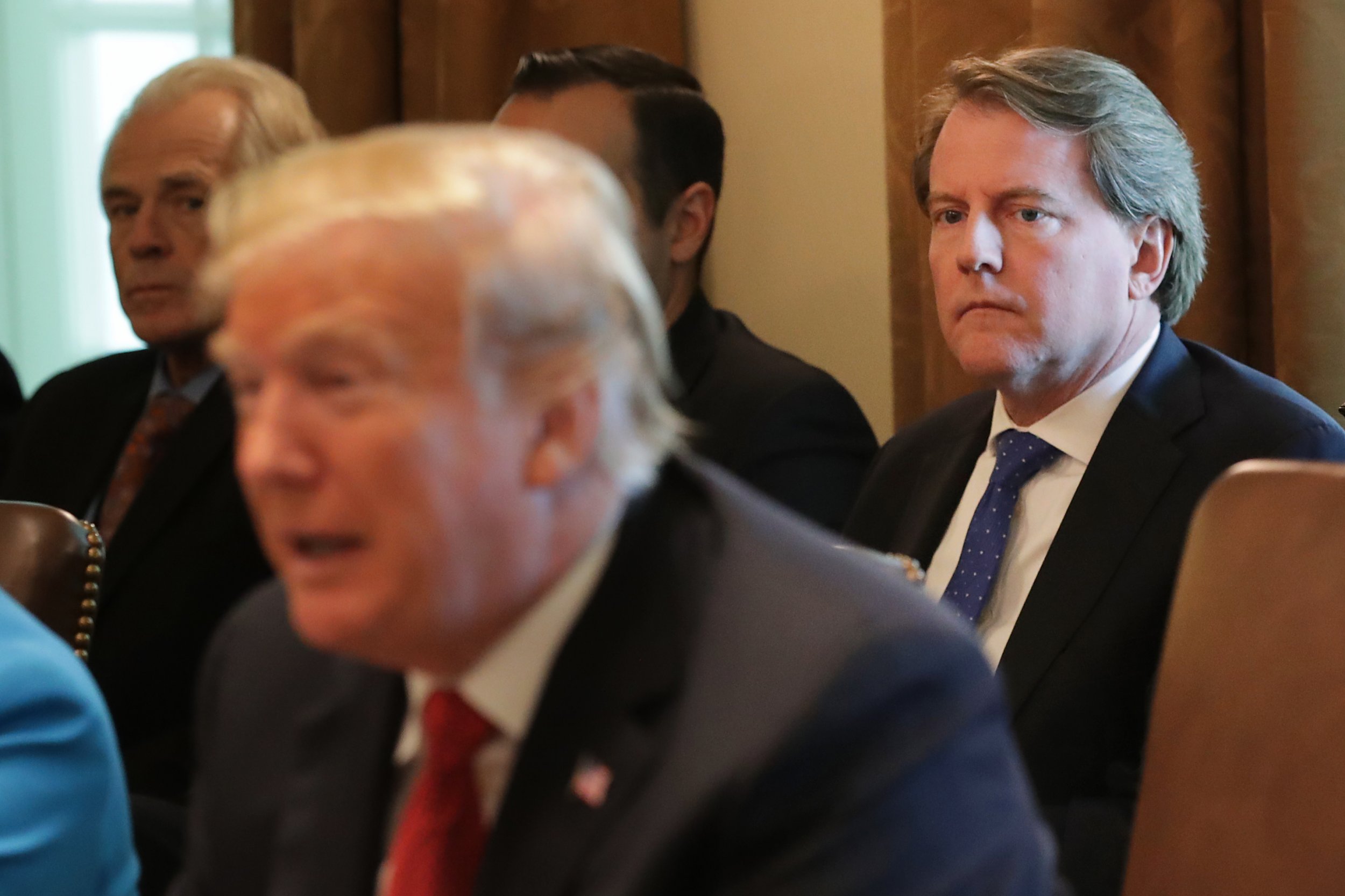 President Donald Trump was determined not to have influenced special counsel Robert Mueller's investigation largely due to the fact that those around the president refused to "carry out orders," according to the final report.
"The President's efforts to influence the investigation were mostly unsuccessful, but that is largely because the persons who surrounded the President declined to carry out orders or accede to his requests," read a redacted version of the 448-page report released to the public Thursday.
The report goes on to list several instances in which Mueller and his team investigated potential obstruction by the president. Those instances included the Trump campaign's response to reports about Russian support for Trump, conduct involving former national security adviser Michael Flynn, the firing of then–FBI Director James Comey, Trump's reaction to the continuing Russia investigation. Also discussed are the president's efforts to remove Mueller as special counsel, including attempts to have then-White House counsel Don McGahn have Mueller removed and his conduct toward former Trump campaign chairman Paul Manafort and former personal attorney Michael Cohen.
The report said that on June 17, 2017, Trump directed McGahn to have then-acting Attorney General Rod Rosenstein "say that the Special Counsel had conflicts of interest and must be removed."
"McGahn recalled feeling trapped because he did not plan to follow the President's directive but did not know what he would say the next time the President called," the report stated. "McGahn did not carry out the direction, however, deciding that he would resign rather than trigger what he regarded as a potential Saturday Night Massacre."
The report continues: "Comey did not end the investigation of Flynn, which ultimately resulted in Flynn's prosecution and conviction for lying to the FBI. McGahn did not tell the Acting Attorney General that the Special Counsel must be removed, but was instead prepared to resign over the President's order. [Corey] Lewandowski and [Rick] Dearborn did not deliver the President's message to Sessions that he should confine the Russia investigation to future election meddling only. And McGahn refused to recede from his recollections about events surrounding the President's direction to have the Special Counsel removed, despite the President's multiple demands that he do so."
The report concluded that although it does not say Trump "committed a crime, it also does not exonerate him." Mueller and his team were unable to determine "that no criminal conduct occurred."
In his four-page summary of Mueller's principled conclusions, Attorney General William Barr and Deputy Attorney General Rod Rosenstein concluded that the evidence was "not sufficient to establish that the President committed an obstruction-of-justice offense." Barr testified to lawmakers last week that Mueller neither asked him nor Congress to determine whether Trump obstructed justice.
The report says that Congress still has the ability to investigate the matter of obstruction.
"With respect to whether the President can be found to have obstructed justice by exercising his powers under Article II of the Constitution, we concluded that Congress has the authority to prohibit a President's corrupt use of his authority in order to protect the integrity of the administration of justice," the report said.
Democrats have since blasted Barr for his previous summary and Thursday morning press conference where he rehashed there was no "collusion" between the Trump campaign and Russia during the 2016 election.
"As we continue to review the report, one thing is clear," House Speaker Nancy Pelosi and Senate Minority leader Chuck Schumer said in a joint statement. "Attorney General Barr presented a conclusion that the president did not obstruct justice while Mueller's report appears to undercut that finding."
House Judiciary Committee Chairman Jerrold Nadler, a Democrat, said he had not yet been contacted by DOJ in regard to viewing a version of the report "without certain redactions" in a secure area. He reiterated his intention to subpoena the full, unredacted report and its underlying evidence.
"Because Congress requires this material in order to perform our constitutionally-mandated responsibilities, I will issue a subpoena for the full report and the underlying materials," Nadler said in a statement.
The New York congressman also said that Barr would testify before his committee May 2 and that he requested Mueller to testify by no later than May 23.