Mueller Report: Read Full Text of Special Counsel's Redacted Findings
The report from special counsel Robert Mueller, who was appointed in May 2017 by Deputy Attorney General Rod Rosenstein to investigate Russian election interference and possible coordination with the Trump campaign, was finally released to Congress and the public on Thursday.
(The report, with redactions, can be found at the end of this article.)
The 448-page document, even with redactions, gave insight into the 675-day-long investigation, which brought 199 criminal charges and indicted or received guilty pleas from 34 people, which included six former Trump associates, five of whom pleaded guilty, and three Russian companies.
The report has color-coded redactions, which Barr said he made in consultation with Mueller and his team: yellow for information that contains classified sources and methods, red for grand jury material, white for material relating to ongoing investigations and green for "information that would unduly infringe on personal privacy and reputational interests of peripheral third parties."
"Although the investigation established that the Russian government perceived it would benefit from a Trump presidency and worked to secure that outcome, and that the Campaign expected it would benefit electorally from information stolen and released through Russian efforts, the investigation did not establish that members of the Trump Campaign conspired or coordinated with the Russian government in its election interference activities," the report said.
Regarding obstruction of justice, Mueller's report concluded that obstruction by Trump only failed because those around him refused to "carry out orders."
"The President's efforts to influence the investigation were mostly unsuccessful, but that is largely because the persons who surrounded the President declined to carry out orders or accede to his requests," the report stated. "While this report does not conclude that the President committed a crime, it also does not exonerate him."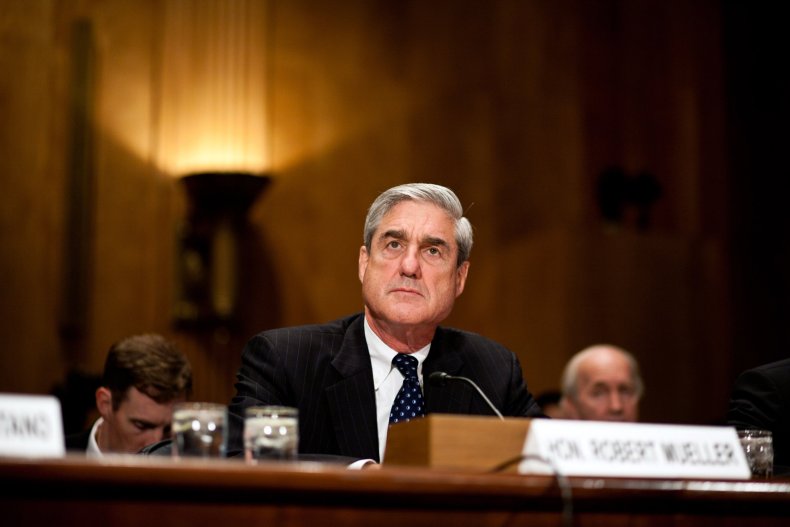 Acting on their own, Barr and Rosenstein, in their four-page summary of Mueller's "principal conclusions" that quoted only 123 words from the special counsel's full report, "concluded that the evidence developed during the Special Counsel's investigation is not sufficient to establish that the President committed an obstruction-of-justice offense."
In testimony to Congress last week, Barr told lawmakers that Mueller neither asked him nor Congress to determine whether Trump obstructed justice. However, Mueller's report stated that Congress still had the ability to determine that the president obstructed justice.
"With respect to whether the President can be found to have obstructed justice by exercising his powers under Article II of the Constitution, we concluded that Congress has the authority to prohibit a President's corrupt use of his authority in order to protect the integrity of the administration of justice," the report said.
The report also laid out 11 issues or events that Mueller investigated for possible obstruction charges, including the firing of former FBI Director James Comey, efforts to remove Mueller as special counsel and efforts to prevent certain evidence from being made public.
Democrats have long-demanded that the attorney general provide Congress with the full, unredacted report, in addition to its underlying evidence, so that lawmakers could decide for themselves whether Trump had obstructed the investigation, and use its findings as evidence in ongoing probes. House Judiciary Committee Chairman Jerrold Nadler, a New York Democrat, reiterated that his committee would subpoena the Justice Department for Mueller's full report.
Barr's announcement on Wednesday evening that he would hold a press conference Thursday morning ahead of releasing the report, in which he reiterated there was no "collusion" between the Trump campaign and Russians, left Democrats furious. They told the attorney general to "keep your mouth shut" and that he "appeared to be waging a media campaign on behalf of President Trump," as Nadler said. Furthermore, The New York Times had reported that Justice Department officials had had numerous conversations with the president's legal team about Mueller's conclusions, as was confirmed by Barr, as the White House prepared its rebuttal
The Justice Department revealed in a court filing Wednesday that "a limited number of members of Congress and their staff" will be able to view a different version of the report "without certain redactions." The officials stated they would "secure this version of the report in an appropriate setting" and would not provide physical copies in an attempt to prevent leaks to the press.
While it's not known exactly what information was redacted, Barr came under renewed attack for writing a controversial legal memo in 1989 when he headed the Justice Department's Office of Legal Counsel that he refused to provide to Congress in full. Instead, he provided a summary of his "principal conclusions" in a document that was later discovered to have omitted key findings.
What lies ahead for lawmakers to obtain the information hidden beneath the color-coded redactions will likely become a drawn-out legal fight between congressional Democrats and the Justice Department.
Below is Mueller's report, as released by Barr Thursday morning, with redactions.
This story has been updated to include findings from the special counsel's report.