Donald Trump Says GOP Ohio Candidate 'Kissing My A**' for Endorsement
Donald Trump bragged that a GOP candidate in Ohio was "kissing my a**" for his endorsement.
The former president was in Youngstown, Ohio, on Saturday night to campaign for Senate candidate J.D. Vance.
During his speech, he hit out at The New York Times for reporting that some Republican Senate candidates are seeking to distance themselves from Trump as they move past primary season and try to win the support of the independent voters needed to win battleground states in November.
The newspaper reported that Vance had not invited the former president to speak at Saturday's rally. Neither had Mehmet Oz, a GOP candidate for Senate in Pennsylvania, who Trump rallied for earlier this month.
The report appeared to have rankled the former president, who decried it as a "fake story."
"J.D. is kissing my a**, he wants my support so bad," Trump told the crowd. "I'm 18 points up. If I was 18 points down, he wouldn't want my support."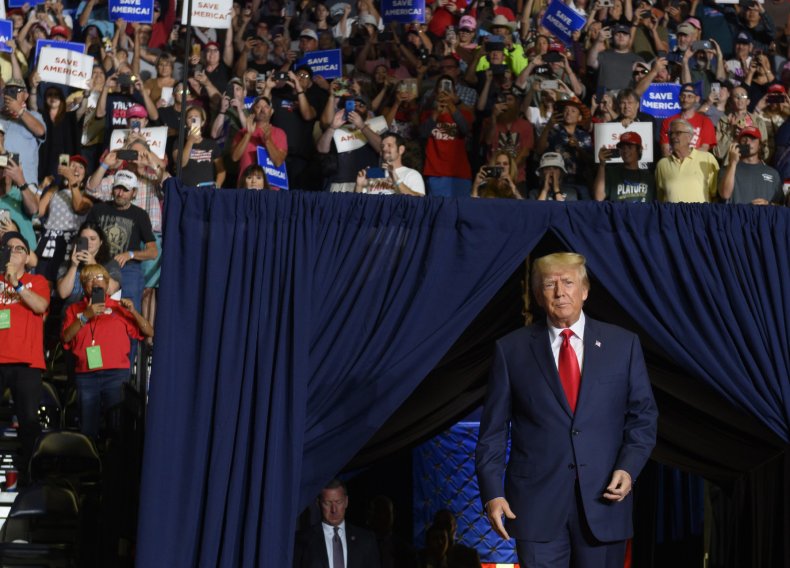 It was not immediately clear which poll Trump was referring to; however, FiveThirtyEight's average of recent polls on Trump's favorability shows 53.4 percent of Americans have an unfavorable opinion of the former president, compared to 42.4 percent with a favorable view.
And a recent New York Times/Siena College poll found President Joe Biden leading Trump by three percentage points—45 to 42 percent—in a hypothetical matchup in the 2024 presidential election.
Meanwhile, the latest polling average in the Senate race from FiveThirtyEight shows a tight race in Ohio, with Democratic candidate, Rep. Tim Ryan, ahead by just half a percentage point: 44.7 percent of voters are backing Ryan, while 44.1 percent support Vance.
At Saturday's rally, Trump also said that Vance's past criticism of him was before he "fell in love."
In 2016, Vance had called Trump an "idiot" and said he was a "Never Trump" person. He also worried that Trump could be "America's Hitler," according to his former college roommate.
"This is a great person who I've really gotten to know," Trump said of Vance.
"Yeah, he said some bad things about me but that was before he knew me and then he fell in love."
Trump also said his sons Donald Jr. and Eric are "big" fans of Vance.
"The entire MAGA movement is for J.D. Vance and when J.D. wins this race in November, you're going to hear wailing from every corporate newsroom in New York and Washington. And you're going to hear cryin' Chuck Schumer howling with rage because J.D. Vance is going to clinch the Senate for the Republicans."
Trump's spokesperson and Vance's campaign have been contacted for comment.