Donald Trump Suggests He Only Wanted Omarosa in White House Because She Said 'Great Things About Me'
President Donald Trump suggested Monday that the only reason he wanted Omarosa Manigault Newman in the White House was because she "only said great things" about him. Trump launched an explosive attack against his former aide Monday following her latest claims about her time in the White House.
"Wacky Omarosa, who got fired 3 times on the Apprentice, now got fired for the last time. She never made it, never will. She begged me for a job, tears in her eyes, I said Ok. People in the White House hated her. She was vicious, but not smart. I would rarely see her but heard really bad things. Nasty to people & would constantly miss meetings & work. When Gen. Kelly came on board he told me she was a loser & nothing but problems. I told him to try working it out, if possible, because she only said GREAT things about me - until she got fired!" Trump said over the course of two tweets.
Trump's comments came after Manigault Newman released an audio recording of a conversation she said she had with Trump a day after Chief of Staff John Kelly fired her last December. On the recording, Trump seemed not to know that Newman, who was a former contestant on the Trump-hosted reality show The Apprentice and director of communications for the Office of Public Liaison at the White House, had been axed.
Trump's comments represented an extraordinary reversal of his feelings about someone whom he hired to work at the White House on an annual salary of $179,700.
During his successful presidential campaign, Trump boasted that if he got into the White House he would "surround myself with only the best and most serious people." Yet a year and a half into his presidency, Trump has hired several people whom he has gone on to disparage after their early exits.
Not least of all is Newman. Trump's Twitter barrage came after he told reporters during an event over the weekend that Newman was a "lowlife." Trump's latest comments suggest not for the first time that Trump values loyalty above all else.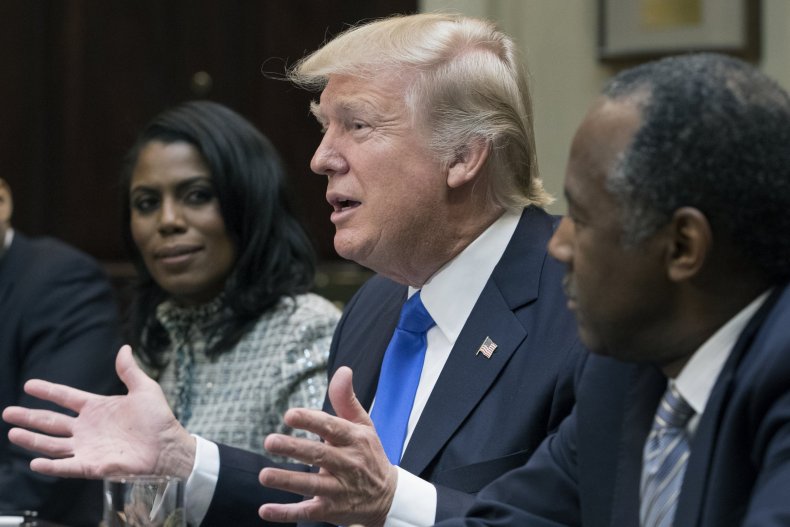 Not only has Trump turned hostile to anyone who criticizes him, but he has often demanded loyalty even when it is less than appropriate, including reportedly from former FBI Director James Comey and Deputy Attorney General Rod Rosenstein.
Ahead of the release of Manigault Newman's book, Unhinged, about her short time in the White House, she has leveled a number of accusations against the president. She claimed that tapes exist of him using racist language, and on Monday on NBC's Today show, she said that Trump was "puppeted" because "he doesn't even know what's happening in his White House."