Republicans Insist Donald Trump Should Take Credit for COVID Vaccinations
Republicans have lined up to accuse President Joe Biden of taking all the credit for the COVID-19 vaccination rollout, ignoring the role of his predecessor.
Biden marked one year since the declaration of the pandemic by calling for all adults to be eligible for a shot by May 1. During his prime-time address on Thursday, he said his administration was ramping up distribution and his goal of delivering 100 million doses in 100 days would be achieved in 60 days.
But prominent GOP figures have criticized the president for not recognizing the administration of Donald Trump, which launched Operation Warp Speed last April. This public-private partnership was set up to facilitate the development, manufacturing and distribution of vaccines.
Although Trump was accused of downplaying the virus and blamed for the death toll, which passed 500,000 people on his watch, Warp Speed has been praised even by media outlets that are usually critical of the former president.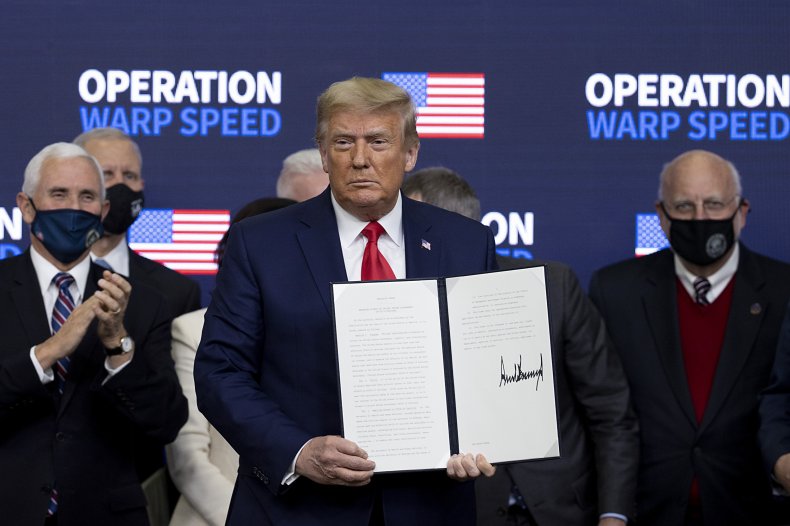 House Minority Leader Kevin McCarthy (R-CA) tweeted: "President Biden's plan is to rely on the work that has already been done by Operation Warp Speed. That's why only 9% of his 'relief' bill went to defeating the virus.
"What America needs now is to fully reopen our economy and our classrooms," he added.
Kayleigh McEnany, Trump's former press secretary, tweeted: "President Trump put in place an unprecedented vaccine operation that paved the way for President Biden (who consistently denies the successful operation Trump left him)."
Former Arkansas Governor Mike Huckabee posted: "Joe Biden breaks his arm patting himself on the back for building on Covid response made possible by Pres Trump & Operation Warp Speed but Biden gives Trump no credit."
Nan Hayworth, a former GOP congresswoman in New York, wrote: "MY Administration," says President Biden, over and over again. The ONLY reason he can do any of the things he's doing for vaccines and vaccination is Operation Warp Speed.
"The ONLY President deserving extraordinary credit here is President TRUMP!" she added.
Senator Marsha Blackburn of Tennessee tweeted: "Thank you DJT for spearheading #OperationWarpSpeed and for Tennesseans getting vaccinated."
The White House has repeatedly criticized the Trump administration's role in the pandemic. Last month, Biden referred to "the mess we inherited from the previous administration, which left us with no real plan to vaccinate all Americans."
But the GOP Doctors Caucus said Biden and his team had not given the Trump administration credit "while relying heavily on a system established by their predecessors."
Rep. Michael Burgess of Texas retweeted this statement, adding the message: "We have a vaccine because of #OperationWarpSpeed that is the simple truth."
Although the COVID vaccines were developed by private companies, the ability to expand supply and distribute doses to pharmacies is linked to efforts by Trump aides.
Paul Mango, former deputy chief of staff for policy at Health and Human Services under Trump, told ABC News: "We just don't understand why [the Biden administration] have to celebrate it by trashing what we did."
However, Andy Slavitt, a senior adviser to the White House's COVID team, did pay tribute to the previous administration, telling Fox News: "I would absolutely tip my hat," to Trump's team, which he said "made sure that we got in record time a vaccine up and out."
Trump appeared annoyed at the lack of recognition, saying in a statement that if he hadn't been president "you wouldn't be getting that beautiful 'shot' for 5 years at best, and probably wouldn't be getting it at all. I hope everyone remembers!"
When contacted for comment, a White House spokesman referred Newsweek to previous comments made by Biden in which he praised the Trump administration's efforts in helping bring COVID vaccines to Americans.
These included Biden saying in December, "I think the administration deserves some credit getting this off the ground with Operation Warp Speed."
The spokesman also pointed to how on January 26, Biden said that credit was due to "everyone involved in this vaccine effort and the prior administration and the science community and the medical sphere." Biden added: "I didn't do it, I promise... for getting the program off the ground. And that credit is absolutely due."
The graphic below, provided by Statista, outlines confidence among Americans about the vaccine rollout.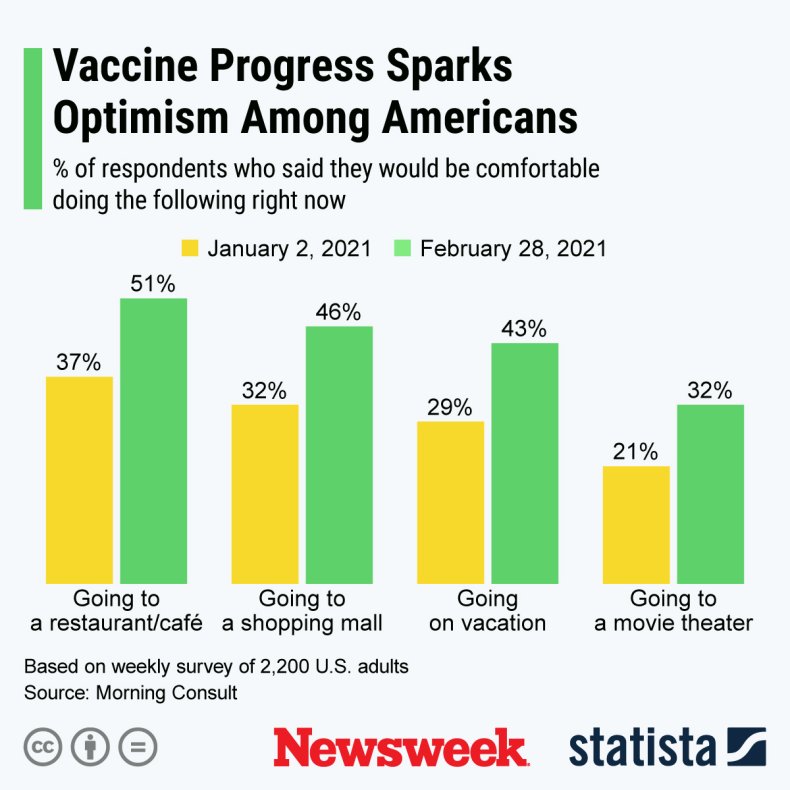 Correction 3/12/21, 7.15 a.m. ET: This story has been updated to clarify that President Biden called for adults to be eligible for a vaccine by May 1, not to receive a vaccine by that date. The story was later updated with a response to Newsweek from the White House.