Former President Donald Trump recently claimed that if he is elected in 2024, he can end the Russian invasion of Ukraine before he takes office in January 2025.
He made the claim during an interview with Fox News' Sean Hannity.
He also said that Putin knew not to "mess" with him while he was president.
Former President Donald Trump has said he could end the the Russian invasion of Ukraine if he's elected president again in 2024 even before he takes office in January 2025.
Trump, who is running for the Republican presidential nomination, made the claim during the second part of his interview with Fox News' Sean Hannity, which aired on Tuesday.
The interview comes just days after Trump held his first official 2024 campaign rally in Waco, Texas and amid speculation that he could be indicted as part of the Manhattan District Attorney's probe into a $130,000 reimbursement paid to former Trump lawyer Michael Cohen for a payment he made to adult film actor Stormy Daniels before the 2016 presidential election.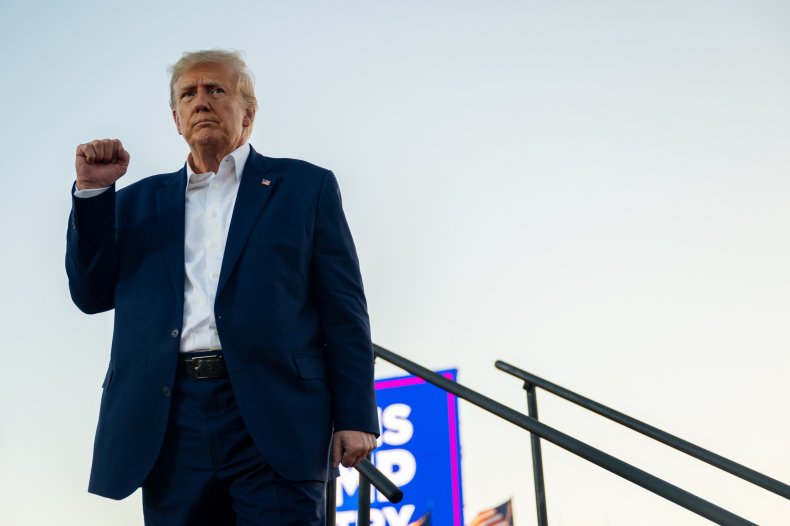 Trump reiterated his claim that he would "fix" the Ukraine war within 24 hours but that he could only do so "from the presidential seat." He suggested he couldn't fix the situation even if President Joe Biden were to appoint him an "emissary."
"And if I win, before I get into the office, I will have that war settled. 100 percent sure," the former president told Hannity.
A video clip of Trump's remarks about ending the war before taking office was shared to Twitter by journalist Aaron Rupar and had been viewed more than 60,000 times as of early Wednesday morning.
"And everything I said has turned out to be right," Trump told Hannity.
If Trump is re-elected to the White House in November 2024, he would not assume the office of president until January 20, 2025. Biden would remain in office until that date.
Biden is expected to run for re-election but he has not yet made a formal announcement, while Trump is the leading contender for the GOP nomination, according to a number of recent polls.
Elsewhere in the Fox News interview, Trump said that Russian President Vladimir Putin knew not to "mess around" with him when he was president.
"Putin would have never gone into Ukraine. I used to talk to him about it—I said 'better not do it'. And he wouldn't have—we had a very friendly conversation about it: I said, 'Hey, Vladimir, you can't go into Ukraine,'" Trump said.
Hannity asked Trump why he was so certain that Putin wouldn't have invaded Ukraine if he had remained in office.
"Because he knew not to mess around with me," Trump said, adding: "I don't want to say that."
"You know why? Because you'd say—Oh—I don't like people who say 'oh, they fear me' like a schmuck. I don't want to say it, but did they fear me? I suspect they did," the former president said.
Newsweek has reached out to Trump's office via email for further comment.