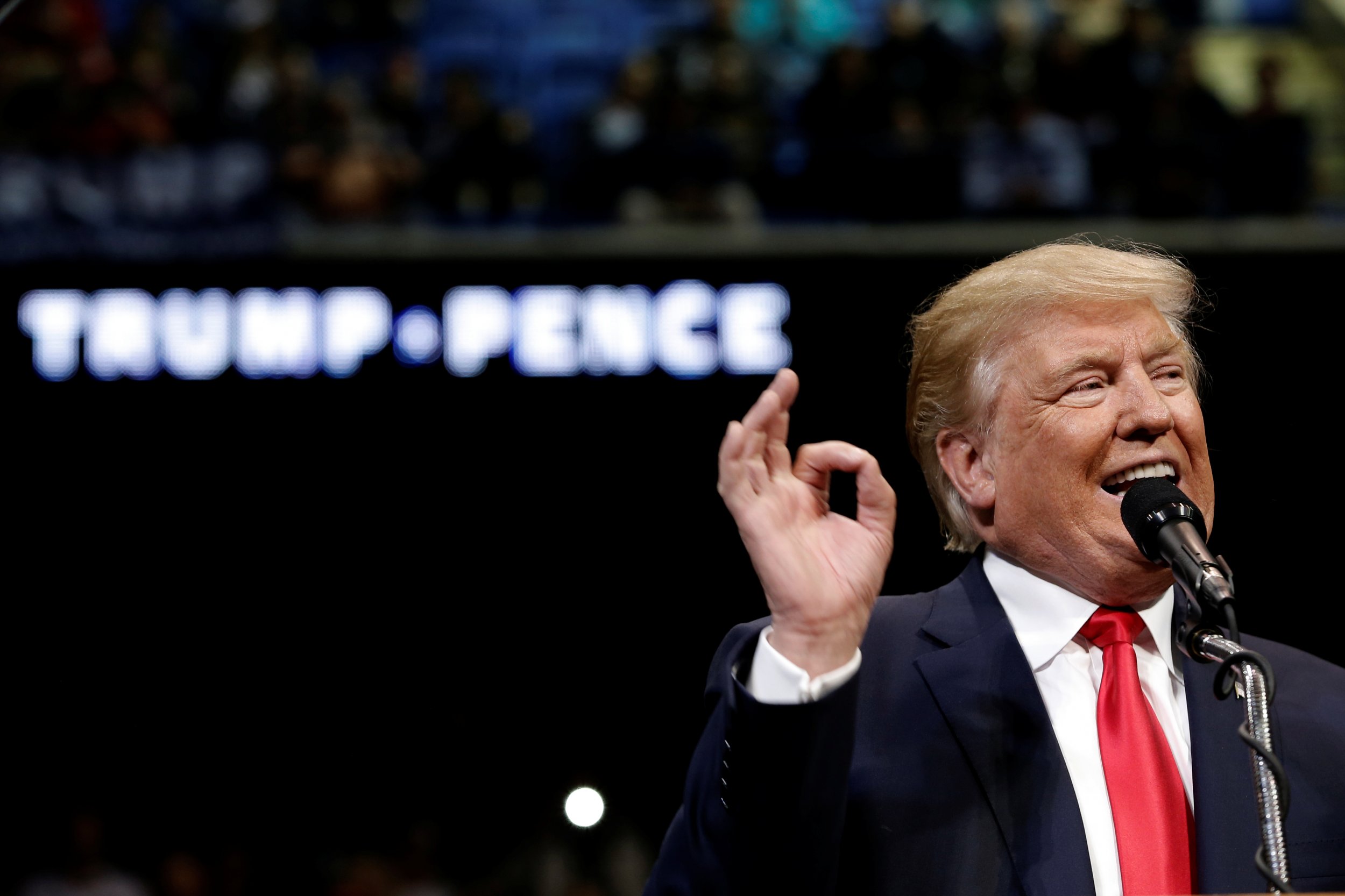 Donald Trump unleashed a series of Twitter messages on Tuesday attacking House Speaker Paul Ryan and other Republicans who he said have been "disloyal" to him. The GOP presidential nominee seemed to infer that Ryan, the country's top Republican, and other established members of the party held him back, as he celebrated now being free from "the shackles."
His social media rant came a day after Ryan, the GOP's 2012 vice presidential nominee, said he wouldn't defend his party's 2016 presidential candidate, signaling he is preparing for Democratic nominee Hillary Clinton to win the White House next month. Ryan said he instead would concentrate on protecting his party's congressional majorities in the final stretch before November 8.
His decision came three days after the release of a bombshell 2005 tape on which Trump crudely brags about how he groped women. Trump apologized for the remarks at Sunday's second presidential debate, but dismissed the comments as mere "locker room talk" and not harmful actions.
The speaker didn't completely cut ties with Trump, as his endorsement for the real estate mogul still stands, but he won't proactively appear on the campaign trail with the nominee. The two have had a rocky relationship for at least the past five months. Earlier this year, Ryan said he wasn't ready to back the former reality TV star as the Republican nominee, saying the party needed someone who applies conservative principles to the country's problems.
But it all changed on June 2—for a few months, at least—when Ryan penned an op-ed for his hometown newspaper in which he said he will "be voting for him this fall." The pair was set to appear together in Ryan's home state of Wisconsin on Saturday, but the speaker canceled his appearance after the lewd tapes were shared.
In his Twitter messages, Trump on Tuesday said it's "hard to do well when Paul Ryan and others give zero support!" He continued by calling the House speaker "very weak" and "ineffective." On Monday, Trump suggested Ryan "not waste his time on fighting the Republican nominee."
Last month, Trump was criticized for a Twitter tirade—at 3 a.m.—against what he called made-up lies in the media. That same day, also in the early-morning hours, he shamed former beauty queen Alicia Machado for an alleged sex tape. His campaign has not provided evidence of this claim.
After the Trump video was released, dozens of fellow Republicans denounced the nominee and withdrew their support for him, including Arizona Senator John McCain. On Tuesday afternoon, Trump called McCain, who is is running for re-election in the Grand Canyon State, a "very foul mouthed" senator.
Other Republicans have pushed back at Ryan, calling for party unity heading into Election Day and urging their colleagues to support Trump. Florida Senator Marco Rubio, a former Trump rival who is running for re-election, on Tuesday said he will continue to support the nominee, according to The Hill. "I have consistently rejected his offensive rhetoric and behavior. I disagree with him on many things, but I disagree with his opponent on virtually everything," Rubio said about his decision. He publicly endorsed the candidate in May.
Meanwhile, during an emergency conference call on Monday, Republican National Committee Chairman Reince Priebus vowed that the party continues to stand with Trump.
A new Politico/Morning Consult poll conducted after the second presidential debate shows Clinton with a five-point lead over Trump among likely voters. Its results determine Clinton to b the winner of the presidential forum, despite Trump claiming that he emerged victorious "in a landslide."