Donald Trump is Like Pennywise the 'It' Clown, Gavin Newsom Says
After President Donald Trump called him a clown, California Lieutenant Governor Gavin Newsom upped the ante. He floated the idea that Trump was like Pennywise, the clown from the movie and Stephen King horror novel It.
The clown-based beef started with Trump taking a shot at Newsom—who is running for governor—during a rally in Las Vegas on Thursday.
"Democrats want to give welfare and free health care to illegal aliens," Trump said. "How about this clown in California who's running for governor? He wants open borders, and then he wants to give them health care, education, everything."
Newsom snapped back on Trump's medium of choice: Twitter.
"Lol, hi @realDonaldTrump," Newsom posted with a clown emoji as well as a clip of the Trump's clown comments. "Interesting description coming from the guy who is literally locking up kids like Pennywise."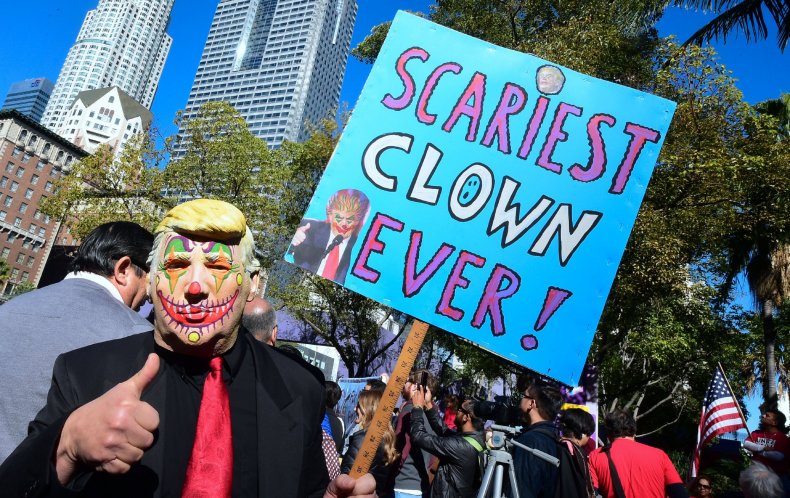 In a world crawling with creepy clowns, Pennywise is the most famous and perhaps the most terrifying. So, it's not exactly the greatest comparison for a president.
Trump supporters also had a clown run-in of their own. A rally of Juggalos—face-painted fans of the group the Insane Clown Posse—far outnumbered Trump supporters at their so-called "Mother of All Rallies" this time last year and dwarfed what Trump supporters hoped would be a massive display of affection for the president.
Trump and Newsom, meanwhile, have gone after one another with relative frequency. The California politician has slammed Trump's hard-line immigration stances—among other things.
"How about the governor, governorship of California," Trump said at a different rally earlier this month. "He just announced that he wants to open borders, and he wants to let anybody come in that wants to. And then he wants to pay for all medical, all school."
Newsom again responded via tweet, posting: "Next time you call me and my policies out, have the guts to @ me and we can have a chat."