Former President Donald Trump has said he hoped Piers Morgan would make "big changes" to their interview before releasing it on Monday.
Former Good Morning Britain host (GMB) Piers Morgan released a promotional trailer for his interview with the former president on Wednesday.
The video has garnered criticism on social media as it depicts a lively argument between the two, which Trump claimed was "deceptively edited" in a statement.
Trump's director of communications, Taylor Budowich, shared the statement by the former president on his Twitter page on Thursday.
"Piers Morgan, like the rest of the Fake News Media, attempted to unlawfully and deceptively edit his long and tedious interview with me," Trump said in the statement.
"He wanted to make it look like I walked out on the interview when my time limit of 20 minutes went over by an hour.
"The good news is that the interview was taped by us as a means of keeping him honest. The interview was actually very strong on the 2020 Election Fraud, with me calling him 'a fool' if he truly believed those results."
The belief that the election was stolen from Trump became the grounds on which a pro-Trump mob stormed the Capitol building on January 6, 2021 in an effort to block Congress from certifying the Electoral College votes, which would go on to cement President Joe Biden's victory with 306 votes to Trump's 232.
Although Trump has tried to distance himself from the rioters, he has continued to assert that he won the 2020 election. But the former president has also admitted defeat in a number of public comments.
In the statement, Trump continued: "The evidence is massive and irrefutable (check out Truth the Vote and the Dinesh D'Souza documentary, which will all be coming out soon). For those who want to make Piers look bad, compare his video promo and how it was doctored to the real thing.
"Hopefully they will now be doing some big changes to their final product. It just shows, however, what I have to deal with in the Fake News Media. He went out of his way to deceptively edit an interview and got caught. That is a big story, isn't it?"
Conservative commentator Candace Owens criticized Piers Morgan for his trailer on Twitter following its release. She shared a moment where Trump asked the cameras to be off following her own interview with the former president.
"If my team were as unethical and dishonest as the snake Piers Morgan, we would have sensationally edited this clip of Trump to make it look like he threw a tantrum and asked the cameras to be shut off," she tweeted.
"[When] in reality, the interview was over and we simply wanted to chat off-camera."
Former Olympic athlete Caitlyn Jenner, who was set to have an interview with Morgan, said she had canceled her appearance.
"'This is a pathetic attempt to use President Trump as a way to revive the career of a failed television host,' [Taylor Budowich] I couldn't agree more," Jenner tweeted.
"Piers Morgan I have just had my management cancel my appearance with you for this Wednesday because of your repulsive misconduct today."
While speaking on ITV's Lorraine show, Morgan defended the trailer and addressed the criticism after the host read out Trump's statement.
"He said we illegally edited an interview that hasn't aired, how do you know? We haven't aired it yet. It is ridiculous, it says in the same [statement] that it is long and tedious, I don't think he is tedious just for the record," Morgan said.
"He also says it is very strong, so he seems to be a bit confused about how he thinks the interview went."
Morgan also called on his critics to watch his full interview with Trump to form their own opinion of it.
The interview is set to debut on his new show, Piers Morgan Uncensored, that launches next week on TalkTV, a new channel of Rupert Murdoch's News Corporation.
Newsweek has contacted Donald Trump and TalkTV for comment.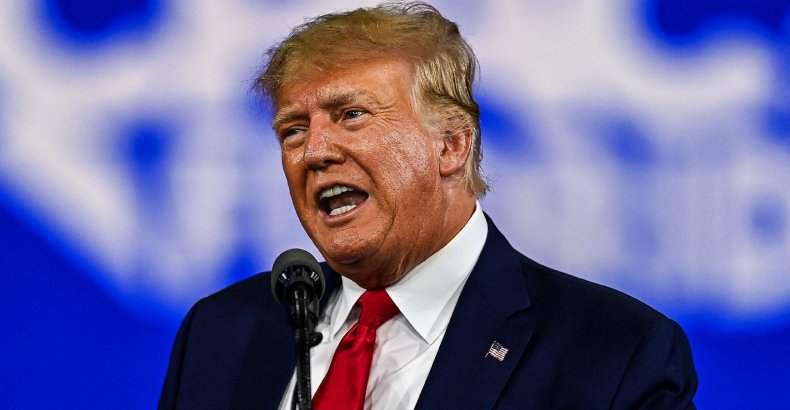 Update 04/21/22, 6:28 a.m. ET: This article was updated with additional information.