Donald Trump Jokes About His Hair Being Ruined by Having to Answer Questions in the Rain About Pittsburgh Shooting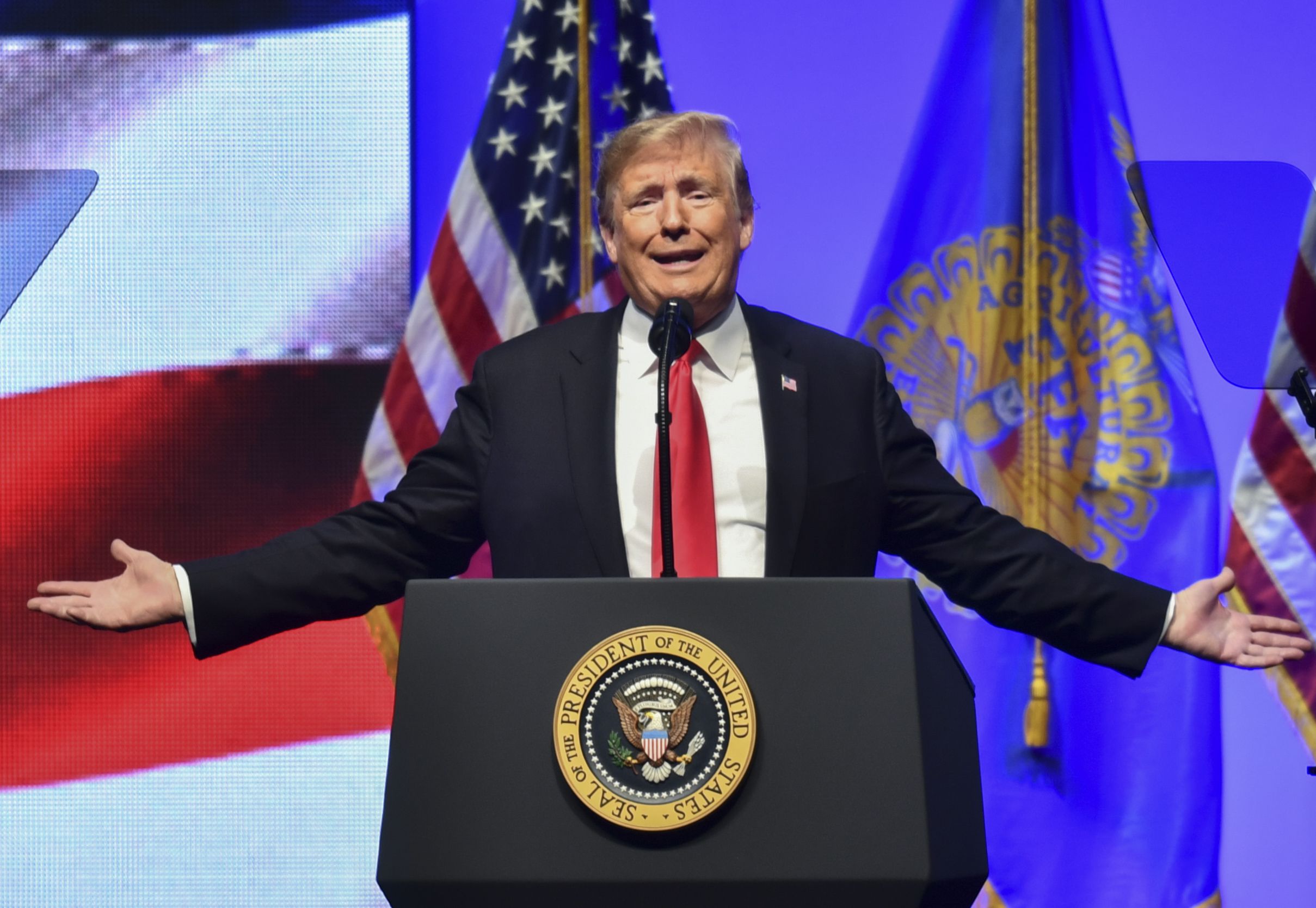 Hours after a mass shooting at a synagogue in Pittsburgh that killed at least 11 people, President Donald Trump gave a political speech at the Future Farmers of America Convention. During the speech, Trump, unprompted, discussed how his hair was ruined earlier in the day when he had to stand outside in the rain by Air Force One answering questions about the shooting.
"By the way, somebody just said your hair looks different today," Trump said in Indianapolis.
"I was standing under the wing of Air Force One doing a news conference earlier this morning, a very unfortunate news conference, and the wind was blowing and the rain and I was soaking wet and that's what I ended up with today," he added.
Trump, whose hair has long been the subject of much mocking and questioning, continued: "And I said but at least you know it's mine."
As the crowd laughed, Trump said that he mentioned the possibility that he should "cancel this "arrangement because I have a bad hair day."
"The bad news," he added, was, "somebody said, 'actually it looks better than it usually does.'"
While speaking at the event, Trump also confirmed that his rally scheduled for later in the day in Illinois would go ahead despite the deadly shooting.
"We can't let evil change our life and change our schedule," he said. "We can't do that. We have to go." He added: "I'll go. Not that I want to go. But I think I actually, in reverse, have an obligation to go."
A 46-year-old man, Robert Bowers, was apprehended following the shooting. Bowers's social media posts showed a history of anti-Semitism and hatred of immigrants.
"We condemn the historic evil of antisemitism and every other form of evil," Trump said in Indianapolis. "And unfortunately, evil comes in many forms. And we come together as one American people."
Earlier in the day, Trump gave his first thoughts about the shooting before boarding Air Force One. Asked about whether gun control legislation was needed, Trump instead called for armed protection to be placed inside synagogues.
"If they had protection inside, the results would have been far better," he said. "If they had some kind of protection inside the temple, maybe it could have been a much different situation. But they didn't."
Trump added that maybe "no one would have been killed" if an armed guard was stationed inside. Trump's comments came despite the fact that four police officers were among those injured.